AJPW NEWS
All Japan held a press conference for the upcoming "2016 World's Strongest Tag League" or "Real World Tag League" as it is also known.
With the PWF President Dory Funk Jr. still in Japan a proper press conference was held to kick off the final days before the tournament begins this coming weekend. Most of the wrestlers from the 12 competing teams were present for the event.
The reigning Triple Crown champion Kento Miyahara looks to go for yet another win this year, as he and Suwama won the league last year, with his mind set on capturing an achievement for NEXTREAM as a team. As that is something they have yet to acquire as a whole. Suwama though aims to do the same with Aoki as his partner this year. Suwama's intensity and anger is at a all-time high following the loss to Miyahara at Ryogoku. As he aims to rectify the loss and reclaim himself in a position of dominance in All Japan.
The reunited team of GET WILD are ever-looking to become a successful tag team once more. As former World Tag Champions as well as winning this league back in 2012. The two have been caught in a earlier snag though stemming from the loss to Akiyama and Kashin on November 27, but it is now their chance to either return to form as a tag team or begin to rethink their partnership. Speaking of Akiyama and Kashin, Akiyama was puzzled by Kashin's absence today, but regardless they seem to have something going in their favor as a tag team.
To sum up the rest of A BLOCK. Osamu Nishimura and Yutaka Yoshie will be bringing their own form of dynamic to the matches. Nishimura with his natural ring abilities and Yoshie with size and strength. K-DOJO's Kengo Mashimo and Tank Nagai has proven to be a strong team in their home promotion, but this will be their first real in a top promotion to showcase their worth. "DARK NIGHTMARE" have stated that they get stronger every day as this will be a test for Mitsuya Nagai and the mysterious Black Tiger VII. Then Ryoji Sai will be looking to maintain a strong presence in All Japan as he teams with his fellow LAND'S END partner Rikya Fudo
Then as for the B BLOCK. The reigning World Tag Champions Zeus and The Bodyguard are looking to assert themselves as the team to beat in the league. They will have the biggest targets on their backs throughout the course of the league, but Zeus stated that he looks forward to the challenge. Hikaru Sato and Super Tiger will be representing "EVOLUTION" opposite their fellow teammates in the other block. The duo of MMA turned pro-wrestler team certainly have the skills to bring an interesting dynamic to the league. The rookie team of Naoya Nomura and Yuma Aoyagi will be looking to though their biggest challenge will come against the W-1 team of Koji Doi and Kumagoro, who have already asserted themselves over the All Japan rookies. The question will remain if the W-1 team could fair any better against the bigger challenges that await them.
http://puroresuspirit.net/2016/10/ajpw-event-cards-for-november-december-2016/
---
~ Following today's show, the full event card was announced for the December 25 show at Korakuen.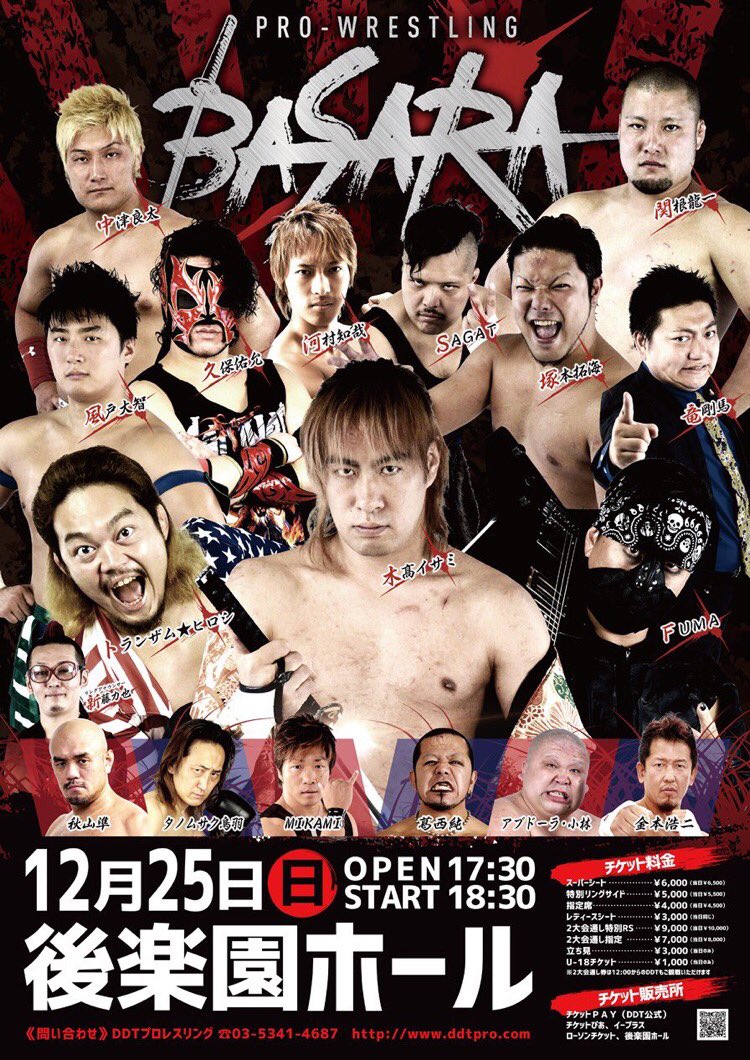 Pro-Wrestling BASARA, 12/25/2016 [Sun] 18:30 @ Korakuen Hall in Tokyo
() Tsutomu Oosugi & Hercules Senga vs. Daichi Kazato & Koji Iwamoto
() Daigyuakuten Pro-Wrestling Trial: Goma Ryu vs. Atsushi Maruyama (FREE) vs. Tatsuhiko Yoshino vs. (to be announced)
() Takumi Tsukamoto vs. Trans★Arm Ryuichi (BJW)
() What is METAL? ~ What is a Real Metal Wrestler? ~ : FUMA, Madoka & Yusuke Kubo vs. Jun Kasai, MIKAMI & Tanomusaku Toba
() Yokohama Shopping Street 6 Tag Championship Match: [Champions] Abdullah Kobayashi, Takayuki Ueki & Masaya Takahashi vs. [Challengers] Koji Kanemoto, Ryuichi Sekine & Kotaro Nasu
() SAGAT vs. Jun Akiyama (AJPW)
(-) 6th Generation Union MAX Championship Decision Match: Isami Kodaka vs. Trans★Arm Hiroshi
http://puroresuspirit.net/tag/basara/
---
DDT/DNA NEWS
~ It was announced that DNA will be entrusted to a new management company as of February 2017. The company is known as SP Advertising Co., Ltd and Directory Atsushi Sasaki has been appointed as the new producer for DNA events.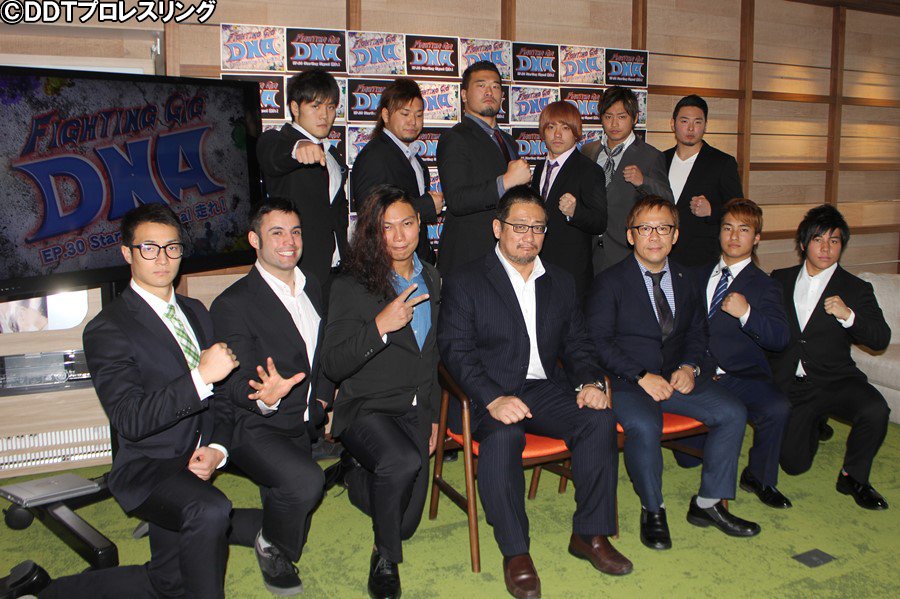 The February 23 show at the Shinjuku FACE will be known under "FIGHTING GIG DNA".
http://puroresuspirit.net/tag/dna
---
K-DOJO NEWS
~ The full event card was announced for the upcoming Shinkiba 1stRING show on December 4. Match order is still to be announced…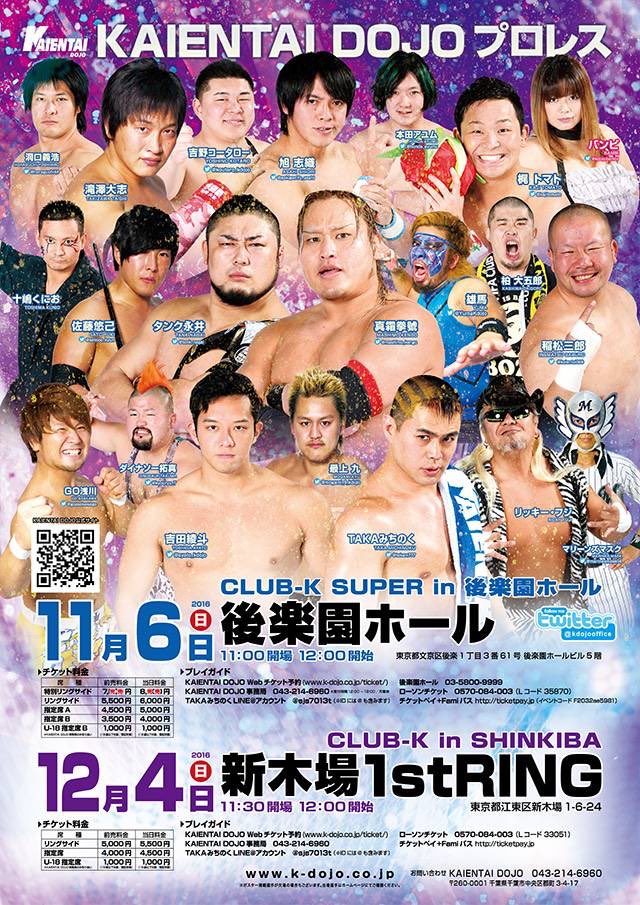 KAIENTAI DOJO "CLUB-K in SHINKIBA", 12/4/2016 [Sun] 12:00 @ Shinkiba 1stRING in Tokyo
() Ricky Fuji, Ayato Yoshida & ERINA vs. Taishi Takizawa, Kotaro Yoshino & Yoshihiro Horaguchi
() ROAD TO 25th Anniversary TAKA Michinoku 3rd Single Match: TAKA Michinoku vs. Dinosaur Takuma
() Bambi vs. Kyoko Kimura (FREE)
() UWA World Middleweight Championship Match: [Champion] Ayumu Honda vs. [Challenger] GO Asaskawa
() 8 Man Tag Match: Kaji Tomato, Shiori Asahi & Tearun Seaser & (to be announced) vs. Kengo Mashimo, Tank Nagai, Yuki Sato & Kunio Toshima
() Bozz Rengo Final Match: Saburo Inematsu, Daigoro Kashiwa & Kyu Mogami vs. Ryuichi Sekine (BASARA), Kotaro Nasu (FREE) & Rocky Kawamura (Pancrase-ism)
~ Then more wrestlers were announced for the upcoming TAKA & Taichi Produce show on December 30. Takashi Sugiura, Yoshinobu Kanemaru, Kaji Tomato, Taishi Takizawa, Ayato Yoshida, Kyu Mogami, GO Asakawa, Dinosaur Takuma, and others were announced to be involved.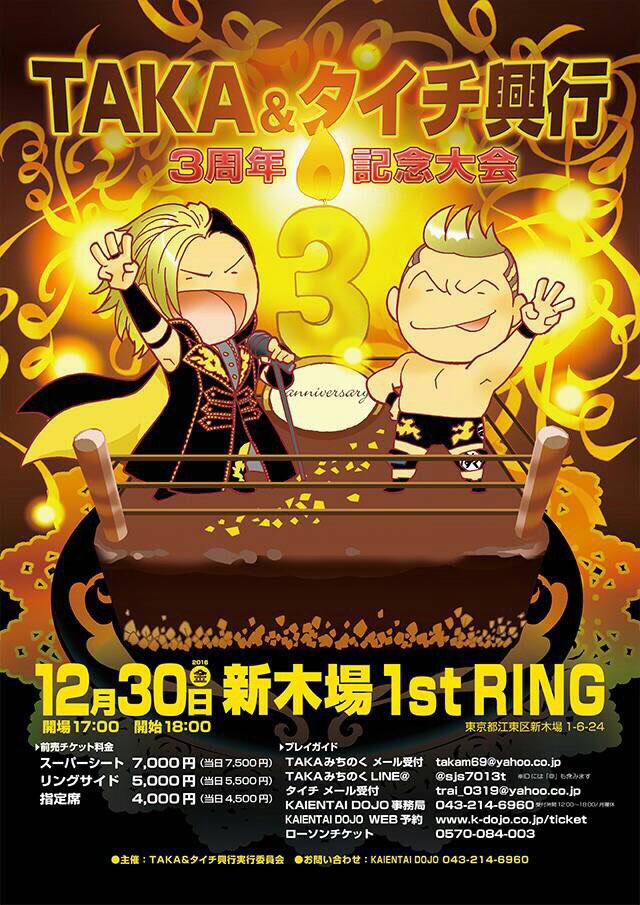 TAKA & Taichi Produce 3rd Anniversary, 12/30/2016 [Fri] 18:00 @ Shinkiba 1stRING in Tokyo
() Joshi Tag Match: Bambi & ERINA vs. Koharu Hinata & X
() Special Hardcore Match: Takashi Iizuka (NJPW) vs. Jun Kasai (FREEDOMS)
() Friday Night RAW!? First Encounter! Special Single Match: TAKA Michinoku (K-DOJO) vs. Yoshitatsu (NJPW)
() Special Single Match: Taichi (NJPW) w/ Miho Abe vs. Minoru Suzuki (Pancrase MISSION)
http://puroresuspirit.net/tag/k-dojo/
---
NOAH NEWS
NOAH will be holding an honoring ceremony for Haruka Eigen on the 12/2 show at Korakuen and 12/3 at Differ Ariake. Specifically a silent prayer and a final 10 count salute will be held at the Korakuen show.
Chairman Masayuki Uchida addressed Eigen's passing today to the public. Eigen, who was still serving as an advisor to NOAH at the time of his passing, was in the NOAH office on the morning of the 28th. He left in the afternoon where he went to a sauna in the Setagaya Ward of Tokyo where he collapsed. An ambulance was called and they tried to resuscitate him, but to no avail. After an examination the cause of death was ruled an "acute myocardial infarction" or in layman terms a heart attack.
http://puroresuspirit.net/tag/noah/
---
ZERO1 NEWS
~ It was announced that Shinjiro Otani and Kazuki Hashimoto will be teaming in the upcoming Furinkazan Tag Tournament. At the BASARA show held today, Isami Kodaka and Takumi Tsukamoto announced they wanted to be involved as well, but nothing has been officially set at this moment. Kohei Sato is still without a partner for the tournament though it seems Yoshikazu Yokohama is making the bid to fill that position.
Recently announced…
◎ Shinjiro Otani & Kazuki Hashimoto
Previously announced…
◎ Masato Tanaka & James Raideen
◎ Akebono & Shogun Okamoto
◎ Yusaku Obata & KAI
◎ Takuya Sugawara & Kotaro Suzuki
◎ TARU & Hartley Jackson
◎ Koji Kanemoto & Minoru Tanaka
◎ Ikuto Hidaka & Sean Guinness
http://puroresuspirit.net/tag/zero1/
---