Pro Wrestling FREEDOMS "F☆SPIRIT! 2016", 6/30/2016 [Thu] 19:00 @ Shinkiba 1stRING in Tokyo
(1) Hi69 [FREE] vs. Fuminori Abe [Ganko]
◆Winner: Hi69 (11:21) with a Jikiden GENTARO Clutch.
(2) Rikidozan III Chikara 7 Single Match Series #3: The Winger vs. Chikara [RikiEnterprise]
◆Winner: Winger (7:55) with a School Boy.
(3) 2vs3 Handicap Match: Tatsuhiko Takaiwa [FREE] & Masashi Takeda [U-FILE] vs. Shu Brahman, Kei Brahman & Karate Brahman
◆Winner: Karate (8:19) after Takaiwa assaulted the referee.
(4) Toru Sugiura vs. Kenichiro Arai
◆Winner: Arai (11:28) with a School Boy.
(5) Daisuke Masaoka & Kenji Fukimoto vs. Yuya Susumu & HAYATA [DOVE]
◆Winner: HAYATA (15:25) following the Headache on Masaoka.
(6) GENTARO & Mammoth Sasaki vs. Takashi Sasaki & Jun Kasai
◆Winner: GENTARO (14:45) following a Backdrop on Takashi.
http://puroresuspirit.net/tag/freedoms/
Upcoming…

Crazy Monkey presents Tokyo Deathmatch Carnival 2016, 7/13/2016 [Wed] 19:00 @ Korakuen Hall in Tokyo
(1) Daisuke Masaoka & Yukihiro Abe [Team Dera] vs. GUNSO & HAYATA [both DOVE]
(2) Mammoth Sasaki & Toru Sugiura vs. Yuya Susumu & Buffalo
(3) Hardcore Match: GENTARO & The Winger vs. Ayako Hamada & Ryo Mizunami
(4) Deathmatch: Takashi Sasaki vs. Miedo Xtremo
(5) Deathmatch: Masashi Takeda vs. Kenji Fukimoto
(6) KING of FREEDOM WOLD CHAMPIONSHIP Ultimate Monster Battle Deathmatch: [Champion] Jun Kasai vs. [Challenger] Violento Jack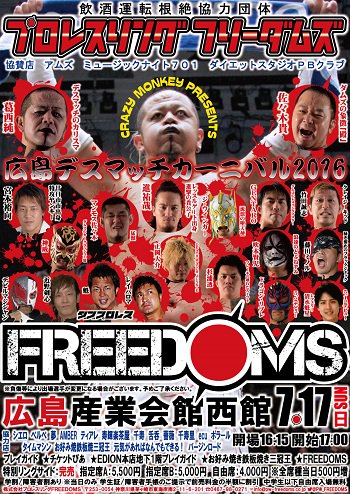 Crazy Monkey presents Hiroshima Deathmatch Carnival 2016, 7/17/2016 [Sun] 17:00 @ Hiroshima Industrial Hall, West Wing
() Black Tiger & Masamune vs. Takumi Tsukamoto & Kenshin Chikano
() Masashi Takeda & Minoru Fujita vs. Sakigake & Rey Paloma
() Yuya Susumu vs. Toru Sugiura
() Takashi Sasaki, Mammoth Sasaki & Great Kabuki vs. GENTARO, The Winger & Devil Magician
() Deathmatch: Kenji Fukimoto vs. Yuko Miyamoto
() Deathmatch: Jun Kasai & Daisuke Masaoka vs. Violento Jack & Miedo Xtremo