BASARA NEWS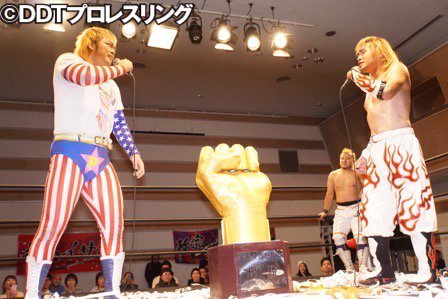 ~ Isami Kodaka announced that the Union MAX belt will be revived as the main belt for the promotion. Kodaka will be taking on Trans★Arm Hiroshi on December 25 at the Korakuen Hall to crown the new champion.
Pro-Wrestling BASARA, 12/25/2016 [Sun] 18:30 @ Korakuen Hall in Tokyo
(-) 6th Generation Union MAX Championship Decision Match: Isami Kodaka vs. Trans★Arm Hiroshi
http://puroresuspirit.net/tag/basara
---
BJW NEWS
~ The event card was released for the November 12 show in Hiroshima and the November 27 show in Nagoya.
BJW "Party Fujisaka Event Pro-Wrestling", 11/12/2016 [Sat] 14:00 @ Party Fuji-Saka Special Ring in Hiroshima
(1) Tatsuhiko Yoshino vs. Kazumi Kikuta
(2) Tsutomu Oosugi & Hercules Senga vs. Kota Sekifuda & Toshiyuki Sakuda
(3) Ryuichi Kawakami, Yasufumi Nakanoue, Kazuki Hashimoto & Atsushi Maruyama vs. Shu Brahman, Kei Brahman, Takayuki Ueki & Masaya Takahashi
(4) Ryuji Ito & Abdullah Kobayashi vs. Jaki Numazawa & Masashi Takeda
(5) Hideyoshi Kamitani, Daichi Hashimoto & Takuya Nomura vs. Daisuke Sekimoto, Yuji Okabayashi & Yoshihisa Uto
BJW "Death Market 35", 11/27/2016 [Sun] 18:00 @ Nagoya Diamond Hall in Aichi
(1) Kazuki Hashimoto & Tatsuhiko Yoshino vs. Kota Sekifuda & Kazumi Kikuta
(2) Ryota Hama & Yoshihisa Uto vs. Tsutomu Oosugi & Hercules Senga
(3) Deathmatch: Yuko Miyamoto vs. Masaya Takahashi
(4) Deathmatch: Masashi Takeda vs. Toshiyuki Sakuda
(5) Deathmatch: Ryuji Ito vs. Takayuki Ueki
(6) Ryuichi Kawakami & Takuya Nomura vs. Yasufumi Nakanoue & Atsushi Maruyama
(7) Hideyoshi Kamitani & Daichi Hashimoto vs. Shu & Kei Brahman
(8) Deathmatch: Kankuro Hoshino & Takumi Tsukamoto vs. Abdullah Kobayashi & Jaki Numazawa
http://puroresuspirit.net/tag/bjw/
---
FREEDOMS NEWS
~ Mammoth Sasaki and Toru Sugiura will be the next challengers for the KFC Tag belts at the Korakuen Hall show on November 17.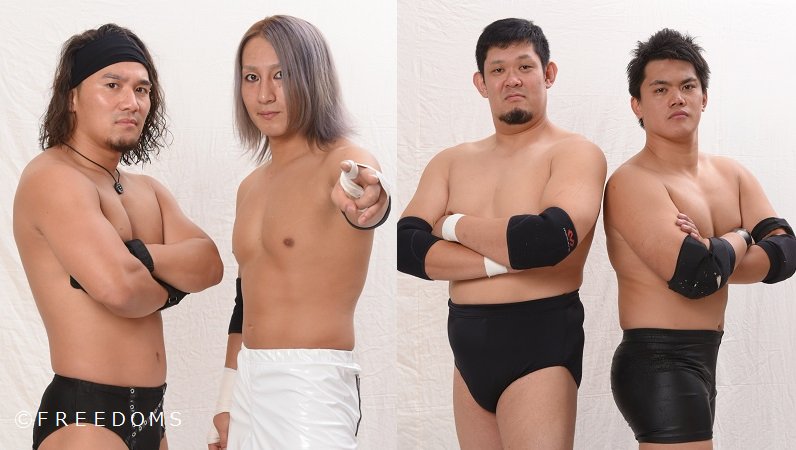 FREEDOMS "The Winger 25th Anniversary Show", 11/17/2016 [Thu] 19:00 @ Korakuen Hall in Tokyo
(-)  Rikidozan 3rd Generation 7 Match Series ~ 6th Match: Isami Kodaka vs. Chikara (RikiEnterprise)
(-) The Winger 25th Anniversary Match: The Winger vs. TAJIRI
(-) Deathmatch: Violento Jack, Takashi Sasaki & Shuji Ishikawa vs. Jun Kasai, Masashi Takeda & Kenji Fukimoto
(-) UWA World Junior Heavyweight Championship Match: [Champion] GENTARO vs. [Challenger] Meido Xtremo
~ 2nd title defense.
(-) KING of FREEDOM WORLD TAG CHAMPIONSHIP Match: [11th Champions] Yuya Susumu & HAYATA (DOVE) vs. [Challengers] Mammoth Sasaki & Toru Sugiura
~ 3rd title defense.
(-) KFC Contendership Deathmatch: Daisuke Masaoka vs. Yuko Miyamoto
http://puroresuspirit.net/tag/freedoms/
---
J-STAGE NEWS
~ Hayato "Jr" Fujita versus Seiki Yoshioka was announced for the upcoming J-STAGE show on Decmeber 19 at the Shinjuku FACE.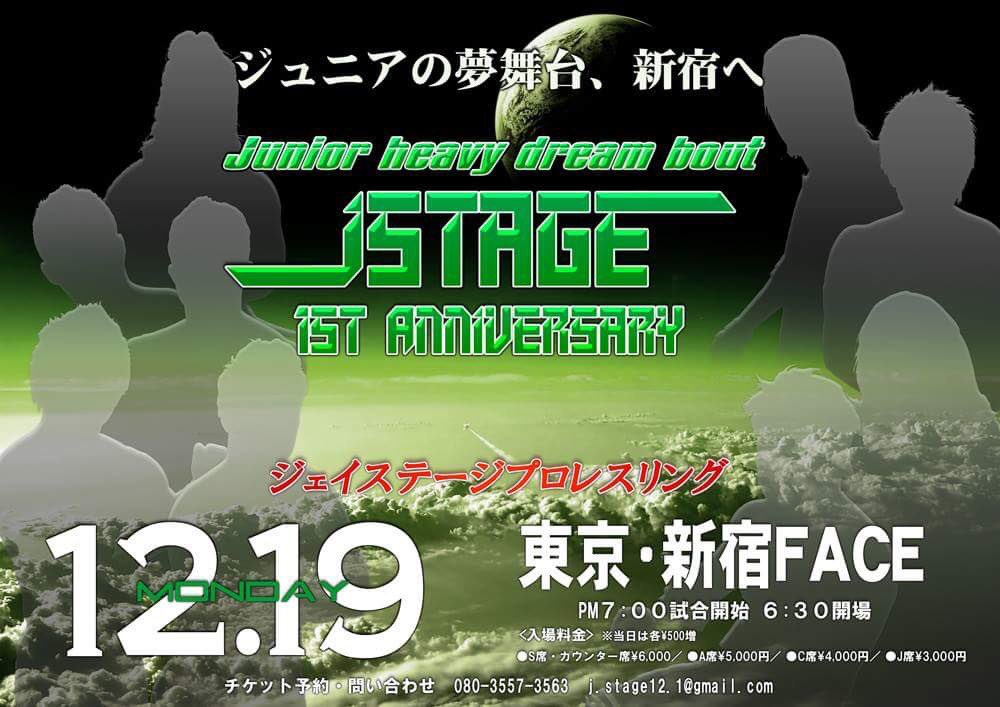 J-STAGE "Junior Heavy Dream Bout ~ 1st Anniversary", 12/19/2016 [Mon] 19:00 @ Shinjuku FACE in Tokyo
() Hayato "Jr" Fujita (MichiPro) vs. Seiki Yoshioka (W-1)
---
NJPW NEWS
The full event card is now official for the upcoming "POWER STRUGGLE" event on November 5 in Osaka.
Joining the previously announced title matches and singles match semi-final, will be Okada, Goto, Ospreay and Gedo taking on Omega, Cole, and The Young Bucks. This match will of course be another prelude to the WK match between Okada and Omega, but something else to potentially think about is if something might be planned with Goto and or Cole at the big show. Maybe a ROH title defense perhaps? We will have to wait and see.
The final match of the "SUPER Jr. TAG Tournament" is now set as the former IWGP Jr. Tag champions in Roppongi Vice are set to take on the near unstoppable high-flying duo of Ishimori and ACH. This match will indeed setup the next contenders for the IWGP Jr. Tag belts, potentially at WK.
The conflict between Yoshitatsu and, the former Captain now, BONE SOLDIER continues. As the two will face in a 6 man tag early on in the show. Though will also feature an early prelude for the upcoming "WORLD TAG LEAGUE" as last years winners Makabe and Honma are featured as well.
The full card is as follows…
New Japan Pro Wrestling "POWER STRUGGLE", 11/5/2016 [Mon] 18:30 @ EDION Arena Osaka, 1st Stadium
(0) Yuji Nagata, Manabu Nakanishi & Teruaki Kanemitsu vs. Hiroyoshi Tenzan, Satoshi Kojima & Juice Robinson
(1) Jushin Thunder Liger, Tiger Mask IV, Ricochet & David Finlay vs. Ryusuke Taguchi, Angel de Oro, Titan & Fuego
(2) Togi Makabe, Tomoaki Honma & Yoshitatsu vs. Yujiro Takahashi, Chase Owens & BONE SOLDIER
(3) IWGP Tag Championship Match: [72nd Champions] Tama Tonga & Tanga Loa vs. [Challengers] Tomohiro Ishii & YOSHI-HASHI
~ 1st title defense.
(4) Super Jr. Tag Tournament 2016 ~ Final Match: Rocky Romero & Barreta vs. Taiji Ishimori & ACH
(5) IWGP Junior Championship Match: [74th Champion] BUSHI vs. [Challenger] KUSHIDA
~ 1st title defense.
(6) Special Tag Match: Kazuchika Okada, Hirooki Goto, Will Ospreay & Gedo vs. Kenny Omega, Adam Cole, Matt Jackson & Nick Jackson
(7) NEVER Openweight Championship Match: [12th Champion] Katsuyori Shibata vs. [Challenger] EVIL
~ 4th title defense.
(8) Special Single Match: Hiroshi Tanahashi vs. SANADA
(9) IWGP Intercontinental Championship Match: [15th Champion] Tetsuya Naito vs. [Challenger] Jay Lethal
~ 1st title defense.
http://puroresuspirit.net/2016/08/njpw-event-cards-for-september-october-2016/
---
~ See something that I may have overlooked? Feel free to send me a message on the facebook page.
~ I am currently looking for someone to cover DRAGON GATE and any joshi-related promotions respectively. Also if you have a blog dedicated to one of these promotions, feel free to let me know as well and we could work something out. If you believe this something that you could handle on a daily or even a weekly basis, or even if you wish for me to promote your own blog, feel free to send me a message.
—————————————————————————————————————————————————————-
If you enjoy these posts feel free to check out the Patreon to help support the further growth of the website. At least $1 a month will help cover the server costs and future plans to build a better site. This in term is aimed to help you all in return to keep up with numerous promotions throughout Japan. Thank you for helping keep the spirit alive.