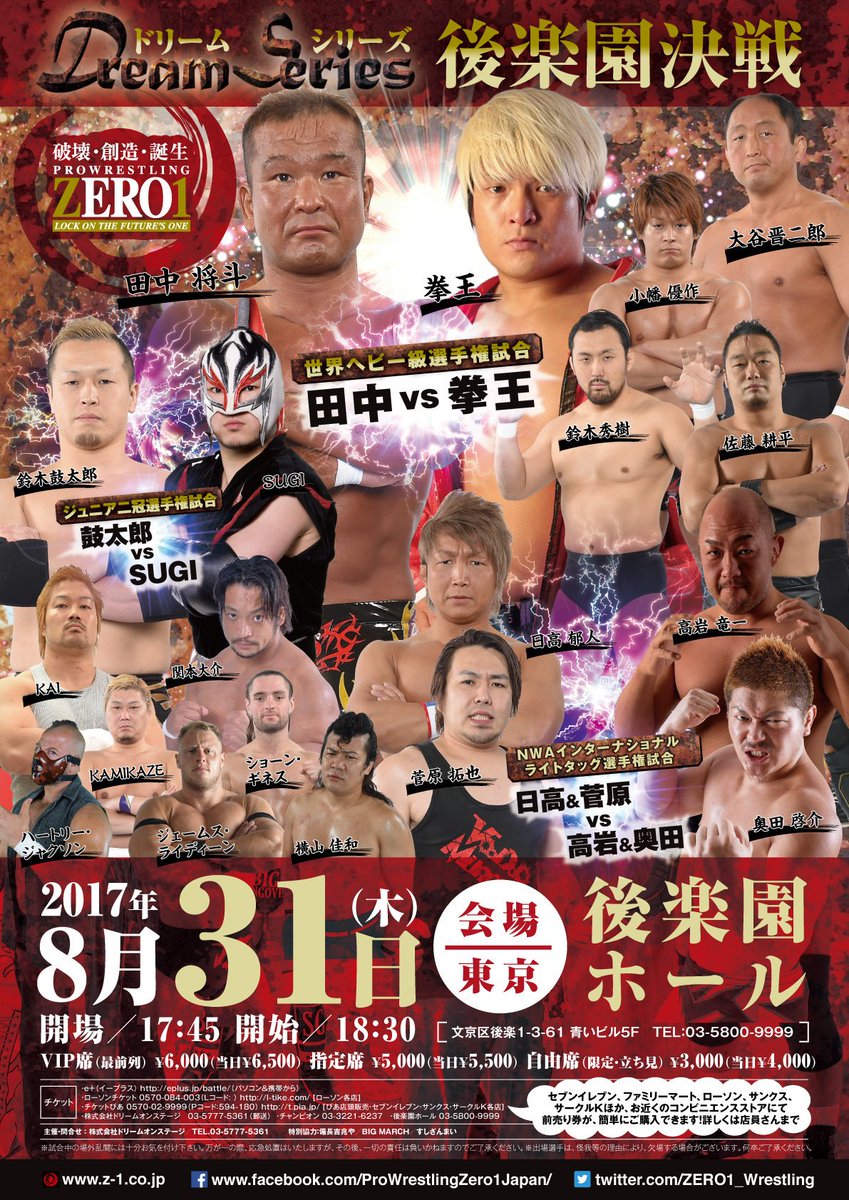 ZERO1 "Dream Series Midsummer Battle in Korakuen", 8/31/2017 [Thu] 18:30 @ Korakuen Hall in Tokyo
(1) Sean Guinness vs. Yoshikazu Yokoyama
♦Winner: Guinness (6:08) following a Diving Foot Stomp.
~ Matazo Mimata appeared after the match as he came out with his two mysterious masked men. The trio took out Yokoyama with a Hijack Piledriver. Mimata declared that his team will be fully prepared to battle come the next Korakuen Hall show, as they called out for a match. This led to Otani coming out and making it known that he has prepared a team to take on the invaders. This then saw Obata come out and attack the two masked men. Obata declared that he will defend ZERO1.
(2) Shinjiro Otani & Koji Kanemoto vs. TARU & Voodoo Mask
♦Winner: Otani (9:42) following a Face Wash on Voodoo Mask.
(3) NWA International Light Tag Championship Match: [26th Champions] Ikuto Hidaka & Takuya Sugawara vs. [Challengers] Tatsuhito Takaiwa & Keisuke Okuda (IGF)
♦Winner: Hidaka (12:19) following the Norainu High Kick on Okuda.
~ 1st successful title defense.
~ Hidaka welcomed Okuda to try to challenge for the belt once again in the future.
(4) NWA World Junior & International Jr. Double Crown Match: [119th & 19th Champion] Kotaro Suzuki (FREE) vs. [Challenger] SUGI (FREE)
♦Winner: Kotaro (12:28) with the Misawa style Tiger Driver.
~ 3rd successful title defense.
~ Sean Guinness stepped forward to make the challenge.
~ Guinness also relinquished the UN Heavyweight belt as he declared that he wants his full focus to be on the junior front.
~ SUGI made his intention known that he wants to go after the Light Tag belts. Hidaka and Sugawara were at ringside during a segment as SUGI asserted himself as the next challenge on 9/30. Currently he does not have an announced partner for the match.
(5) Yusaku Obata, Kohei Sato, Hideki Suzuki (FREE) & Super Tiger (RJPW) vs. Daisuke Sekimoto (BJW), Shogun Okamoto (FREE) , Yutaka Yoshie (FREE)  & Kazushi Miyamoto (FREE)
♦Winner: Okamoto (9:51) following a Backdrop on Kohei.
~ Okamoto and Yoshie made it known that they want to be in the running fro the vacant IC Tag belts. It appears the two could be taking on Kohei Sato and Hideki Suzuki as early as the next Shinkiba show on September 14.
~ The IC Tag belts were announced as vacant yesterday due to KAI being unable to compete due to his priorities with All Japan Pro-Wrestling.

(6) World Heavyweight Championship Match: [21st Champion] Masato Tanaka vs. [Challenger] Kenoh (NOAH)
♦Winner: DRAW (30:00) Time Expired.
~ 3rd successful title defense.
~ Kenoh made it known that he wants a rematch against Tanaka potentially next time in the NOAH ring.
~ Miyamoto will be receiving the next title challenge on September 30 at the Korakuen Hall.
http://puroresuspirit.net/tag/zero1/
Upcoming…
ZERO1 & Sendai Girls Pro-Wrestling Sadogashima Show, 9/10/2016 [Sun] 17:00 @ Sado City Aikawa Gymnasium
() Takuya Sugawara vs. Yoshikazu Yokoyama
() Chihiro Hashimoto vs. Mika Iwata
() Ikuto Hidaka vs. Sean Guinness
() Yusaku Obata & Kohei Sato vs. James Raideen & Hartley Jackson
() Meiko Satomura & DASH Chisako vs. Aja Kong & Manami Toyota
() Shinjiro Otani & Tatsuhito Takaiwa vs. Masato Tanaka & Tank Nagai (K-DOJO)