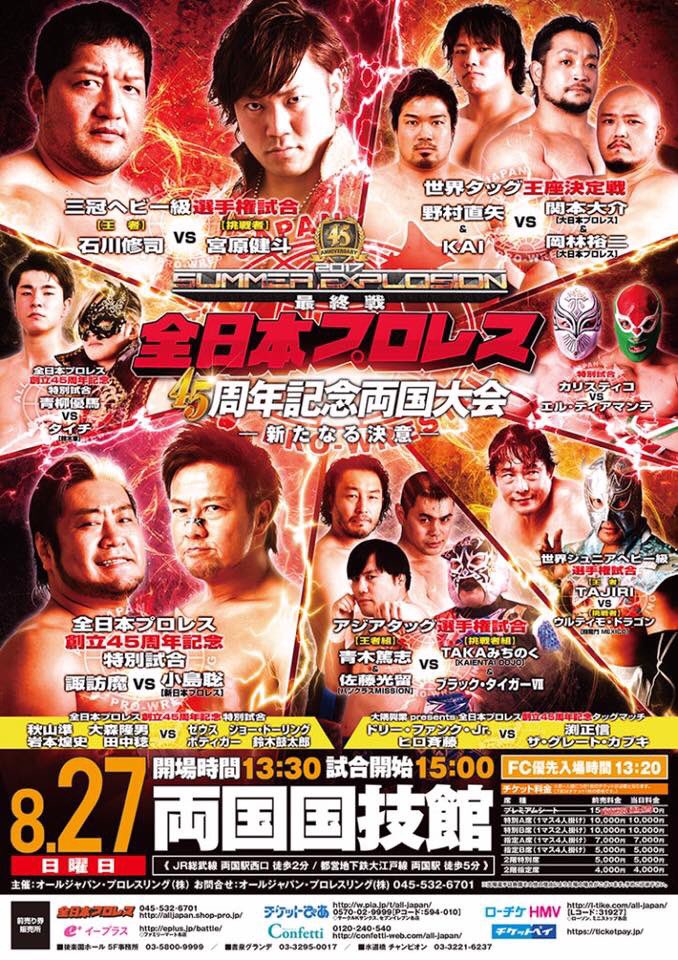 All Japan Pro-Wrestling "2017 SUMMER EXPLOSION ~ AJPW 45th Anniversary Show", 8/27/2017 [Sun] 15:00 @ Ryogoku Kokugikan in Tokyo
6,550 Spectators (crowded)
(0) Dark Match: Yusuke Okada vs. Keiichi Sato (FREE)
♦Winner: Keiichi (3:04) with a German Suplex Hold.
~ Yusuke came into the match with all guns blazing against the former rookie from All Japan, but Keiichi remained cool and secured the win. Yusuke continued to try and fight following the conclusion of the match.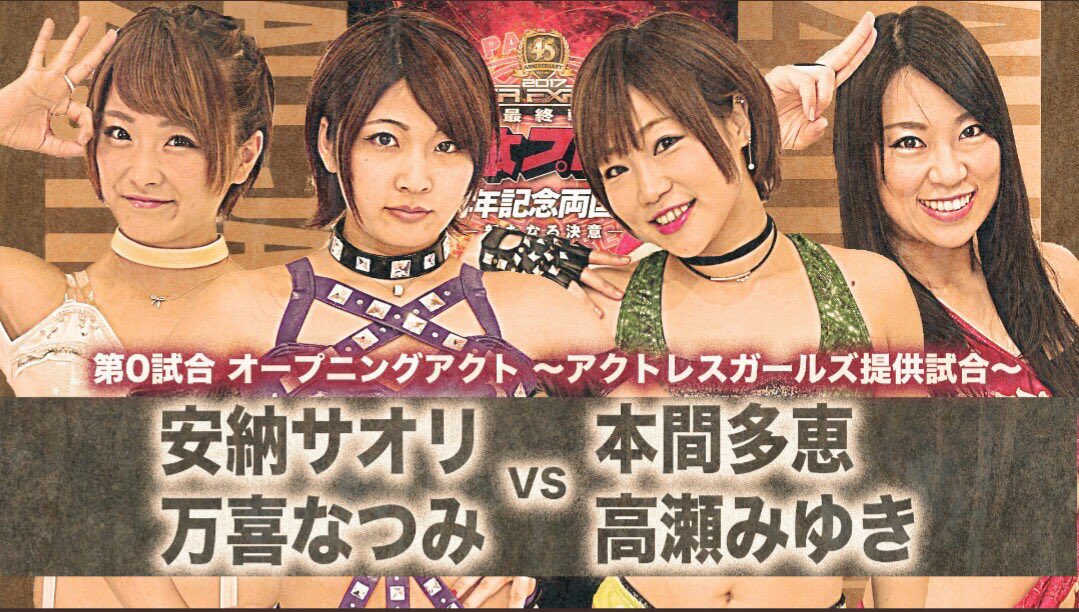 (0) Actress Girl'Z Offer Match: Saori Anno & Natsumi Manki vs. Tae Honma & Miyuki Takase
♦Winner: Anno (6:28) with a Blockbuster Hold on Honma.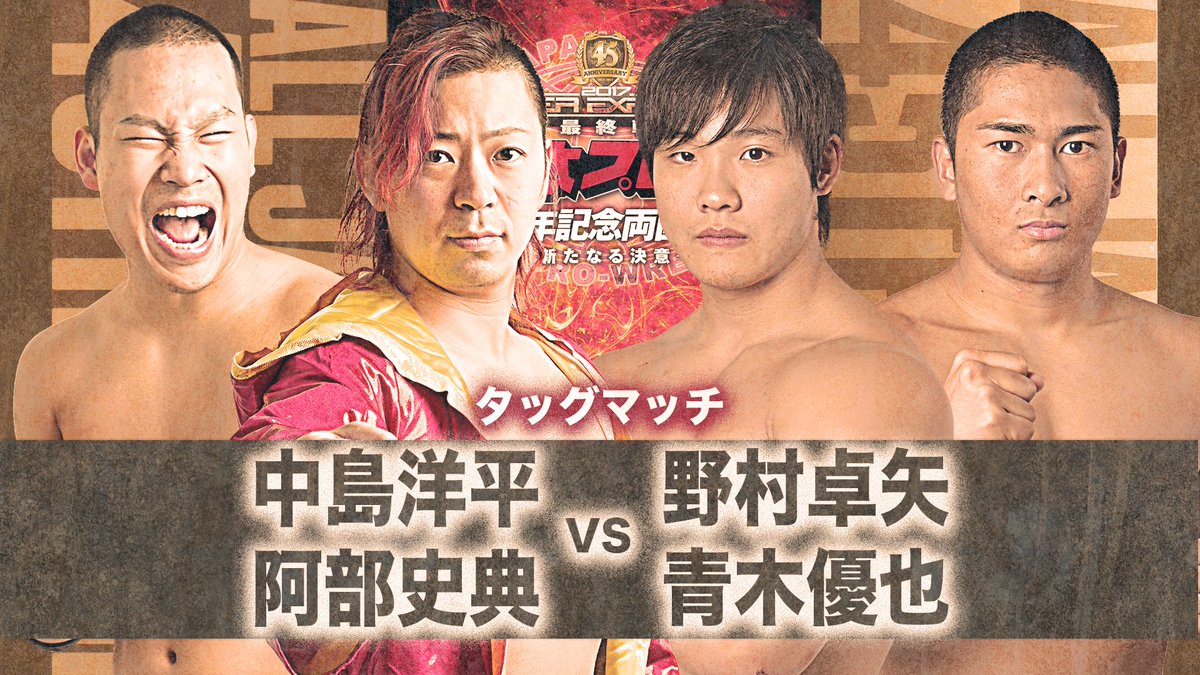 (1) Yohei Nakajima & Fuminori Abe (Sportiva) vs. Takuya Nomura & Yuya Aoki (both BJW)
♦Winner: Yohei (4:18) following the Tobiushiro mawashigeri on Yuya.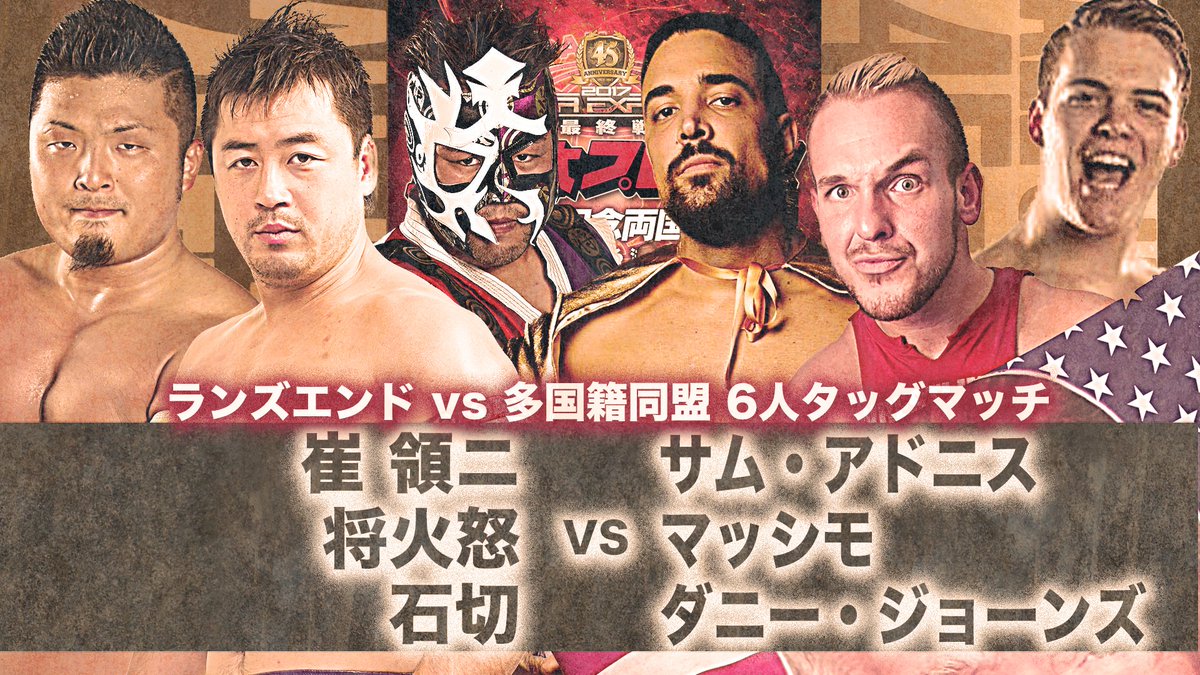 (2) LAND'S END vs. Multi-Nation Alliance: Ryoji Sai, Masakado & Ishikiri vs. Massimo, Danny Jones & Sam Adonis
♦Winner: Sai (7:40) following the Nachi no Taki on Jones.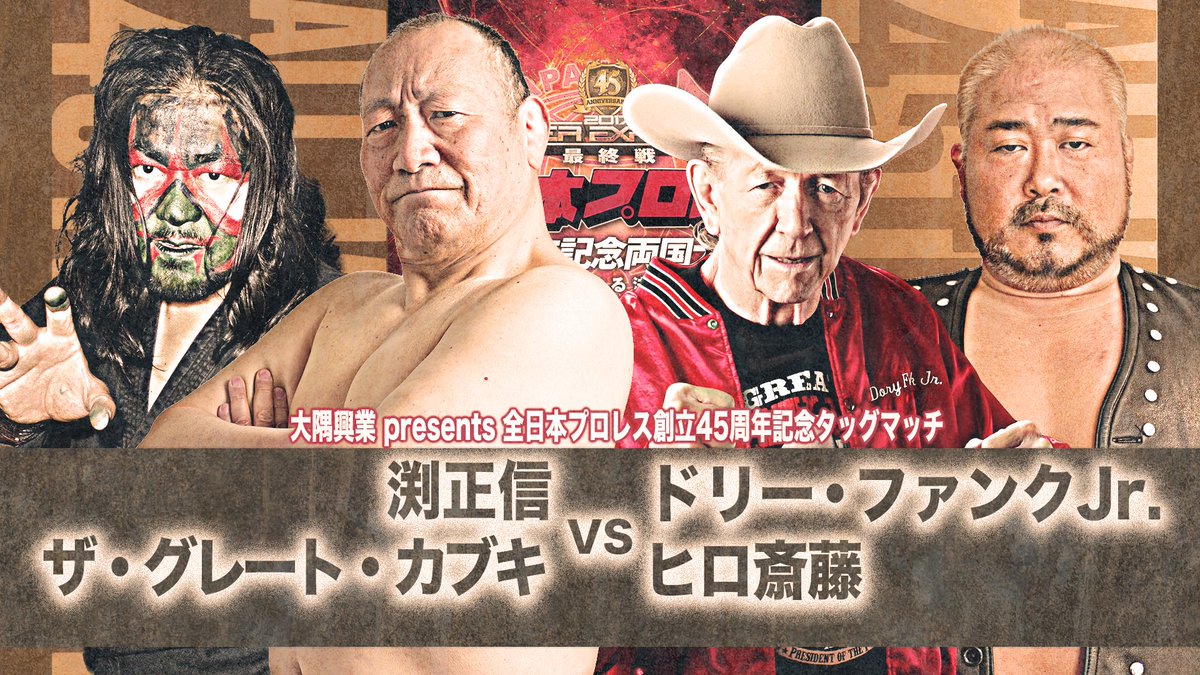 (3) All Japan 45th Anniversary Tag Match: Dory Funk Jr. & Hiro Saito (FREE) vs. Masanobu Fuchi & The Great Kabuki (FREE)
♦Winner: Dory (10:16) with a Spinning Toe Hold on Fuchi.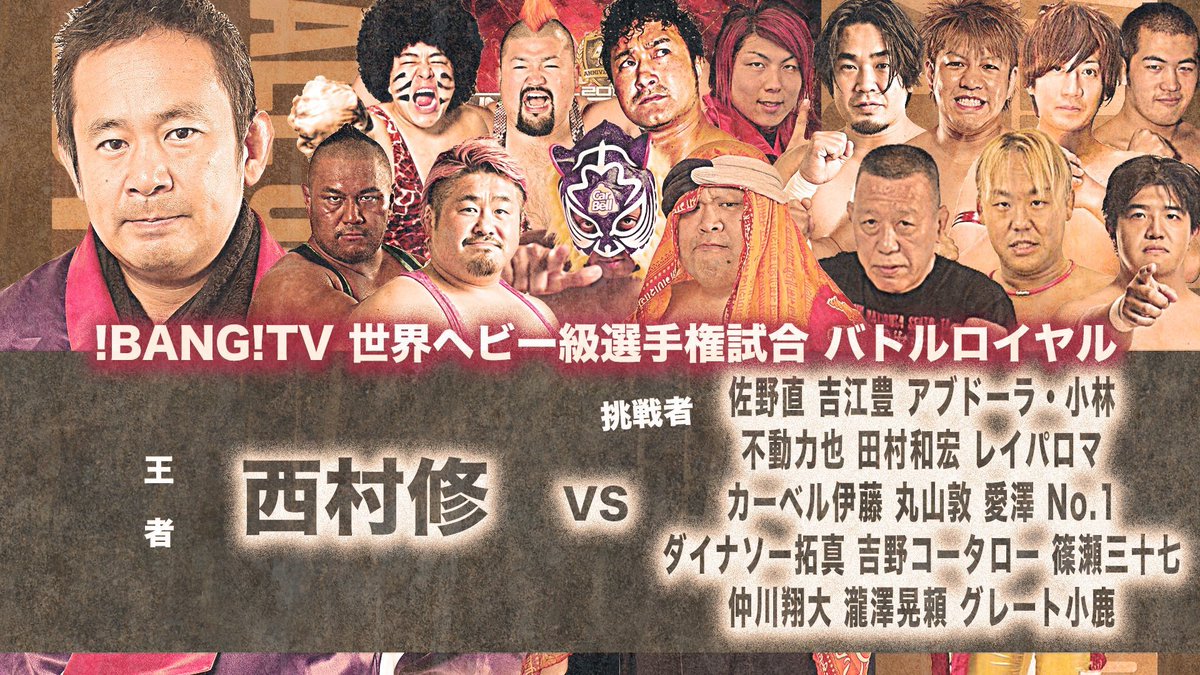 (4) BANG!TV World Heavyweight Championship Battle Royal: [3rd Champion] Osamu Nishimura vs. [Challengers] Naoshi Sano (Sano-Damashii), Yutaka Yoshie (FREE), Abdullah Kobayashi (BJW), Rikya Fudo (LAND'S END), Kazuhiro Tamura (HEAT-UP), Rey Paloma (DOVE), Carbell Ito, Atsushi Maruyama (FREE), Aizawa #1 (FREE), Dinosaur Takuma (K-DOJO), Kotaro Yoshino (K-DOJO), Mitoshichi Shinose (ASUKA PRO), Akiyori Takizawa (ASUKA PRO), Great Kojika (BJW)
♦Winner: Nishimura (8:24) via pin-fall on Kojika.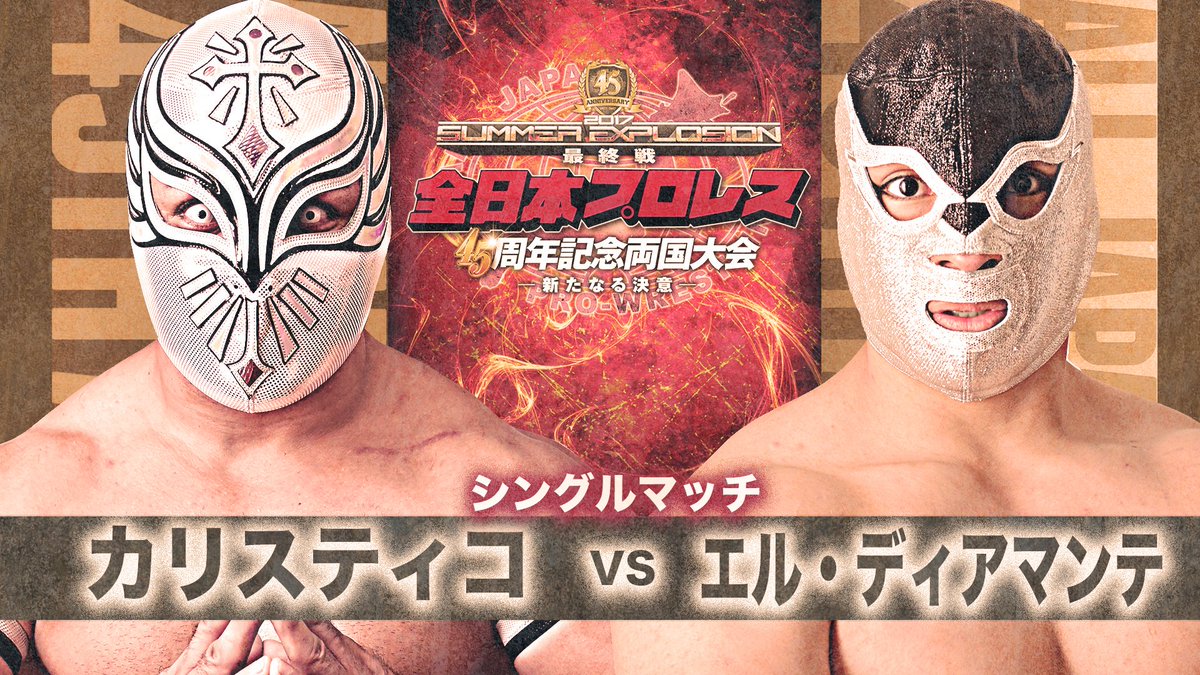 (5) Caristico vs. El Diamante
♦Winner: Carastico (8:19) with the La Mistica.
---
~ X for the September shows was announced to be Manabu Soya. Appears a GET WILD reunion may be in the works heading into the World's Strongest Tag League later in the year.
~ Keiji Mutoh was announced to be making his return to the All Japan ring on November 19 for a special show in Sapporo.
---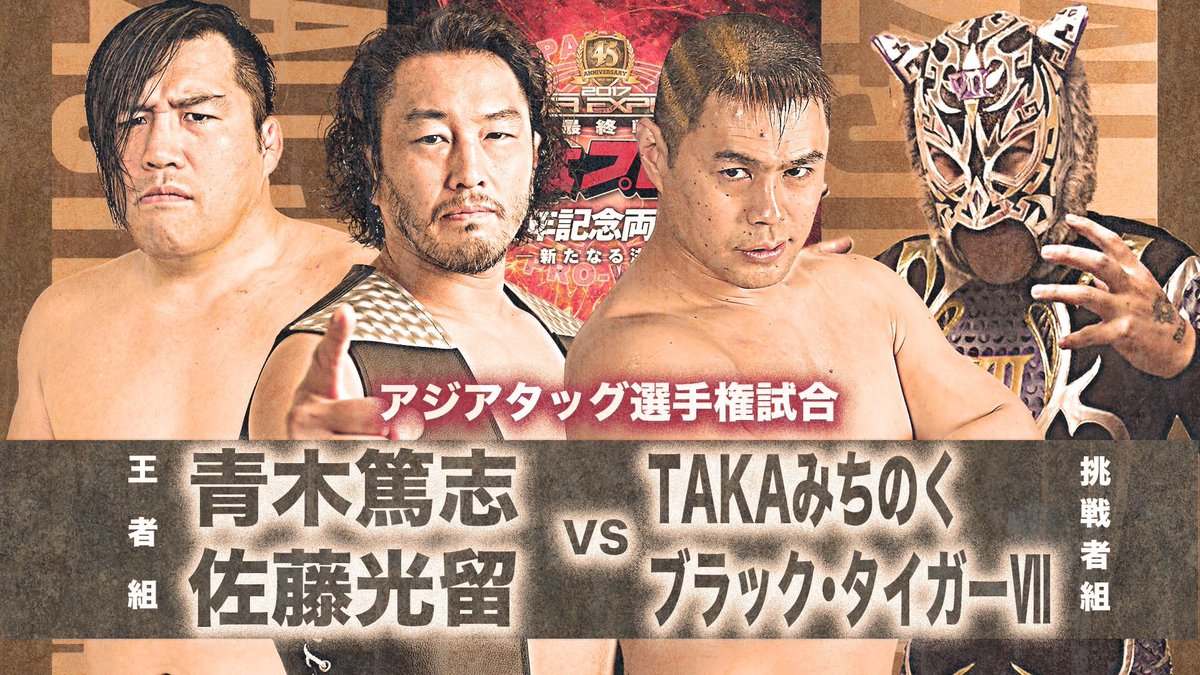 (6) Asia Tag Championship Match: [101st Champions] Atsushi Aoki & Hikaru Sato vs. [Challengers] Black Tiger VII & TAKA Michinoku
♦Winner: Black Tiger VII (10:35) with a Ultra High School Class La Magistral on Hikaru.
~ Champions fall on their 3rd title defense. TAKA & BT VII become the 102nd champions.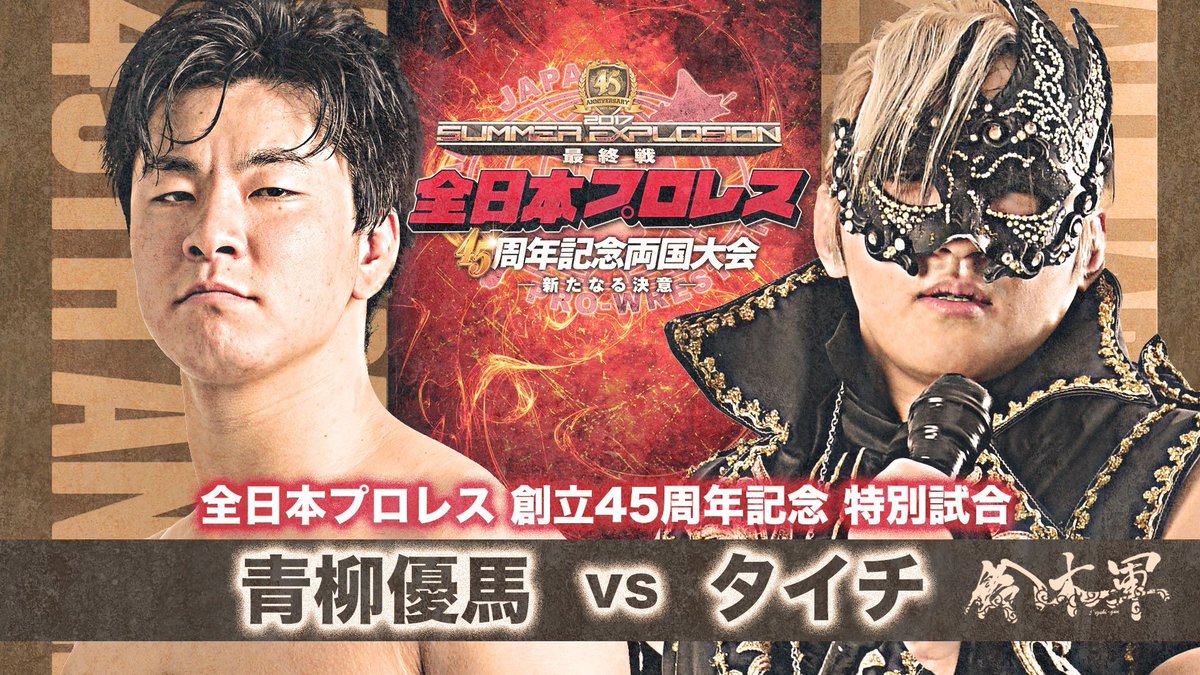 (7) Yuma Aoyagi vs. Taichi (Suzuki-gun)
♦Winner: Taichi (13:19) following the Taichi style Last Ride.
~ Aoyagi suffers yet another singles loss against Taichi, following his appearance in last year's SUPER J CUP.
~ TAKA and Yoshinobu Kanemaru were also present at ringside.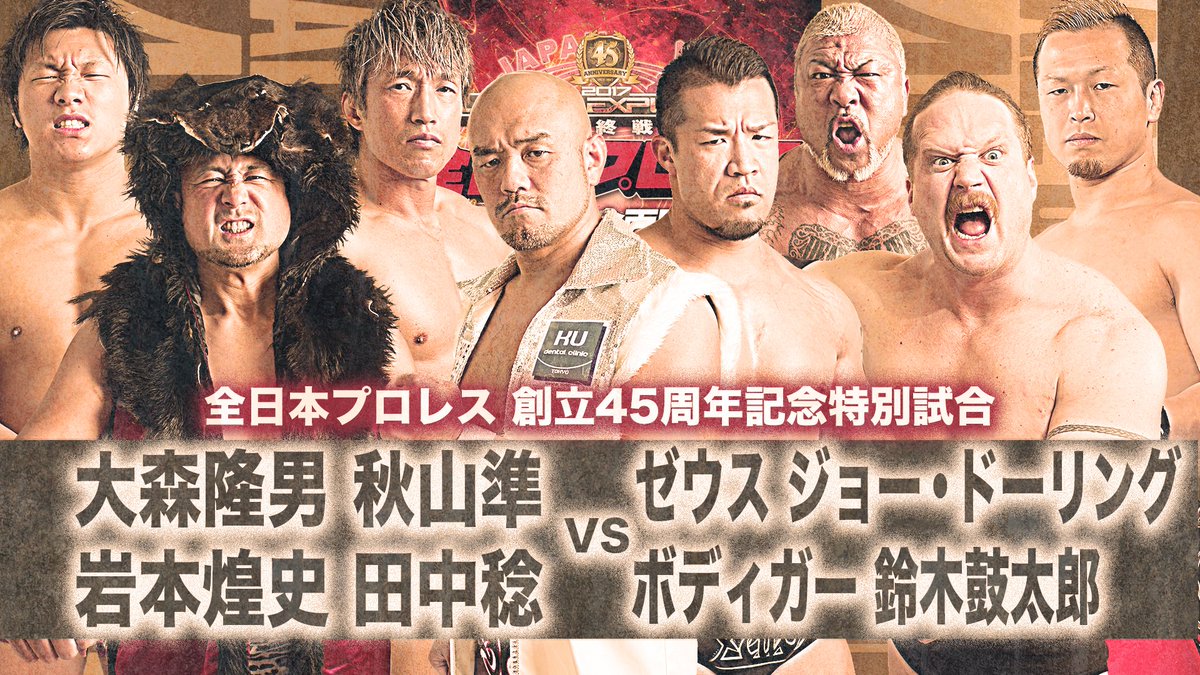 (8) All Japan 45th Anniversary Special Tag Match: Jun Akiyama, Takao Omori, Minoru Tanaka (FREE) & Koji Iwamoto vs. Joe Doering, Zeus, The Bodyguard (FREE) & Kotaro Suzuki (FREE)
♦Winner: Omori (6:13) following an Axe Bomber on Bodyguard.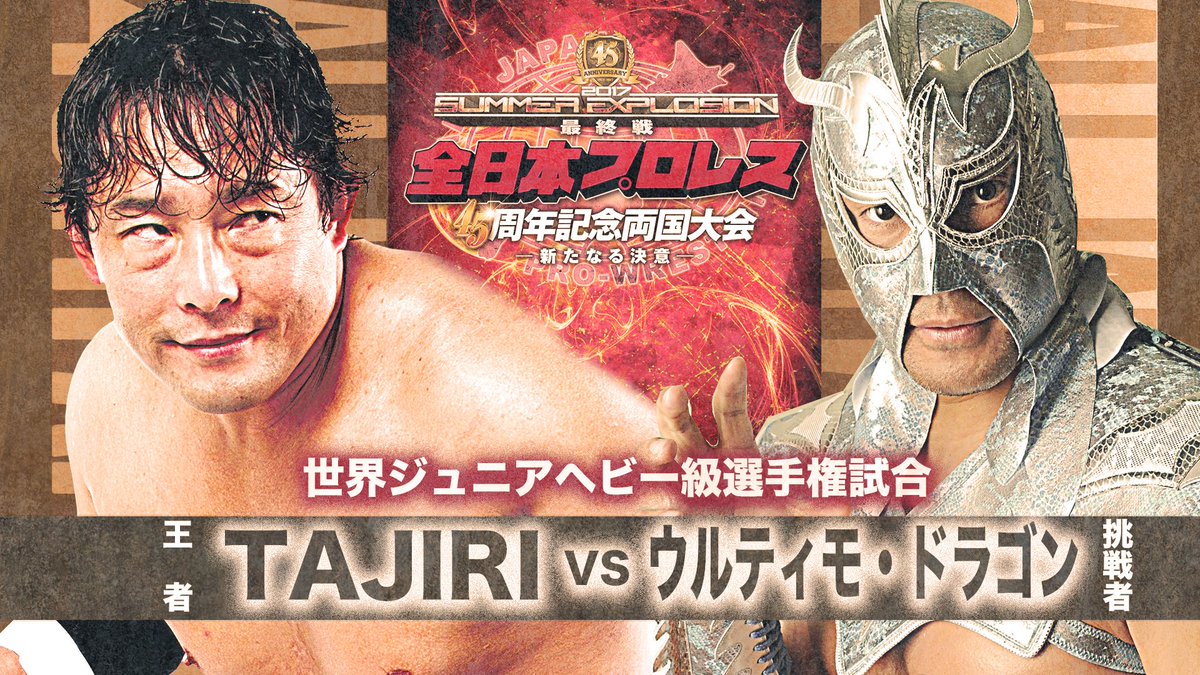 (9) World Junior Heavyweight Championship Match: [44th Champion] TAJIRI vs. [Challenger] Ultimo Dragon
♦Winner: Dragon (15:57) following the Asai DDT.
~ Champion falls on his 1st title defense. Dragon becomes the 45th champion with the brand new designed World Junior belt. Fuchi and Hiro Saito presented the new belt to Dragon.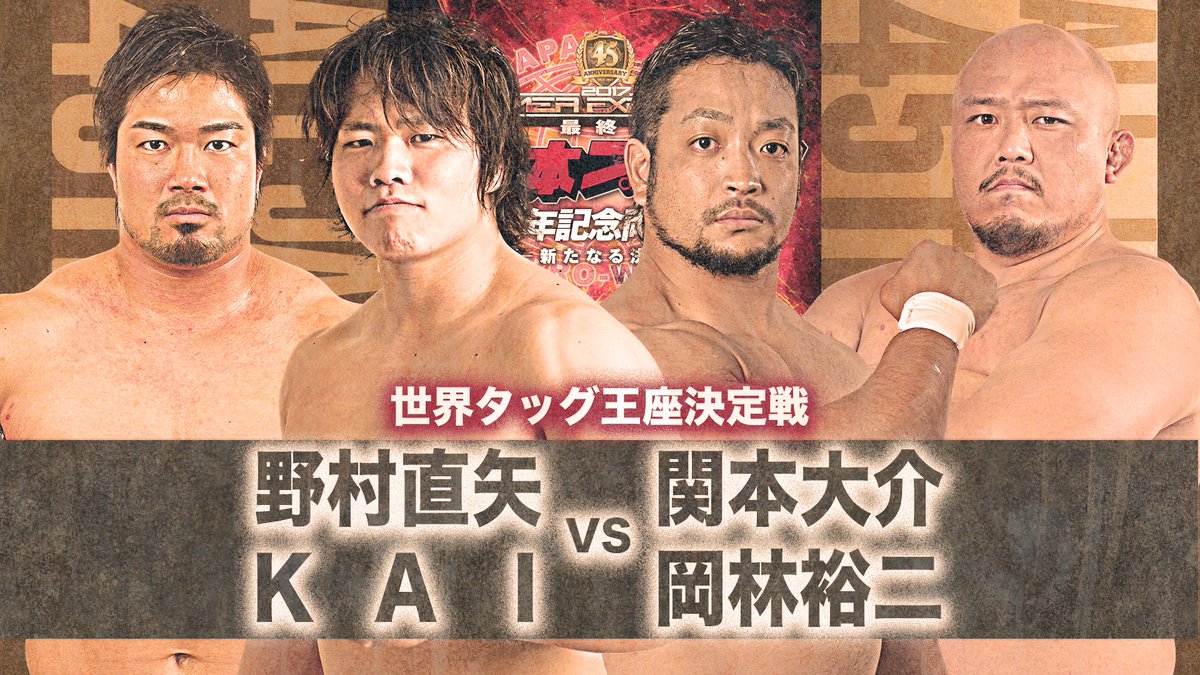 (10) World Tag Championship Decision Match: Naoya Nomura & KAI vs. Daisuke Sekimoto & Yuji Okabayashi
♦Winner: Okabayashi (17:31) with the Golem Splash on Noaya.
~ Strong BJ become the 77th champions.
~ After the match, Akiyama and Omori confronted the new champion.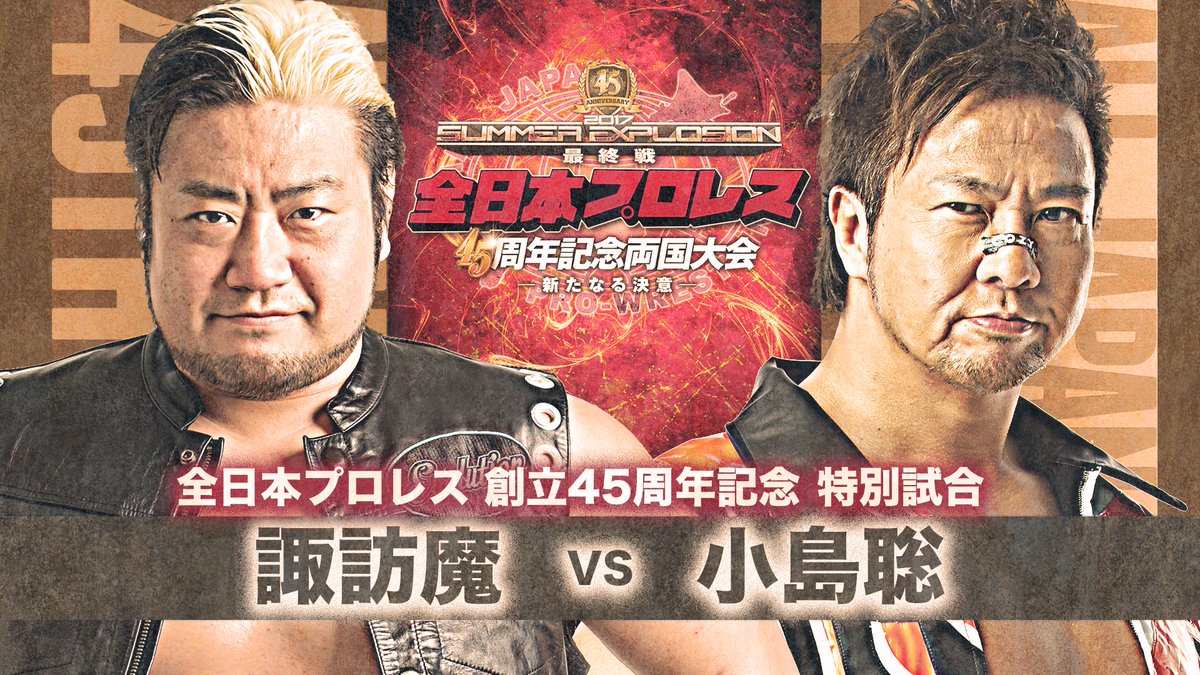 (11) Special Single Match: Suwama vs. Satoshi Kojima
♦Winner: Kojima (11:15) following a Western Lariat.
~ Doering assaulted Suwama before the start of the match. Kojima used the attack to his advantage as he eventually landed the Lariat to secure the win.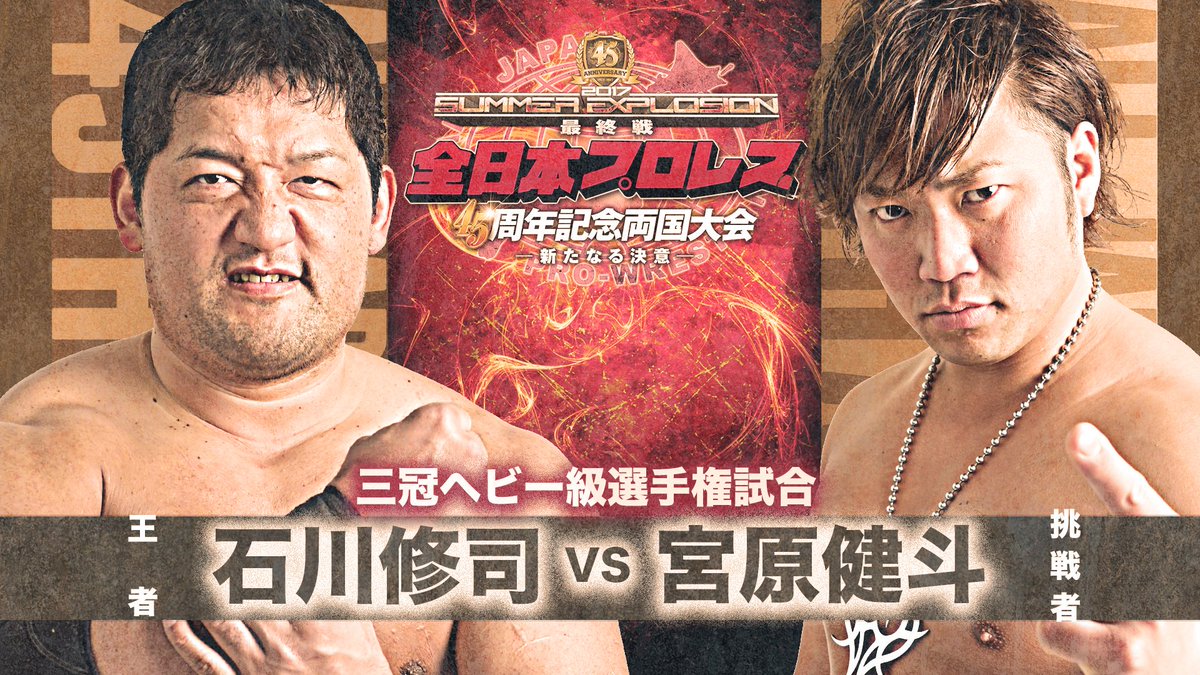 (12) Triple Crown Heavyweight Championship Match: [56th Champion] Shuji Ishikawa vs. [Challenger] Kento Miyahara
♦Winner: Miyahara (24:39) with the Shutdown German Suplex Hold.
~ Champion falls on his 3rd title defense. Miyahara becomes the 57th champion.
~ Miyahara stated that he did indeed recapture the belt at Ryogoku as he sent out the invitation for yet another match against Ishikawa in the future.
~ Miyahara declared that he will continue to drive All Japan to the top as he thanked all the fans for their continued support.
http://puroresuspirit.net/2017/08/ajpw-event-cards-for-september-october-2017/