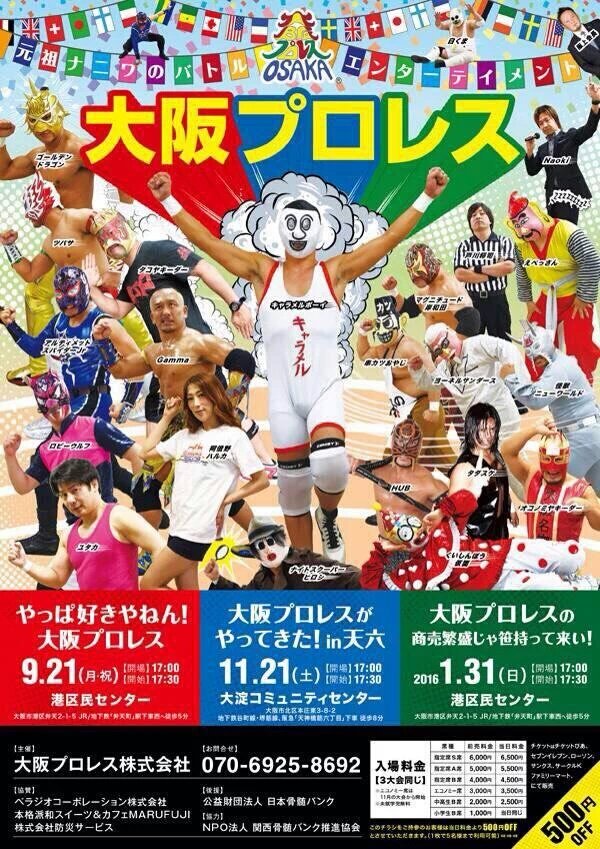 Osaka Pro-Wrestling "Tennozan Final Round", 1/31/2016 [Sun] 17:30 @ Osaka Municipal Port Ward Community Center
(1) Ebessan & Koji Iwamoto vs. Nightscooper Hiroshi & Tigers Mask II
◆Winner: Ebessan (14:10) following the Shining EbeWizard on Hiroshi.
(2) Semi-final Round B Block: Magnitude Kishiwada vs. Tadasuke
◆Winner: Tadasuke (12:52) following a Clothesline.
(3) Semi-final Round A Block: Tsubasa vs. Kaiju New World
◆Winner: Kaiju (10:59) following the N.W.D. (New World Driver).
(4) 3WAY Match: Kuishinbo Kamen vs. Yonel Sanders vs. Yutaka
◆Winner: Yutaka (11:52) following the Nenkin Driver on Kuishinbo.
(5) 6 Man Tag Match: Takoyakida, Ultimate Spider Jr & Golden Dragon vs. Gamma w/ Haruka Abeno, Caramel Boy & Kushikatsu Oyaji
◆Winner: Kushikatsu (14:47) following the Kushikatsu Buster on Golden Dragon.
(6) Tennozan Final Match: Tadasuke vs. Kaiju New World
◆Winner: Tadasuke (15:14) following the Outkast.
~ Tadasuke becomes the 29th generation champion.