DDT "Sweet Dreams 2016", 1/31/2016 [Sun] 12:00 @ Korakuen Hall in Tokyo
1,658 Spectators (crowded)
(0) Anywhere Fall 60 Min. Iron Man Match: Sanshiro Takagi vs. KENSO
◆Winner: DRAW (60:00) Time Expired, both sat at 16-16 over one another.
~ Match began in the ring prior to the show before anyone entered the hall.
(0) King of Dark Championship Tag Match: [10th Champion] Gota Ihashi & Tomomitsu Matsunaga vs. Hiroshi Fukuda & Mizuki Watase
◆Winner: Fukuda (3:42) with a Diving Body Press on Watase.
~ Watase becomes the new 11th generation champion due to the loss to Fukuda.
(1) Shunma Katsumata & Kota Umeda vs. Daisuke Sasaki & Guanchulo
◆Winner: Daisuke (10:11) with the Vietnam Driver II on Umeda.
~ Daisuke announced that he wants to aim for the KO-D Tag belts again, his partner being Shuji Ishikawa.
(2) Akai Saki & DJ Nira vs. Makoto Oishi & Cherry
◆Winner: Cherry (6:18) following the Cherryton Bomb on Nira.
(3) Danshoku Dino & Super Sasadango Machine vs. Toru Owashi & Kazuki Hirata
◆Winner: DRAW (11:33) all over the top rope.
(4) Antonio Honda, Konosuke Takeshita & Tetsuya Endo vs. Keisuke Ishii, Soma Takao & Kouki Iwasaki
◆Winner: Takeshita (10:19) with a Texas Clover Holdon Iwasaki.
(5) DDT EXTREME Championship ~ Special Partner Rules Match: [34th Champion] Kendo Kashin w/ Goma Ryu vs. [Challenger] Yasu Urano w/ Akito
◆Winner: Goma (10:41) over Urano.
~ Kashin 2nd successful defense.
() Special 4 WAY Match: HARASHIMA vs. Yukio Sakaguchi vs. Shigehiro Irie vs. Kazusada Higuchi
◆Winner: Irie (10:50) following the Beast Bomber on Higuchi.
(-) KO-D Openweight Championship Match: [55th Champion] Isami Kodaka vs. [Challenger] Masa Takanashi
◆Winner: Kodaka (27:03) following the Isamiashi-zan.
~ 3rd successful title defense.
~ HARASHIMA and Shigehiro Irie came out to challenge the champion after the match.
~ It was announced that the two will face each other on 2/28 to determine the next contender. The winner will move on face Kodaka on 3/21 at Ryogoku.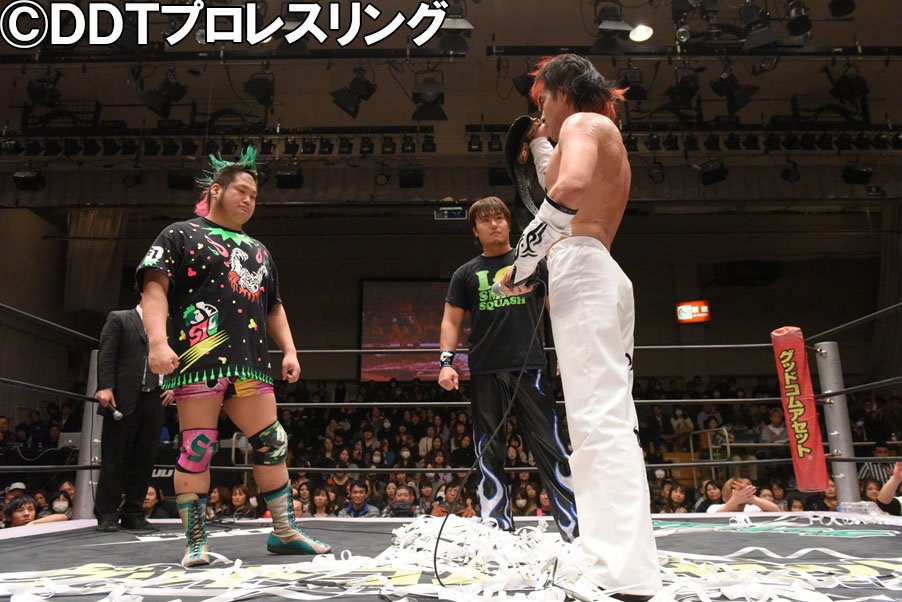 http://puroresuspirit.net/tag/ddt/
Upcoming…
DDT, 2/7/2016 [Sun] @ Kawaguchi City Sangyo Gijutsu Sogo Center
(-) KO-D 6 Tag: [Champions] Danshoku Dino, Super Sasadango Machine & KENSO vs. [Challengers] Sanshiro Takagi, Toru Owashi & Kazuki Hirata
DDT "Into The Fight 2016", 2/27/2016 [Sun] 12:00 @ Korakuen Hall in Tokyo
(-) KO-D Openweight Contendership Match: HARASHIMA vs. Shigehiro Irie
DDT "Judgement 2016 ~ DDT 19th Anniversary Show", 3/21/2016 [Mon] 16:00 @ Ryogoku Kokugikan in Tokyo
(0) DNA Offer Match:
(0) Tokyo Joshi Offer Battle Royal:
(0) BASARA Offer Match:
(-) KO-D Openweight, Anytime, Anywhere Challenge Rights Battle Royal:
(-) Special 6 Man Tag Match: LiLiCo, X & XX vs. Saki Akai, Makoto Oishi & LadyBeard
(-) Anywhere Fall Weapon Hunt Treasure Match: Sanshiro Takagi & Jun Kasai vs. KENSO & Michael Nakazawa
(-) Dramatic Dream Match: Danshoku Dino vs. Akebono [FREE]
(-) Dramatic Dream Match: Yukio Sakaguchi vs. Minoru Suzuki [Pancrase MISSION]
(-) Semi-final – KO-D Tag Championship Match: [Champions] Konosuke Takeshita & Tetsuya Endo vs. [Challengers] Daisuke Sasaki & Shuji Ishikawa
(-) Main Event – KO-D Openweight Championship Match: [55th Champion] Isami Kodaka vs. [Challenger] (winner of 2/27 match)