—————————————————————————————————————————————————————-
◆FREEDOMS◆ [2/28 FULL RESULTS]
~ Jun Kasai will be hosting his own self-produced show on 7/17 in Hiroshima.
~ The full event card for FREEDOMS' next show on 3/3 was released.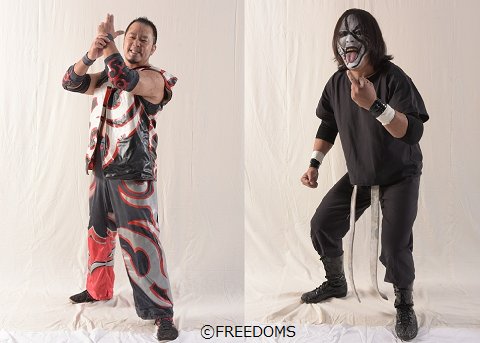 Pro Wrestling FREEDOMS "Reach for the star 2016", 3/3/2016 [Thu] 19:00 @ Shinkiba 1stRING in Tokyo
() Jun Kasai vs. Mitsuo Momota
() Tatsuhito Takaiwa & Masashi Takeda vs. Fuminori Abe & Kenji Takeshima
() The Winger & Kenichiro Arai vs. Yuya Susumu & Minoru Tanaka
() Mammoth Sasaki & Toru Sugiura vs. Kamui & Daisuke Masaoka
() 1 vs 3 Handicap Match: GENTARO vs. Darth Brahman, Shu & Kei Brahman w/ Karate Brahman
() KING of FREEDOM WORLD CHAMPIONSHIP Contendership Deathmatch: Takashi Sasaki vs. Kenji Fukimoto
http://puroresuspirit.net/tag/freedoms/
—————————————————————————————————————————————————————-
◆J-STAGE◆
~ A couple more matches were announced for the upcoming show, including a big 3WAY match between Jun Kasai, "brother" YASSHI, and Masashi Takeda
~ Still announced to compete is Hi69, Yuya Susumu, Minoru Tanaka, and Kotaro Nasu.
~ Fujita "Jr" Hayato and Kengo, both still out with injury, will be at the show as special ring announcers.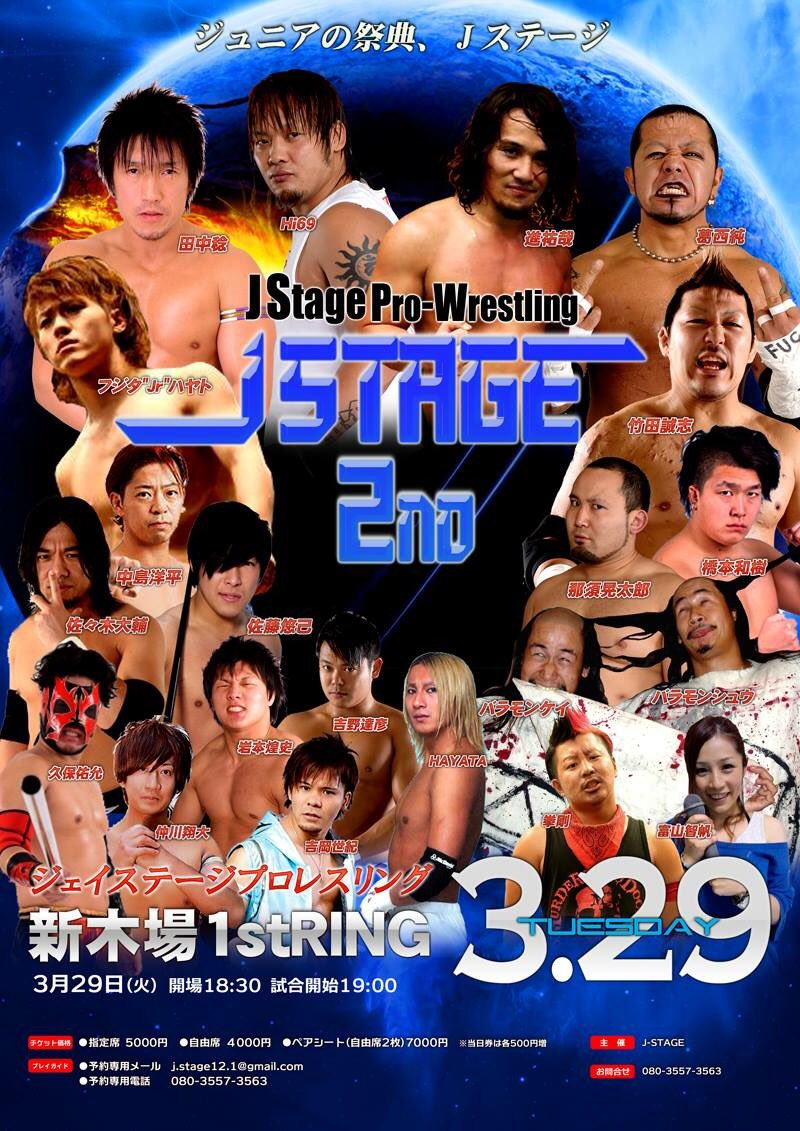 J-STAGE 2nd, 3/29/2016 [Tue] @ Shinkiba 1stRING in Tokyo
Newly Announced…
(-) Resurrection, Okinawa Tag?: Yohei Nakajima [AJPW] & Eisa8 [Okinawa] vs. Masaya Takahashi & Shota Nakagawa [both ASUKA]
(-) 3WAY Match: Jun Kasai vs. "brother" YASSHI vs. Masashi Takeda
Previously Announced…
(-) Daisuke Ssasaki [DDT], Yuki Sato [K-DOJO] & Yusuke Kubo [BASARA] vs. Shu Brahman [FREE], Kei Brahman [FREE] & Takayuki Ueki [BJW]
(-) Seiki Yoshioka [W-1] vs. HAYATA [DOVE]
(-) Tatsuhiko Yoshino [GUTS] vs. Koji Iwamoto [Sportiva]
(-) Hakata Light Heavyweight Championship Match: [Champion] MIKAMI vs. [Challenger] Kaji Tomato
—————————————————————————————————————————————————————-
◆ZERO1/Cho-Hanabi◆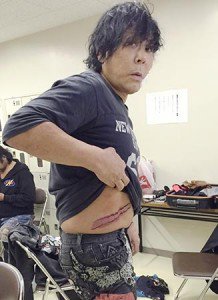 ~ Atsushi Onita is making news after revealing that he suffered a large laceration on the right side of his stomach during the FMW show on 2/26 at Korakuen. Due to this the medical physical has told him that he should not compete for at least a total of 3 weeks because of the 30cm (11 inch) laceration.
Though Onita has stated that he will not miss competing as it this is nothing that is going to stop him. He mentioned that this all stems back to when he was under Giant Baba and being taught to not miss shows unless you are completely unable, as to not let down the fans who are coming to an event that is already booked.
~ Onita competed that next day for Cho-Hanabi and stated that there are 12-13 shows scheduled throughout the month of March, and that he will be there.
—————————————————————————————————————————————————————-
◆Joshi◆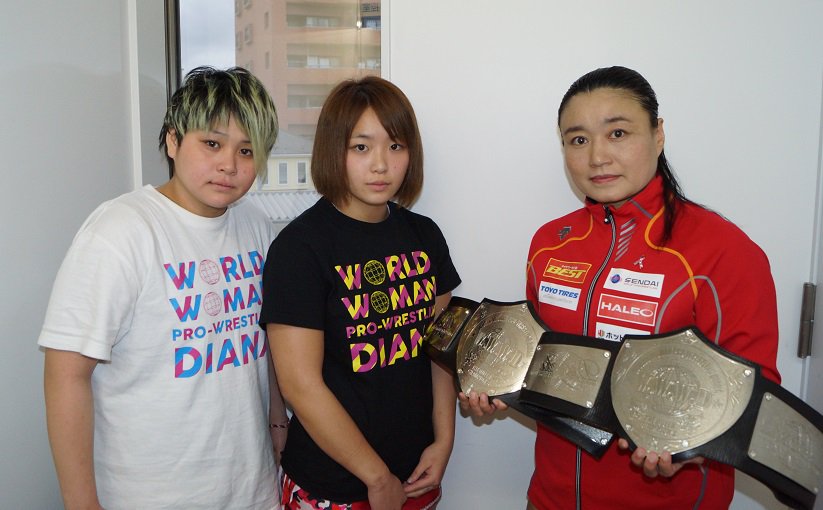 ~ Diana : Meiko Satomura personally returned the W.W.W.D. Tag belts to the promotion. Following the retirement of Sendai Sachiko the belts still remained in the possesssion of the Jumonji Sisters. It was also announced that a playoff decision match will be scheduled soon to determine the next champions.
—————————————————-
~Ice Ribbon : The full event card was released for the 3/12 show at Korakuen.
Ice Ribbon, 3/12/2016 [Sat] @ Korakuen Hall in Tokyo
(1) Hamuko Hoshi & (tba) vs. Rina Yamashita [OSAKA Joshi] & Akane Fujita
(2) Saya's Debut Match: Maruko Nagasaki vs. Saya
(3) Manami Toyota vs. Maya Yukihi
(4) Triangle Ribbon Championship Playoff Match: Kyuuri vs. Cherry [DDT] vs. Makoto [REINA]
(5) Miyako Matsumoto [Gake no Fuchi] vs. X (original 2008 rookie)
(6) Misaki Ohata [WAVE] vs. Yuka
(7) International Ribbon Tag Championship: [37th Champions] Tsukasa Fujimoto & Arisa Nakajima vs. [Challengers] Risa Sera & Maki Narumiya
~ 3rd title defense.
(8) ICE x ∞ Championship: [21st Champion] Hamuko Hoshi vs. [Challenger] Tsukushi
~ 2nd title defense.
—————————————————-
~ Osaka Joshi : Following yesterday's news, Yuu Yamagata will defend the Regina de WAVE belt against Sawako Shimono on 3/21 in Osaka.