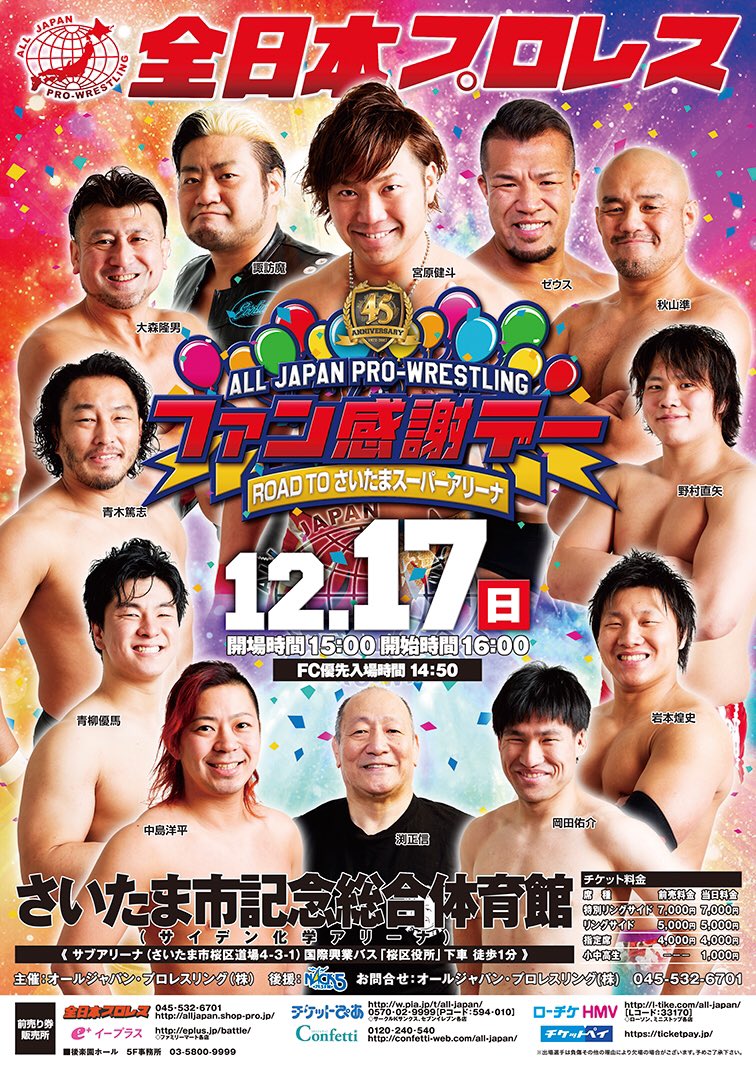 All Japan Pro-Wrestling "Fan Appreciation Day", 12/17/2017 [Sun] 16:00 @ Saitama City Memorial General Gymnasium
573 Spectators (crowded)
(1) Yuma Aoyagi & Koji Iwamoto vs. KAI [FREE] & Ishikiri [LAND'S END]
◆Winner: Aoyagi (9:46) following the Rockstar Buster on Ishikiri.
(2) Christmas Gift Match: Mr. Christmas, Ultimo Dragon & Carbell Ito vs. Masanobu Fuchi, Osamu Nishimura [FREE] & Yusuke Okada
◆Winner: Dragon (16:34) with a La Magistral on Yusuke.
(3) Atsushi Aoki, Hikaru Sato & Takahisa Matsumoto [ALPHA] vs. Yohei Nakajima, Kotaro Suzuki [FREE] & Keiichi Sato [FREE]
◆Winner: Hikaru (13:19) with a Capture style Cross Armbar on Yohei.
(4) Takao Omori vs. Black Tiger VII (FREE)
◆Winner: Omori (9:41) following an Axe Bomber.
~ Akiyama & Omori stated that their focus is now on defending the World Tag belts on 1/3 against Suwama & Ishikawa and then challenging the Asia Tag Champions on 1/6.
~ Also during the backstage interview, Black Tiger VII stated that his mask may no longer be needed.
(5) World Junior Heavyweight Championship Match: [46th Champion] TAJIRI (FREE) vs. [Challenger] Atsushi Maruyama (FREE)
◆Winner: TAJIRI (9:00) with a Small Package Hold.
~ 2nd successful title defense.
~ TAJIRI will move on to defend the belt against Kotaro Suzuki on 1/2 at Korakuen.
~ Though with the upcoming match in front of him, TAJIRI stated that he aims for a defend the belt and take on Atsushi Aoki. Aoki appeared and made it known that he does indeed want a match against TAJIRI, as the two shook hands on it.
(6) Joe Doering vs. Naoya Nomura
◆Winner: Doering (7:54) with the Revolution Bomb.
~ The Triple Crown Champion with the dominant win as he holds his momentum heading into the title defense against Zeus in the coming New Year.
(7) Road to Saitama Super Arena: Suwama, Shuji Ishikawa [FREE] & Ryoji Sai [LAND'S END] vs. Kento Miyahara, Zeus & Yoshitatsu [FREE]
◆Winner: Zeus (23:44) with a Jackhammer on Sai.
~ Zeus claimed the much needed win over his recent rival as he now goes on to challenge Doering on 1/2.
http://puroresuspirit.net/2017/10/ajpw-event-cards-for-november-december-2017/
http://puroresuspirit.net/2017/12/ajpw-event-cards-for-january-february-2018/