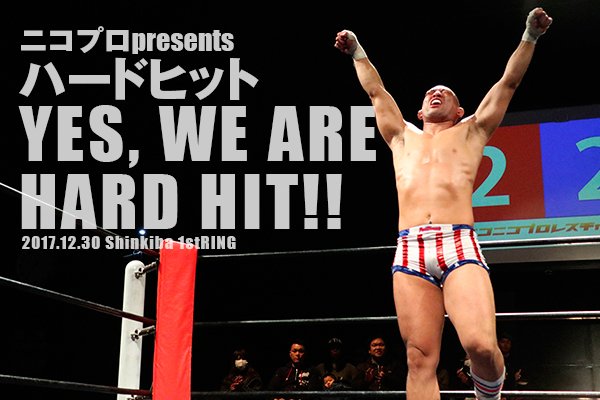 HARD HIT "YES, WE ARE HARD HIT!!", 12/30/2017 [Sat] 12:00 @ Shinkiba 1stRING in Tokyo
(No number listed, but noted as Overcrowded
(0) Masao Ando (FREE) vs. Shunsuke Sayama (ASUKA)
~ DRAW (5:00) Time Expired. Bout went to extension.
◆Winner: Ando (2:02) with a V1 Armbar.
~ Hikaru Sato greeted those in attendance before the show and thanked them for helping Hard Hit grow and maxing out the attendance.
(1) Koji Iwamoto (AJPW) vs. Yutaka Kobayashi (U-FILE)
◆Winner: Iwamoto (2:34) with a Katagatame.
(2) Tyson Maeguchi (PHOENIX) vs. Shiyo Karasawa (M16 Muay Thai)
◆Winner: DRAW (10:00) Time Limit Expired.
(3) Daisuke Nakamura (Yuketsudo Honpo) vs. Sen Nakadai (TEAM OVER KILL)
◆Winner: Nakamura (2:30) with a Cross Armbar.
(4) Atsushi Aoki (AJPW) vs. Fuminori Abe (Sportiva)
◆Winner: Aoki (3:17) via TKO, referee stop, following a Release Assault Point.
(5) Grappling Tag Match: Taiji Ishimori (NOAH) & Nobuhiro Tsurumaki (FREE) vs. Takatoshi Matsumoto (ALPHA) & SUSHI (FREE)
◆Winner: Ishimori (11:05) with a Cross Face Lock on SUSHI.
(-) Bonus Dark Match: Kentaro Yorimitsu vs. Ryo Sasaki
◆Winner: DRAW (5:00 + 3:00) Time Expired.
(6) Takuya Nomura (BJW) vs. Takuya Wada (FREE)
◆Winner: Takuya Nomura (7:37) with a Cross Armbar.
(7) Yoshio "Hitokui" Takahashi (Fujiwara-gumi) & Hideki Suzuki (FREE) vs. KEI Yamamiya (GRABAKA) & Hikaru Sato (Pancrase MISSION)
◆Winner: Hideki (12:12) with an Arm Lock on Hikaru.
~ Masato Uchishiba, Olympic Gold Medalist, was present at ringside for the match, due to Hikaru Sato's recommendation (they trained Jiu-Jitsu together). He was present to graduate the four men that he witnessed competing. Though he denied himself to ever compete as a pro-wrestler as he is a mixed martial artist.
(8) Rocky Kawamura (Pancras-ism) vs. Kenta Hattori (Kachofugetsu)
◆Winner: Kawamura (14:02) via referee stop, KO, seated palm strikes.