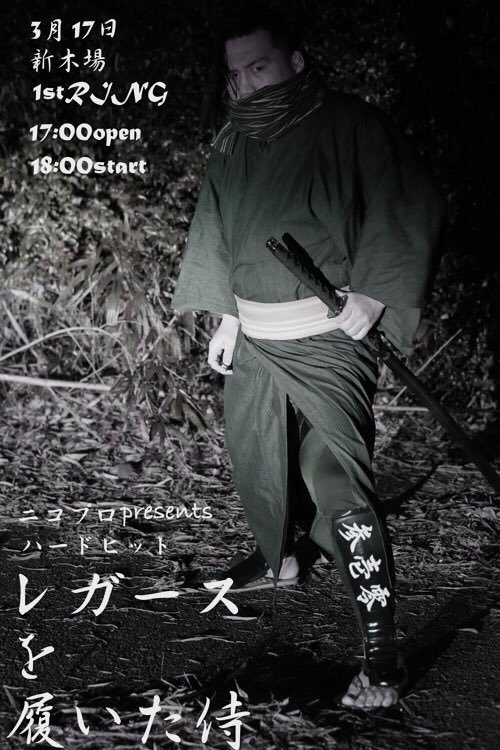 HARD HIT "Samurai Wearing Leg Guards", 3/17/2018 [Sat] 18:00 @ Shinkiba 1stRING in Tokyo
(almost sold out)
(0) Tetsuya Izuchi (HEAT-UP) vs. Raito Shimizu (Mumeijyuku)
◆Winner: DRAW (5:00 & 3:00 ext.) Time Limit Expired.
(1) Takuya Wada (FREE) vs. Kenta Hattori (Kachofugetsu)
◆Winner: Wada (:27) with a Cross Armbar.
(2) Hidenobu Koike (GRABAKA) vs. Yu Iizuka (HEAT-UP)
◆Winner: Koike (3:37) with a Triangle Choke.
(3) Atsushi Aoki (AJPW) & SUSHI (FREE) vs. Takatoshi Matsumoto (ALPHA) & Chris MAN Taro (Chris Office)
◆Winner: Taro (9:07) with a Front Neck Lock on SUSHI.
(4) Sen "Silencer" Nakadai (TEAM OVER KILL) vs. Shuri Joe (Ryukyu Dragon)
◆Winner: Nakadai (2:24) via KO.
(5) Takafumi Ito (PancraseISM) vs. Nobuhiro Tsurumaki (FREE)
◆Winner: DRAW (10:00) Time Limit Expired.
(6) Koji Iwamoto (AJPW) vs. Taido Abe (Nishiyama School)
◆Winner: Iwamoto (5:46) with a Katagatame (Shoulder Lock).
(7) Hideki Suzuki (FREE) vs. Shiyo Karasawa (M16 Thai)
◆Winner: Hideki (4:44) with a Ground Cobra.
(8) Road to "U" Juijitsu Sparring Match: Hikaru Sato vs. Hideki "Shrek" Sekine (Bonsai Juijitsu)
◆Winner: No Winner (5:00 2R)
(9) Rocky Kawamura (Pancrase ISM) & Yoshio "Hitokui" Takahashi vs. Takashi Sugiura (NOAH) & Takuya Nomura (BJW)
◆Winner: DRAW (15:00) Time Limit Expired.