—————————————————————————————————————————————————————-
◆AJPW◆ [3/26 RESULTS]
~ Sparks between Miyahara and Super Tiger were obvious at today's show in Saitama. The early groundwork has definitely been built as the two are set to face on 4/18 of the Champion Carnival.
~ Big Guns, Zeus & Bodyguard, claimed a win as they head into the title defense tomorrow in Niigata.
~ Nomura continues to solidify his place over Aoyagi as he aims to hold his own in the upcoming Carnival.
~ Omori also made it known that he wants another shot at the Triple Crown. A strong showing in the upcoming CC, or even winning once more, could give him the chance that he desires.
http://puroresuspirit.net/2016/02/ajpw-event-cards-for-march-april-2016/
—————————————————————————————————————————————————————-
◆DDT◆
~ HARASHIMA defended the KO-D Openweight belt against Ken Ohka as heads into the next (potential) defense against Kazusada Higuchi. Potential as there are quite a few "anytime, anywhere" title challengers out there who could call him out at any given instance. Let alone Hirata could cash in after HARASHIMA has been work out against a previous opponent.
~ Daisuke Sasaki & Shuji Ishikawa also defended the KO-D Tag belts against the "World's Cutest Tag Team" in Joey Ryan and Candice LaRae. The two will now move on to take on the former champions Konosuke Takeshita & Tetsuya Endo in a rematch for the belts.
~ "Team DNA" Kazusada Higuchi, Shunma Katsumata & Kouki Iwasaki also defended the KO-D 6 Tag belts against the "Shouten Doji" team of Yukio Sakaguchi, Masa Takanashi & Kota Umeda.
~ Shigehiro Irie called out Super Sasadango Machine for a challenge for the EXTREME belt on today's show. Which the match has now been set for 4/3 show. Where the two were original set to face in a non-title match.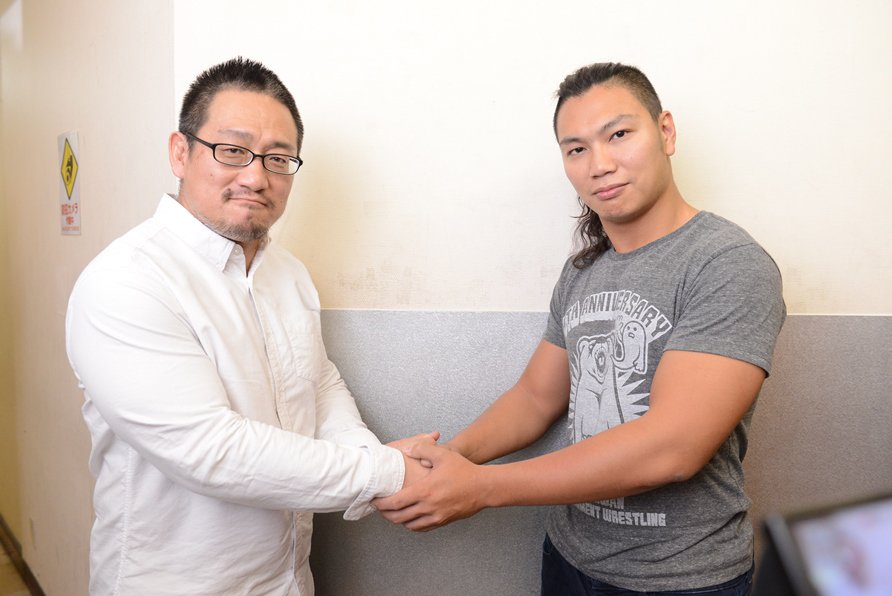 ~ It was formally announced that Rekka of NTW (New Taiwan Wrestling) will be officially joining DNA, dual affiliation, as of today. Sanshiro Takagi is looking to form a relationship with competing regularly in Taiwan and hopes this will build a bridge between the two promotions as well as the countries.
With his signing the full show for the next DNA show was released.
DNA 15, 4/1/2016 [Fri] 19:00 @ Kita-Senju Theater 1010 in Tokyo
Newly announced…
(-) Daiki Shimatani vs. Daichi Kazato [BASARA]
(-) Rekka vs. Guanchulo
Previously announced…
(-) Kazusada Higuchi vs. Mao Inoue
(-) Shunma Katsumata vs. Kouki Iwasaki
(-) Rainbow Kawamura vs. Antonio Honda [FREE]
(-) Kota Umeda & Mizuki Watase vs. Keisuke Ishii & Soma Takao [both DDT]
http://puroresuspirit.net/tag/dna/
http://puroresuspirit.net/tag/ddt/
—————————————————————————————————————————————————————-
◆DRADITION◆
~ An almost last moment match change has occurred as the aforementioned Sekimoto & Super Tiger versus Nagai & Mashimo has been flipped to be Nagai & Super Tiger versus Sekimoto & Mashimo. There was no direct mention to the switch, but this does following the Sekimoto versus Nagai match that just transpired in Real Japan.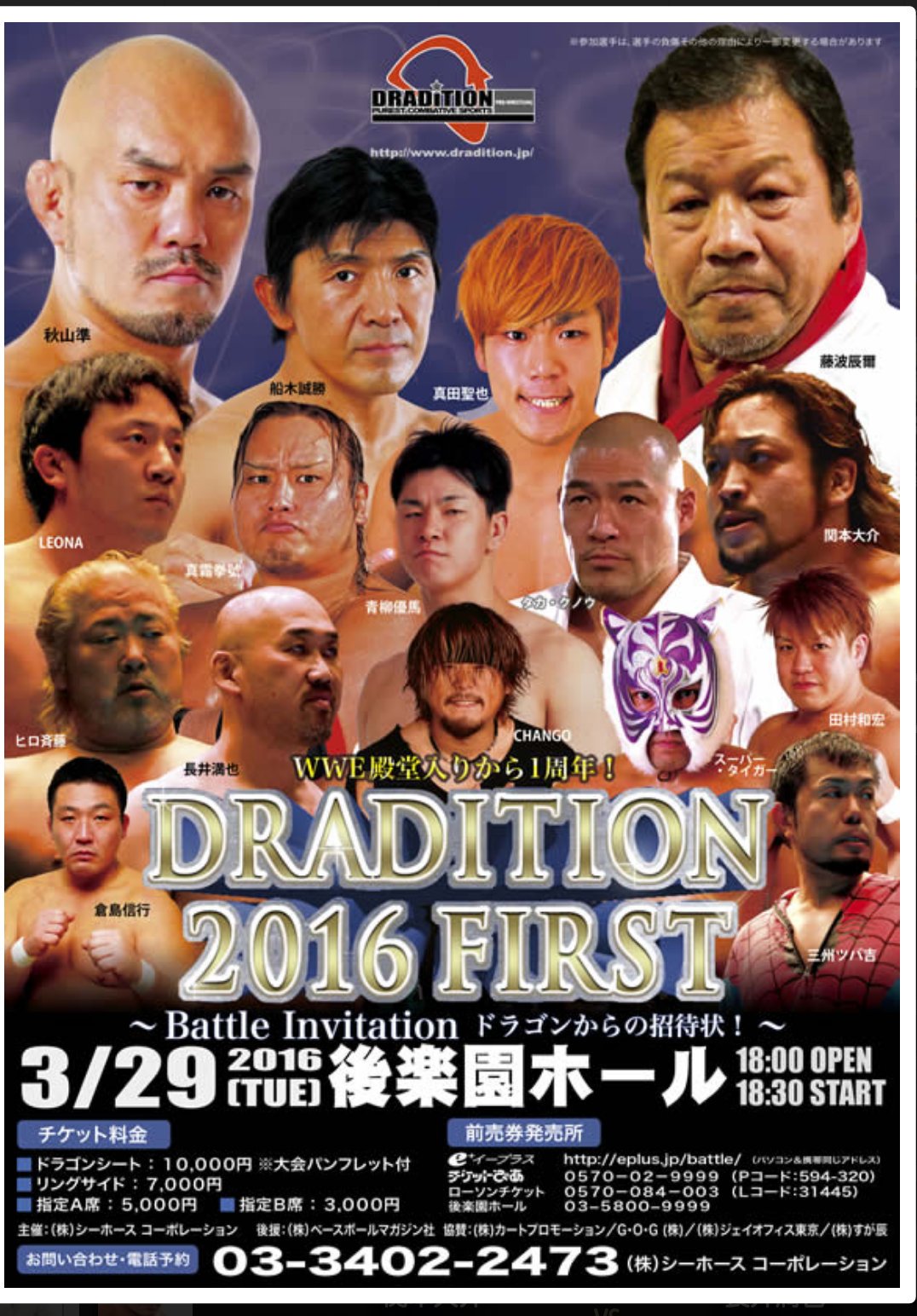 DRADITION "DRADITION 2016 FIRST ~ Battle Invitation", 3/29/2016 [Tue] 19:00 @ Korakuen Hall in Tokyo
(1) Tsubakichi Sanshu vs. Noboyuki Kurashima
(2) CHANGO [FREE] vs. Kazuhiro Tamura [HEAT-UP]
(3) LEONA vs. Seiya Sanada [S.P.E]
(4) Mitsuya Nagai & Super Tiger [RJPW] vs. Daisuke Sekimoto [BJW] & Kengo Mashimo [K-DOJO]
(5) Masakatsu Funaki [FREE] vs. Taka Kunoh [Team Ota Akira]
(6) Special Tag Match: Tatsumi Fujinami & Hiro Saito vs. Jun Akiyama & Yuma Aoyagi [both AJPW]
http://puroresuspirit.net/tag/dradition
—————————————————————————————————————————————————————-
◆K-DOJO◆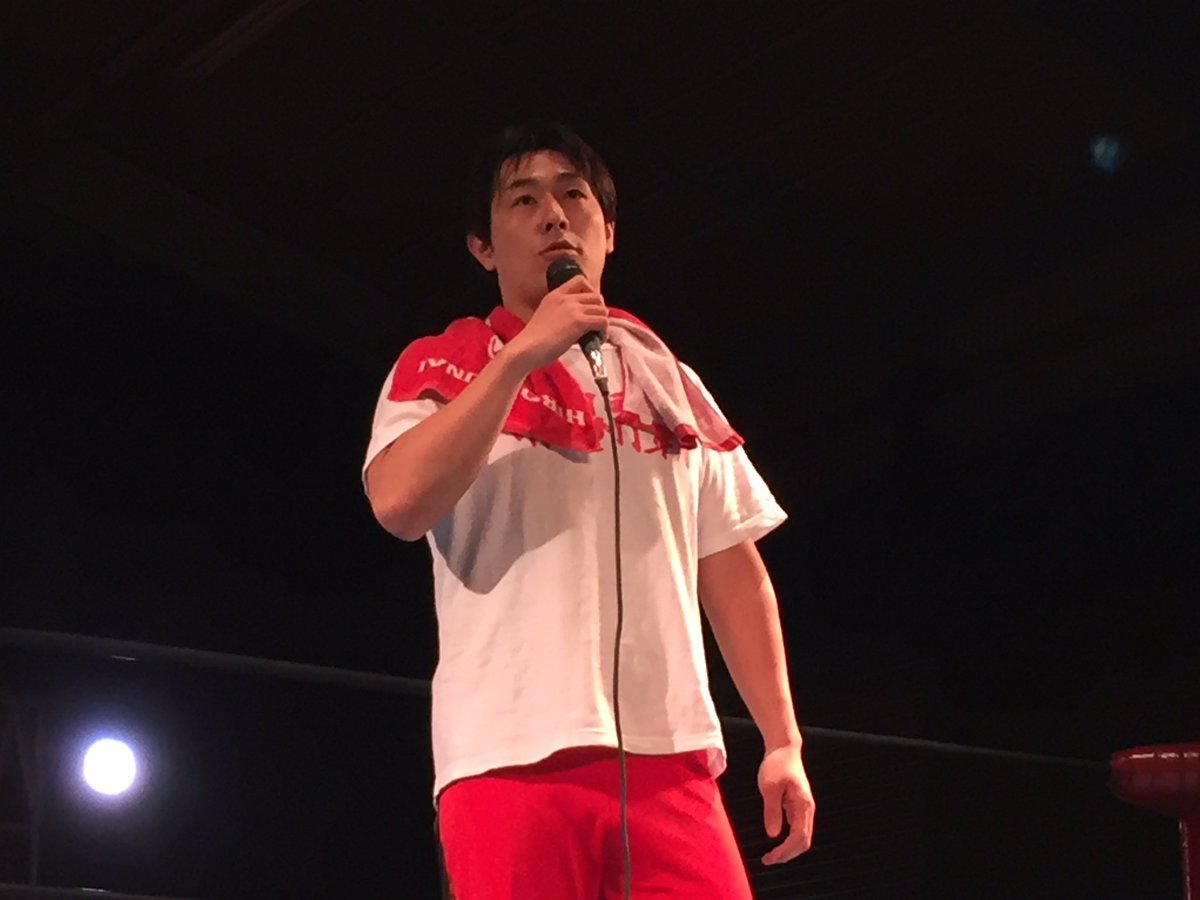 ~ Hiro Tonai formally announced that he is getting married though with this he will be moving to Osaka. He will remain in K-DOJO, but his scheduled appearances after 4/29 may be limited. A special singles match was also announced to be taking place between himself and TAKA Michinoku on 4/17 at the Korakuen Hall. A match that was poised before hand when Tonai was still the UWA Middleweight Champion.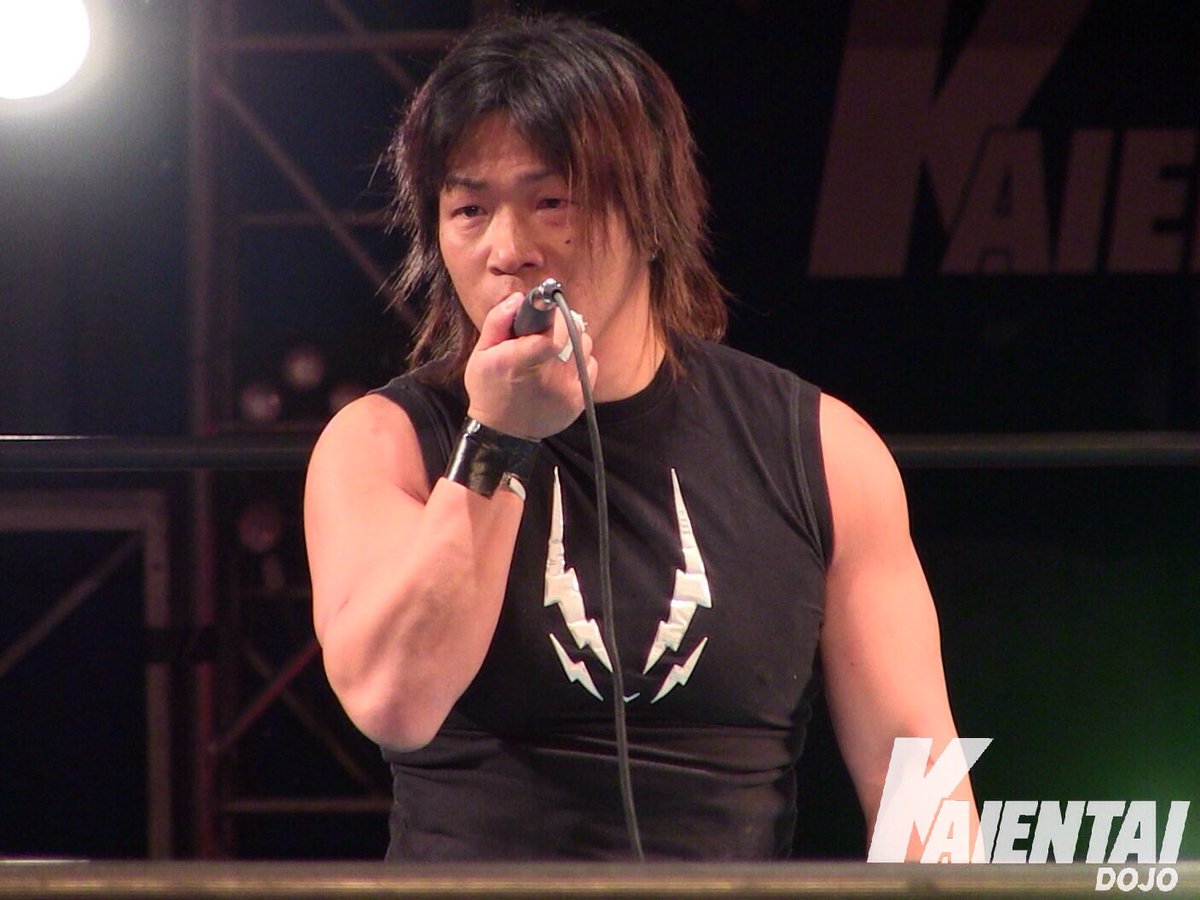 ~ MIKAMI also claimed the direct win over the Independent World Jr. Champion, Shiori Asahi, before their scheduled match next month.
~ Yuki Sato also claimed the fall over Kotaro Yoshino. Though with the aid of the "miracle rod (weapon)" the contenders will have to regroup if they aim to overcome the champions tactics.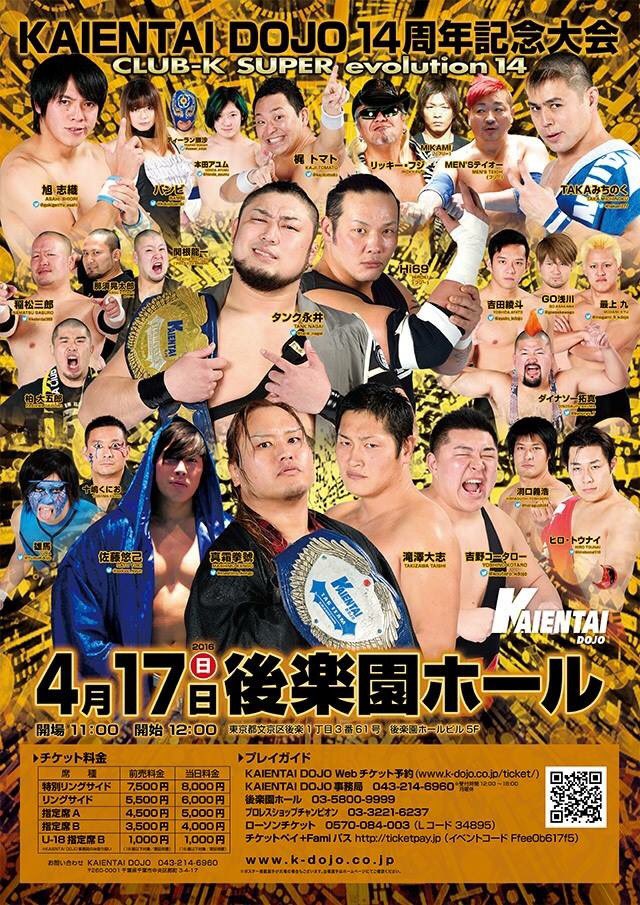 KAIENTAI DOJO "14th Anniversary ~ CLUB-K SUPER evolution 14", 4/17/2016 @ Korakuen Hall in Tokyo
(-) Hiro Tonai vs. TAKA Michinoku
(-) Independent World Junior Heavyweight Championship: [Champion] Shiori Asahi vs. [Challenger] MIKAMI
(-) CHAMPION OF STRONGEST-K TAG Championship: [Champions] Kengo Mashimo & Yuki Sato vs. [Challengers] Taishi Takizawa & Kotaro Yoshino
(-) CHAMPION OF STRONGEST-K Championship: [Champion] Tank Nagai vs. [Challenger] Hi69
http://puroresuspirit.net/tag/k-dojo/
—————————————————————————————————————————————————————-
◆OTHER◆
~ Nagoya native Kenji Takeshima held his retirement show/match today at the Shinjuku FACE in Tokyo. He primarily competed for his own promotion Ganko Pro-Wrestling as well as BattlARTS and Sportiva Entertainment out of Nagoya area. He currently trains wrestler hopefuls under the Ganko brand.
~ The event even saw Munenori Sawa come out of retirement for one night only to see his close friend end his pro-wrestling career.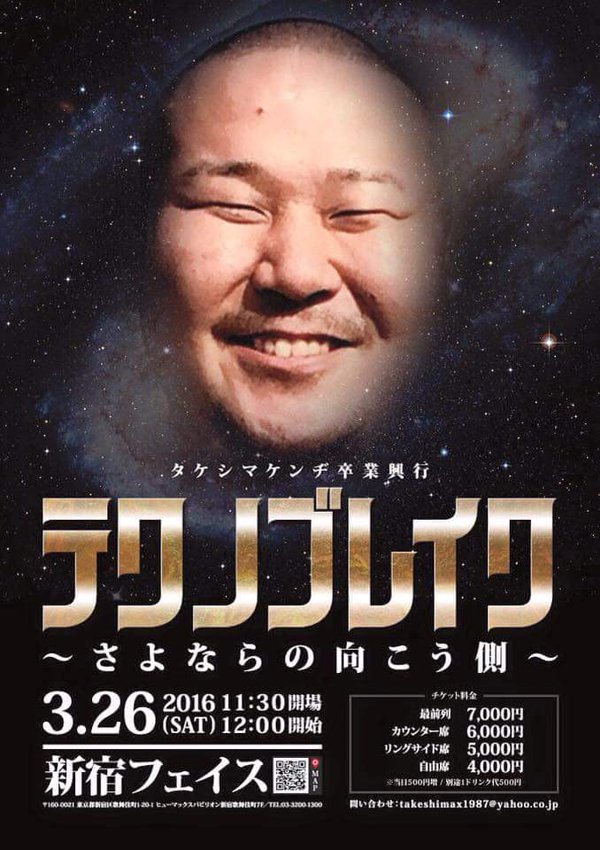 Kenji Takeshima Retirement Show "Techno Break – See you on the other side", 3/26/2016 [Sat] 12:00 @ Shinjuku FACE in Tokyo
(1) Makoto Renka vs. Shigehiro Irie
◆Winner: Irie () following the Beast Bomber.
(2) Tatsuhito Takaiwa, Tomonori Chiba & Jota vs. Kazushi Miyamoto, Osamu Namiguchi & Naoshi Sano
◆Winner: Takaiwa (-) following a Death Valley Bomb on Namiguchi.
(3) Super Tiger [RJPW] & Konaka = Pale One [666] vs. Kazuhiro Tamura [HEAT-UP] & Taro Yamada [666]
◆Winner: Tiger (12:15) following a g02sleep on Yamada.
(4) Yuki Ishikawa & Keita Yano vs Manabu Hara & Tsubakichi Sanshu
◆Winner: Ishikawa (-) with an Ankle Hold on Sanshu.
(6) Special Exhibition: Kenji Takeshima vs. X = Munenori Sawa
◆Winner: DRAW (10:00) Time Expired.
(5) Kenji Takeshima, Nori da Funky Shibiresath & Shinya Ishida vs. Koji Iwamoto, Yusaku Ito & Fuminori Abe
◆Winner: Abe (-) following a PK on Takeshima.
~ Takeshima put over his student for his last match.
—————————————————————————————————————————————————————-
◆JOSHI◆
~ Stardom : Io Shira defended the World of Stardom belt against Alpha Female today. (13:18) with a German Suplex Hold.
Kagetsu & Hiroyo also claimed the win over Hojo and Iwantani. Kagetsu (15:11) with the Funotsuki on Iwatani.
—————————————————————————————————————————————————————-