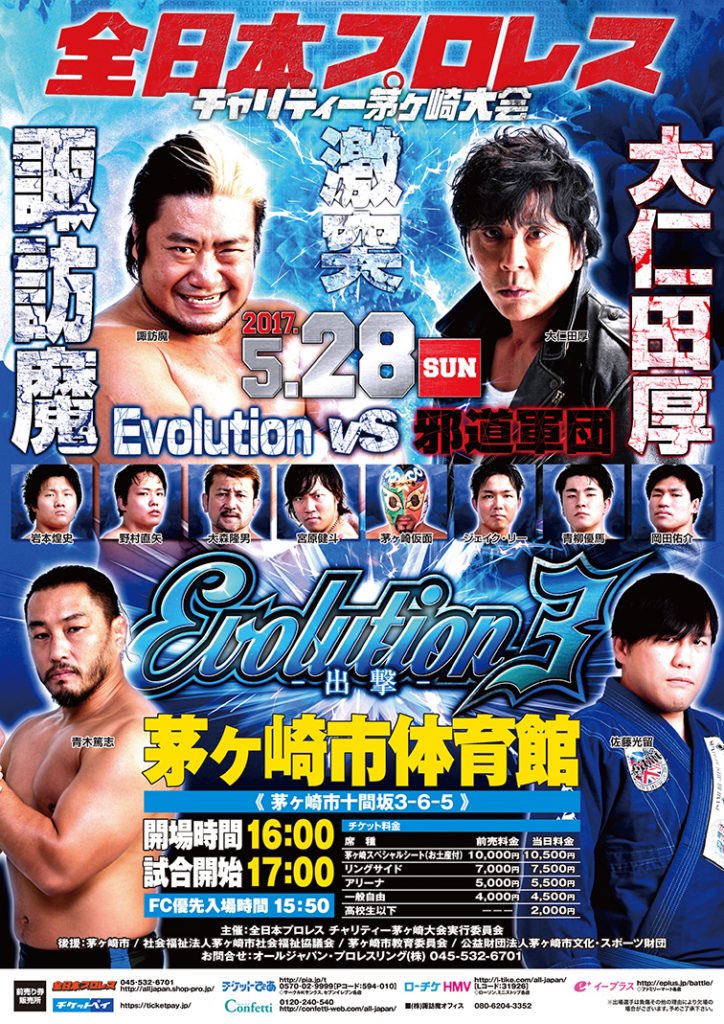 All Japan Pro-Wrestling Charity Show Chigesaki Tournament Evolution 3, 5/28/2016 [Sun] 17:00 @ Chigasaki City Gymnasium in Kanagawa
850 Spectators (overcrowded, full hall)
(1) Naoya Nomura vs. Yusuke Okada
♦Winner: Nomura (7:47) with a Boston Crab.
(2) Yuma Aoyagi vs. Minoru Tanaka (FREE)
♦Winner: Minoru (9:01) with a Minoru Special.
(3) Chigasaki Kamen vs. Atsushi Maruyama (FREE)
♦Winner: Chigasaki (8:34) with the Chigasaki Leg Roll Clutch Hold.
(4) Takao Omori vs. Jake Lee
♦Winner: Lee (13:35) following a Backdrop.
~ Lee claims the win over a former Triple Crown champion as he heads into his challenge for the belt next month against Ishikawa.
(5) Kento Miyahara vs. Koji Iwamoto
♦Winner: Miyahara (11:51) with a German Suplex Hold.
~ Miyahara stated that his intentions are solely on vying for a rematch for the Triple Crown belt.
(6) Special 6 Man Tag Match: Suwama, Atsushi Aoki & Hikaru Sato vs. Atsushi Onita, Hideki Hosaka & Ichiro Yaguchi (all FREE)
♦Winner: Suwama (13:58) following a Backdrop on Hosaka.
~ Suwama makes his return after suffering a hand injury early in the month. As he also finally accepted Onita's offer to compete in a electric current blast death match in the near future.
http://puroresuspirit.net/2017/04/ajpw-event-cards-for-may-june-2017/