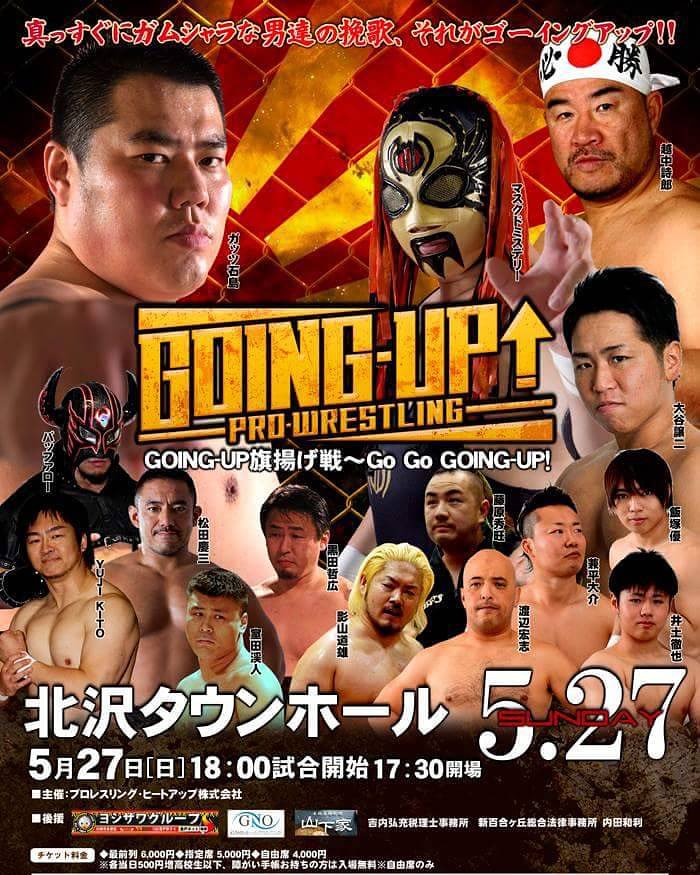 GOING-UP Raising an Army "GO! GO! GOING-UP!", 5/27/2018 [Sun] 18:00 @ Kitazawa Town Hall in Tokyo
(1) GOING-UP Begins Single Match : Tetsuhiro Kuroda (FREE) vs. Keito Murota
◆Winner: Kuroda (7:44) with a Single Leg Crab.

(2) Shadow Satan Reincarnated : Michio Kageyama (FREE) vs. Shuo Fujiwara w/ Shuu of the Illuminati
◆Winner: Shuo (8:50) following a Backdrop.

(3) Inspection! Pro-Wrestling Rival Generation Gap ~ Tag Match : Keizo Matsuda (FREE) & YUJI KITO (ASUKA PRO) vs. Yuu Iizuka & Tetsuya Izuchi
◆Winner: KITO (13:26) following the Bals on Izuchi.

(4) Special ~ Mid-life Crisis ~ Tag Match : Masked Mystery & Hiroshi Watanabe vs. Shiro Koshinaka (FREE) & Yuji "Dokonjo" Kondo
◆Winner: Koshinaka (13:21) with a Samurai Powerbomb on Watanabe.

(5) Go Go GOING UP ~ Our Decision ~ Tag Match : Guts Ishijima & Buffalo (Makai) vs. Daisuke Kanehira & Joji Otani
◆Winner: Ishijima (20:36) following a Facebuster on Joji.
~ Shuo and Shuu of the Illuminati intervened after the match and challenged Ishijima. Ishijima stated that he will accept a match against Shuo on June 30 in Oji.
http://puroresuspirit.net/tag/heat-up/
Upcoming…
HEAT-UP "Kawasaki Enjou Series", 6/23/2018 [Sat] 18:00 @ Culttz Kawasaki in Kanagawa
(-) HEAT-UP Universal Tag Championship Match: [1st Champions] Kenichiro Arai & Hide Kubota vs. [Challengers] Kazuhiro Tamura & Tatsumi Fujinami
~ 4th title defense.
(-) HEAT-UP Universal Championship Match: [3rd Champion] Daisuke Kanehira vs. [Challenger] Fuminori Abe
~ 1st title defense.
~ Also announced to compete : Kevin Man (Hong Kong), Jeff Man (Hong Kong), Greg Ho (Singapore), Nick (Singapore), Red Eagle (Portugal), Baliyan Akki (India)