DDT "Tatakau Beer Garden 2018 ~ DAMNATION DAY", 7/30/2018 [Mon] 19:00 @ Shinjuku FACE in Tokyo
573 Spectators (overcrowded)
(0) Dark Match ~ Crocodile Death Match: Daisuke Sasaki vs. Masahiro Takanashi
◆Winner: No Contest ()
(1) DAMNATION New Member Assessment Match: Soma Takao & Shota (FREE) vs. PSYCHO & CHANGO (both FREE)
◆Winner: Takao (11:42) following a Certified Endless Waltz on CHANGO.
~ Sasaki declared that all applications are rejected because he is too drunk to make a decision.
(2) DAMNATION vs Sakigake! Kotetsu Kazoku: Tetsuya Endo & Mad Paulie vs. Trans Am ★ Hiroshi & SAGAT (both BASARA)
◆Winner: Paulie (10:56) with a Reverse Splash on SAGAT.
(3) Shuji Ishikawa (FREE) & Kohei Sato (ZERO1) vs. Kazusada Higuchi & Yuki Iino
◆Winner: Ishikawa (15:08) following a Fire Thunder on Iino.
~ Higuchi called out that he wants another match against the Twin Towers in the future as they then shook hands.
(4) DAMNATION vs NOBUNATION! Bunk Drunk House Tornado 10 Man Tag Match: Daisuke Sasaki, Shuji Ishikawa, Soma Takao, Tetsuya Endo & Mad Paulie vs. Nobuhiro Shimatani, Ken Ohka, Masahiro Takanashi, Trans Am ★ Hiroshi & SAGAT
◆Winner: Endo (14:10) with a Shooting Star Press on Shimatani.
~ DAMNATION then closed out the show with some by singing karaoke.
http://puroresuspirit.net/tag/ddt/
Upcoming…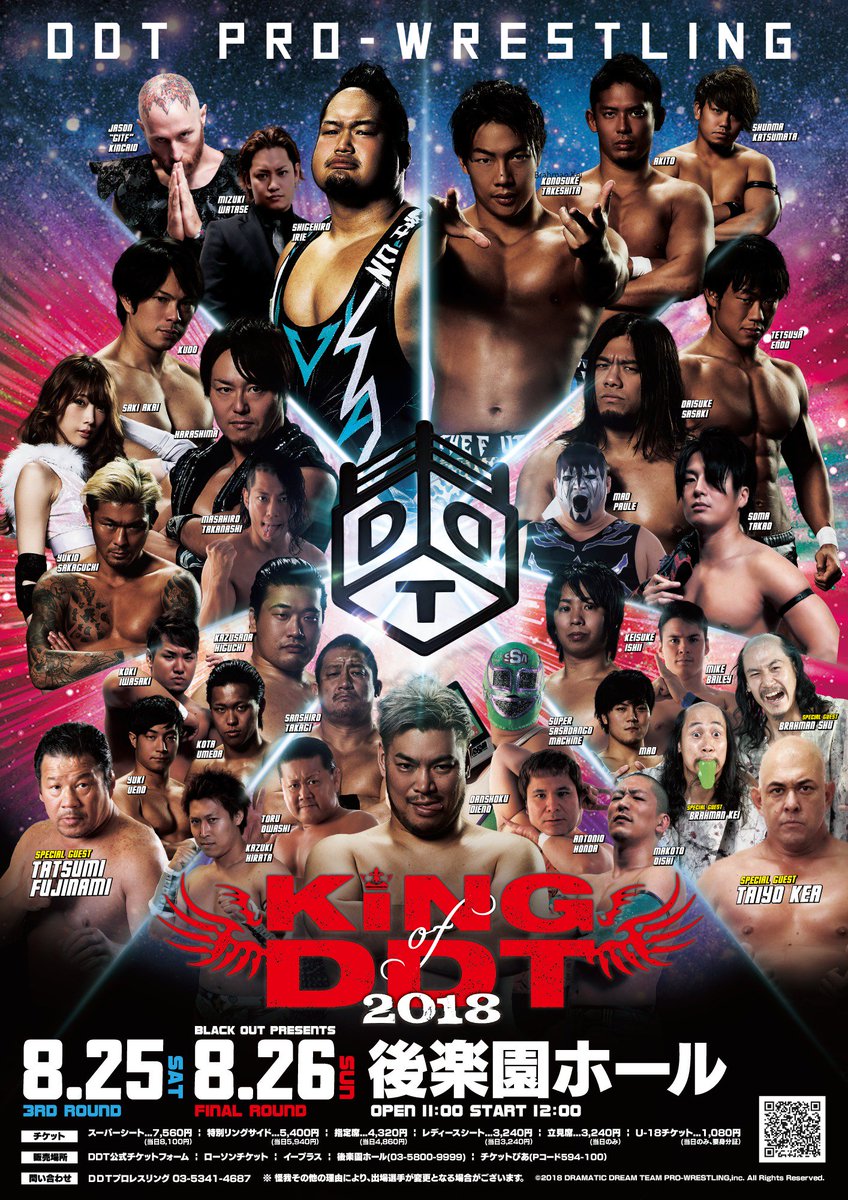 KING OF DDT 2018 1st ROUND, 7/31/2018 [Tue] 19:00 @ Shinjuku FACE in Tokyo
(1) KUDO vs. Akito
(2) Mike Bailey vs. Nobuhiro Shimatani
(3) Gota Ihashi vs. Keisuke Ishii
(4) Shunma Katsumata vs. Alex Ace
(5) Hoshitanto vs. Yukio Sakaguchi
(6) Yuki Iino vs. Soma Takao
(7) Toru Owashi vs. Mizuki Watase
(8) Mad Paulie vs. HARASHIMA
(9) Sanshiro Takagi vs. MAO
(10) Saki Akai vs. Masahiro Takanashi
(11) Tetsuya Endo vs. Gorgeous Matsuno
(12) Tomomitsu Matsunaga vs. Kazusada Higuchi
(13) Kouki Iwasaki vs. Antonio Honda
(14) Daisuke Sasaki vs. Jason "The Gift" Kincaid
(15) Yuki Ueno vs. Tanomusaku Toba
(16) Naomi Yoshimura vs. Kazuki Hirata
DDT "Tatakau Beer Garden 2018 ~ ALL OUT DAY", 8/3/2018 [Fri] 19:00 @ Shinjuku FACE in Tokyo
() Dark Match ~ Trans Am Yoga Kyoshitsu:
() Matsunaga style Drunk Match: Tomomitsu Matsunaga, KUDO, Keisuke Ishii, Nobuhiro Shimatani, Yuki Ueno & Yuki Iino
() Triple Main Event: Shunma Katsumta vs. Violento Jack
() Triple Main Event: Akito vs. Isami Kodaka (BASARA)
() Triple Main Event: Konosuke Takeshita vs. Kuishinbo Kamen
DDT LIVE! MajiManji #13, 8/7/2018 @ Shinkiba 1stRING in Tokyo
(-) KO-D 6 Man Tag Championship Match: [Champions] Konosuke Takeshita, Akito & Shunma Katsumata vs. [Challengers] Kendo Kashin, NOSAWA Rongai & Keisuke Okuda
KING OF DDT 2018 2nd ROUND, 8/4/2018 [Sat] 18:00 @ Shinjuku FACE in Tokyo
() 2nd Round Match: (Winner of #1) vs. (Winner #2)
() 2nd Round Match: (Winner of #3) vs. (Winner #4)
() 2nd Round Match: (Winner of #5) vs. (Winner #6)
() 2nd Round Match: (Winner of #7) vs. (Winner #8)
() 2nd Round Match: (Winner of #9) vs. (Winner #10)
() 2nd Round Match: (Winner of #11) vs. (Winner #12)
() 2nd Round Match: (Winner of #13) vs. (Winner #14)
() 2nd Round Match: (Winner of #15) vs. (Winner #16)
KING OF DDT 2018 3rd ROUND, 8/25/2018 [Sat] 12:00 @ Korakuen Hall in Tokyo
~ Matches to be announced…
KING OF DDT 2018 FINAL ROUND, 8/26/2018 [Mon] 12:00 @ Korakuen Hall in Tokyo
() Semi-final Match:
() Semi-final Match:
() KING OF DDT FINAL Match: