GUTS World THE FINAL ~Bukotsu-shuen (Unrefined Demise)~, 4/15/2018 [Sun] 18:00 @ Shinjuku FACE in Tokyo
600 Spectators (overcrowded)
(1) GUTS vs HEAT-UP: Joji Otani & Keito Murota vs. Daisuke Kanehira & Tetsuya Izuchi
◆Winner: Joji (7:37) with a Arm Capture style Northern Lights Suplex Hold on Izuchi.
(2) 8 Person Throughout GUTS History Tag Match: Drake Morimatsu, Kazuhiko Matsuzaki, Kazuhiro Tamura (HEAT-UP) & Liang Ping vs. Naoshi Sano (FREE), Shinobu (666), CHANGO (FREE) & Papillon Akemi (Deluxe Beppin)
◆Winner: Shinobu (8:07) with a Manjigatame on Ping.
(3) IWA Army Final Battle?: Buffalo (Makai) & YUJI KITO (ASUKA PRO) vs. Keizo Matsuda (Free) & Kuishinbo Kamen (FREE)
◆Winner: Matsuda (10:46) following a Lariaton KITO.
(4) Special Single Match: Masao Orihara (Mobius) vs. Tetsuhiro Kuroda (FREE)
◆Winner: Orihara (10:50) following a Complete Shot.
(5) GWC Tag Championship Match: [15th Champions] TORU (Doutonbori) & Fuminori Abe (BASARA) vs. [Challengers] Shota & Kenichiro Arai
◆Winner: Shota (14:43) with a Small Package Hold on TORU.
~ Champions fall on their 3rd title defense. Shota & Kenichiro Arai become the 16th champions.
(6) Mr. Gannosuke's Retirement Match: Mr. Gannosuke & Michio Kageyama (Team Dera) vs. Tatsumi Fujinami (DRADITION) & Hiro Saito (FREE)
◆Winner: Fujinami (16:41) with the Hiryuhadakajime (Dragon Sleeper Hold) on Gannosuke.
~ Gannosuke and Fujinami shook hands after the match, as a singles match was hinted, but Gannosuke stated that his career is officially over today. He thanked Fujinami for giving him this opportunity today. He thanked all the fans for their support for over the last 27 years.
(7) GWC Single Championship Match: [13th Champion] Guts Ishijima vs. [Challenger] Masked Mystery
◆Winner: Ishijima (19:19) following a Swinging Facebuster.
~ 3rd successful title defense.
~ Then with the win, Ishijima sealed the belt away as the last and final defend GWC champion. He thanked everyone for coming out today and then welcomes out Gannosuke to send him off with a retirement ceremony.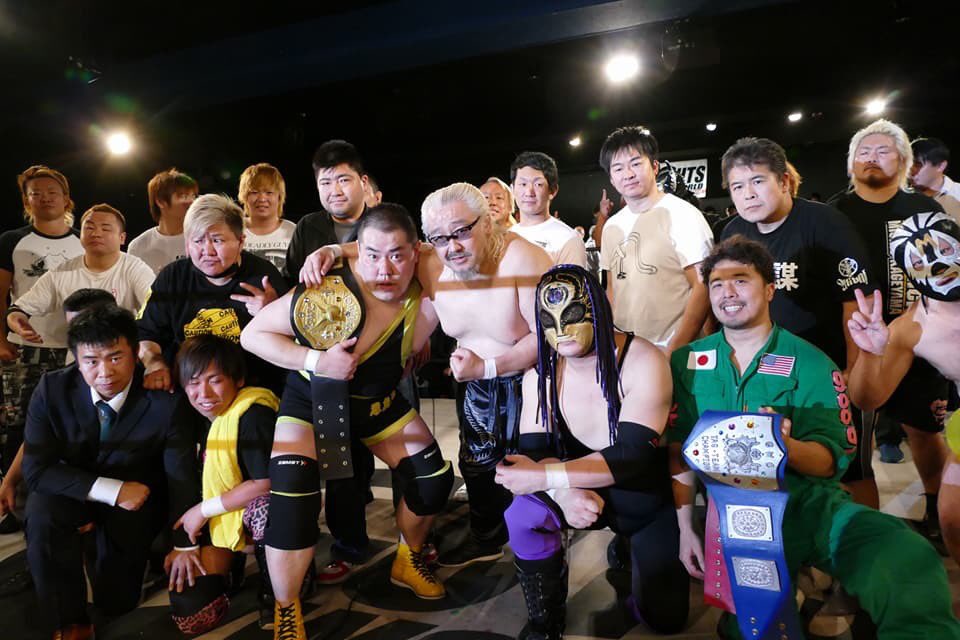 ~ Wrestlers from Ice ribbon, FREEDOMS, and many other promotions came out to greet Gannosuke and offer their thanks for his time in the ring.
~ Gannosuke noted his start in FMW and working closely with now late friend Hayabusa and wished he could have been here today. Gannosuke stated that he will return to his home in Kumamoto, but that he will look to support the local promotions there. He mentioned that he retired once before, but this time it is different. He feels that he can finally close this chapter on his career and on a positive not.
~ He closed out by saying that he hopes everyone continues to support for the now former GUTS wrestlers as they will be continuing their careers going forward as freelance wrestlers.