WRESTLE-1, 1/31/2016 [Sun] @ Osaka Minatoku-min Center
(1) Shota [Sano-Damashii] vs. Yuji Hino
◆Winner: Hino (5:58) following the Fucking BOMB.
(2) Ryota Hama & Daisuke Masaoka [FREEDOMS] vs. KAZMA SAKAMOTO & Dyna Mido [FREE]
◆Winner: Hama (8:53) with the Hamaketsu on Mido.
(3) KAI vs. NOSAWA Rongai
◆Winner: KAI (10:34) with the Splash Plancha.
(4) Hiroshi Yamato & Kumagoro vs. Andy Wu & Daiki Inaba
◆Winner: Wu (12:16) with the Feihong on Kumagoro.
(5) Manabu Soya & AKIRA vs. Masayuki Kono & Shuji Kondo
◆Winner: Kono (13:57) following a Running Knee Attack on AKIRA.
(6) UWA World 6 Man Tag Championship Decision: Jiro "Ikemen" Kuroshio, Yasufumi Nakanoue & Seiki Yoshioka vs. Kaz Hayashi, Minoru Tanaka & TAJIRI
◆Winner: Hayashi (21:00) following the Power Plant on Kuroshio.
~ Hayashi, Minoru, and TAJIRI becomes the 50th generation champions.
http://puroresuspirit.net/tag/w-1/
Upcoming…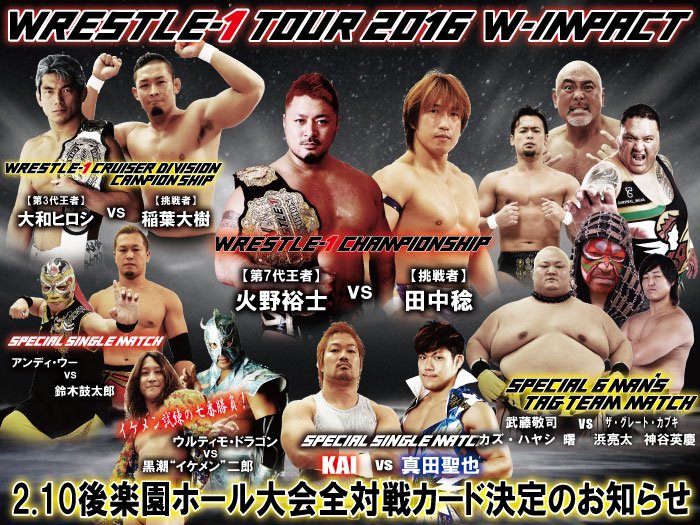 WRESTLE-1 TOUR 2016 IMPACT, 2/10/2016 [Wed] 19:00 @ Korakuen Hall in Tokyo
() Jiro "Ikemen" Kuroshio vs. Ultimo Dragon [Toryumon MEXICO]
() Andy Wu vs. Kotaro Suzuki [FREE]
() KAI vs. Seiya Sanada [S.P.E.]
() Keiji Mutoh, Akebono [Oudou] & Kaz Hayashi vs. The Great Kabuki [FREE], Ryota Hama & Hideyoshi Kamitani [BJW]
() WRESTLE-1 Cruiserweight Championship Match: [3rd Champion] Hiroshi Yamato vs. [Challenger] Daiki Inaba
~ 1st title defense
() WRESTLE-1 Championship Match: [7th Champion] Yuji Hino vs. [Challenger] Minoru Tanaka
~ 1st title defense.