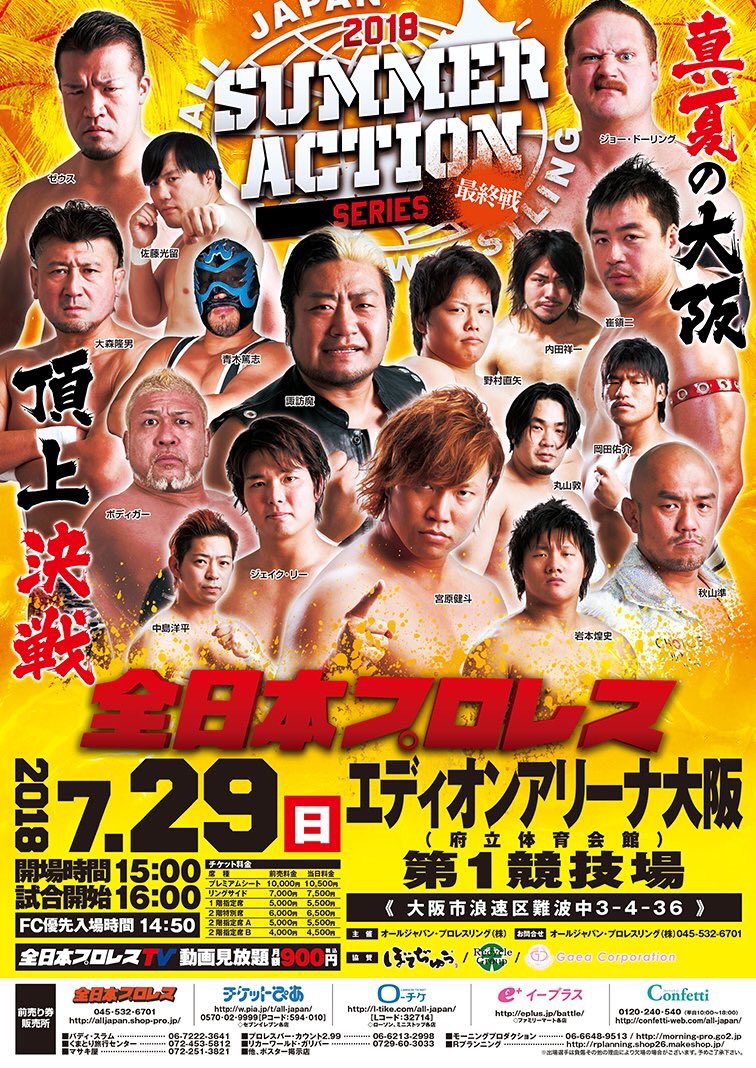 All Japan Pro-Wrestling "SUMMER ACTION SERIES", 7/29/2018 [Sun] 16:00 

@

 EDION Arena Osaka, 1st Stadium
2,458 Spectators
(1) Takao Omori, Atsushi Maruyama, Shoichi Uchida (DOVE) & TORU (Doutonbori) vs. Yoshitatsu (FREE), Ultimo Dragon (Toryumon MEXICO), Hiroaki Moriya (J-2000) & CarBell Ito
◆Winner: Yoshitatsu (9:12) following the CBJ on Maruyama.
(2) Road to Jr. TAG BATTLE OF GLORY: Atsushi Aoki, Hikaru Sato, Masaaki Mochizuki (DG) & Shun Skywalker (DG) vs. Koji Iwamoto, TAJIRI (FREE), Yohei Nakajima & Black Tiger VII (FREE)
◆Winner: Iwamoto (15:12) with a Katagatame on Aoki.
~ Iwamoto stated that his aim is to win the Jr. Tag League and then re-challenge Aoki for the World Jr. belt.
(3) Joe Doering vs. Gianni Valletta
◆Winner: Doering (7:09) with the Revolution Bomb.
(4) Suwama, Shuji Ishikawa (FREE) & Billyken Kid (FREE) vs. Jake Lee, Dylan James & Keiichi Sato (FREE)
◆Winner: Ishikawa (11:06) following a Fire Thunder on James.
~ Yoshitatsu asserted himself for a chance at the World Tag belts. His partner to be Miyahara.
(5) Asia Heavyweight Championship Match: [8th Champion] Ryoji Sai (LAND'S END) vs. [Challenger] The Bodyguard (FREE)
◆Winner: Bodyguard (19:26) with the Bounce.
~ Champion falls on his 4th title defense. Bodyguard becomes the 9th champion.
~ Bodyguard claims the revenge win over Sai stemming from the finals of the initial tournament that reinstated the belt earlier this year.
(6) Asia Tag Championship Match: [104th Champions] Jun Akiyama & Yuji Nagata (NJPW) vs. [Challengers] Naoya Nomura & Yuma Aoyagi
◆Winner: Aoyagi (22:02) following the Rock Star Buster on Akiyama.
~ Champions fall on their 3rd title defense. Nomura & Aoyagi become the 105th champions.
~ Aoyagi finally manages to claim his first ever direct win over Akiyama.
(7) Triple Crown Championship Match: [60th Champion] Kento Miyahara vs. [Challenger] Zeus
◆Winner: Zeus (29:36) with a Jackhammer.
~ Champion falls on his 3rd title defense. Zeus becomes the 61st Champion.
~ Zeus finally captures the belt that has alluded him for years and in his hometown area. The new champion was in tears as he thanked everyone for their endless support.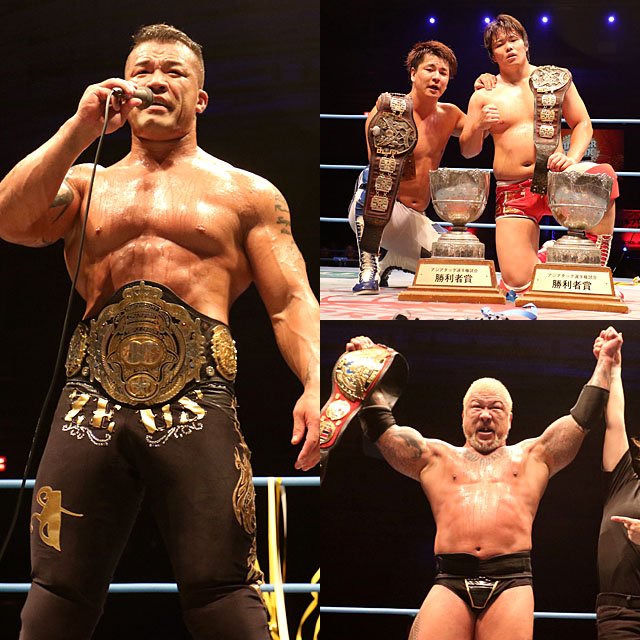 http://puroresuspirit.net/2018/06/ajpw-event-cards-for-july-august-2018/