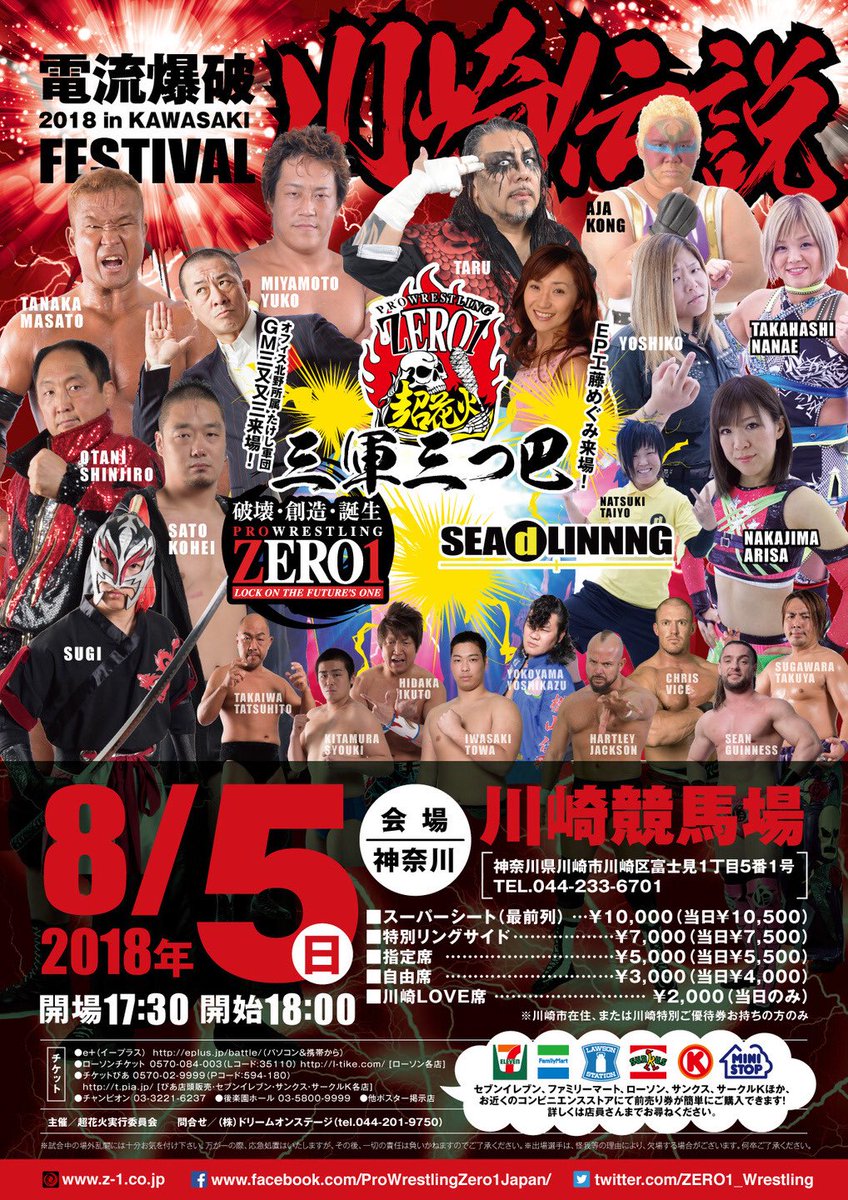 ZERO1 / Cho-Hanabi "Denryu Bakuha Festival 2018 in KAWASAKI", 8/5/2018 [Sun] 18:00 @ Kawasaki Keibajo
(1) Kohei Sato, Shoki Kitamura & Tsugataka Sato vs. Shogun Okamoto, Tatsuhito Takaiwa & Yoshikazu Yokoyama
◆Winner: Okamoto (10:41) following the Kaiketsu on Kitamura.
(2) Joshi Single Match: Aoi Kizuki vs. Sae
◆Winner: Kizuki (7:43) with a Twisting Body Press.
(3) 3WAY Match: Ikuto Hidaka vs. Takuya Sugawara vs. SUGI
◆Winner: Hidaka (6:51) with a La Magistral on Sugawara.
(4) Joshi Tag Match: Arisa Nakajima & Yoshiko vs. Aja Kong & Amazon
◆Winner: Yoshiko (16:42) with a Hurricanrana on Amazon.
(5) NWA Intercontinental Tag Championship Match: [38th Champions] Masato Tanaka & Yuji Hino vs. [Challengers] Hartley Jackson & Chris Vice
◆Winner: Hino (14:01) following a Fucking BOMB on Hartley.
~ 3rd successful title defense.
(6) Electric Current Blast Bat Death Match: Shinjiro Otani vs. Nanae Takahashi
◆Winner: Otani (16:02) following a Kesagiri Chop.
(7) Bakuha-oh Championship ~ No Rope Barbed-wire Double Hell Death Match: [8th Champion] Yuko Miyamoto vs. [Challenger] TARU
◆Winner: TARU (16:42) following a Bomb Blast.
~ TARU becomes the 9th champion.
http://puroresuspirit.net/tag/zero1/
Upcoming…
ZERO1, 8/19/2018 [Sun] @ Shinkiba 1stRING in Tokyo
() Masato Tanaka vs. TARU
() NWA International Light Tag Championship Match: [Champions] Ikuto Hidaka & Fuminori Abe vs. [Challengers] Shinjiro Otani & Hiroshi Yamato