Michinoku Pro-Wrestling "Mu no Taiyo Festival 2 ~ Itanjasetsu", 6/18/2017 [Sun] 12:00 @ Korakuen Hall in Tokyo
1,315 Spectators
~ MichiPro introduced a special "4D" special showing before the start of the show. The main event will feature the technology in full effect.
~ Hayato "Jr" Fujita appeared on crutches and continue to state that doctors have called for him to stop as a pro-wrestler. He mentioned that he has been undergoing a lot of thoughts in regards to his future. If he would be forced to alter his style or if he should seek another means of competition. Which led to someone from the audience saying "RIZIN", but Hayato stated that his focus is on pro-wrestling. He does not know when he will be able to return to the ring, but that he will return one day.
(1) Numajiro Kesen & Yasutaka Ozera vs. Ayumu Gunji & Koji Kawamura
♦Winner: Kesen (8:24) with the Ginrin on Kawamura.
(2) Daichi Sasaki vs. Kengo
♦Winner: Kengo (5:10) with a Frog Splash.
(3) Kenbai, Rasse & Taro Nohashi vs. GAINA, Yapperman #1 & #2
♦Winner: GAINA (7:23) with the Onbu Press on Nohashi.
(4) Manjimaru &  Ken45° vs. Rui Hyugaji & Takeshi Minamino
♦Winner: DRAW (11:46) double ring out between Manjimaru and Minamino.
(5) Tohoku Tag & UWA World Tag Double Championship Match: [23rd & 22nd Champions] Ikuto Hidaka & Minoru Fujita vs. [Challengers] Yapperman #3 & Yapperman #4 (= Ryota Hama)
♦Winner: Hidaka (9:44) with a School Boy on Yapper #3.
~ 5th & 2nd successful title defenses.
~ Hidaka and Fujita overcome the initial odds of being placed against the 200kg Hama, but managed to isolate the much smaller Yapper #3 for the win.
~ The Yapper's declared that they will return the tag belts to Michinoku, but they will need to be fully united together to do so.
~ The champions proclaimed that it is a conspiracy against them. First being placed against a competitor that exceeds all weight limits and now the Yapper's wanting a potential handicap match. Hidaka stated that he and Fujita only wish to protect the belts and defeat all challengers that come against them.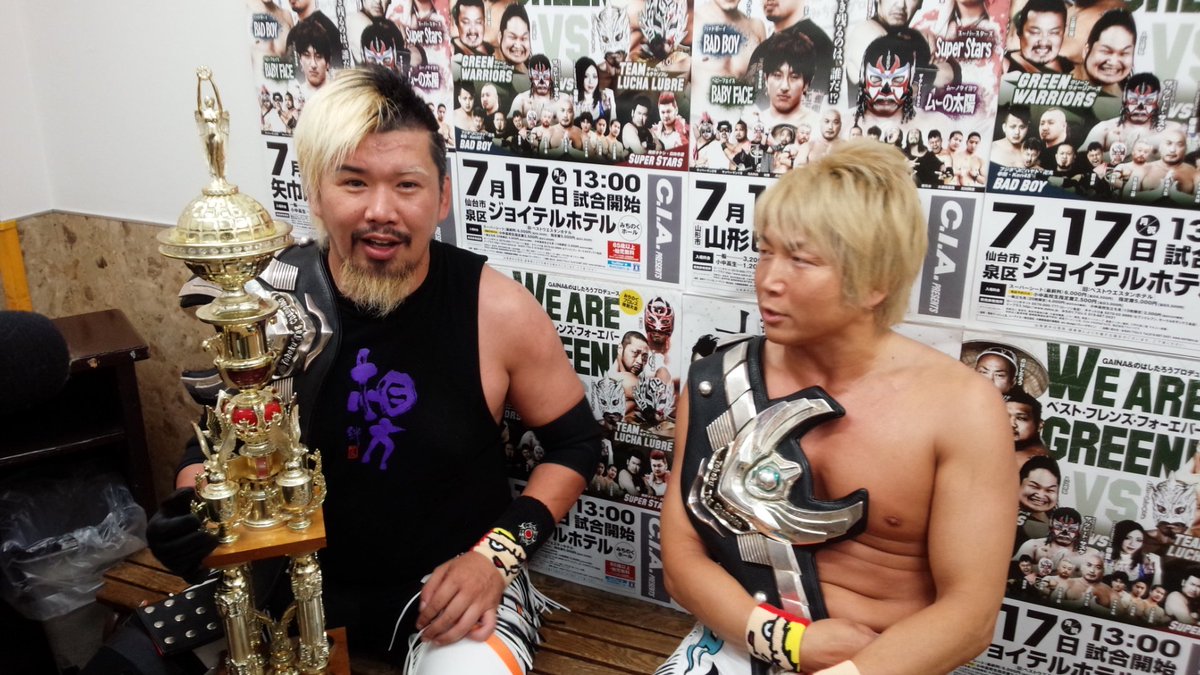 (6) Mu no Taiyo Festival Special 4D Match: The Great Sasuke & New Sailor Boys = Shinobu & Ryuichi Sekine vs. Brahman Brothers (Shu & Kei Brahman) & Hakushi
♦Winner: Sasuke (23:48) following the Messiah Korin on Hakushi.
~ The Brahman's, as well as many others, aided Sasuke in claiming the win over Hakushi.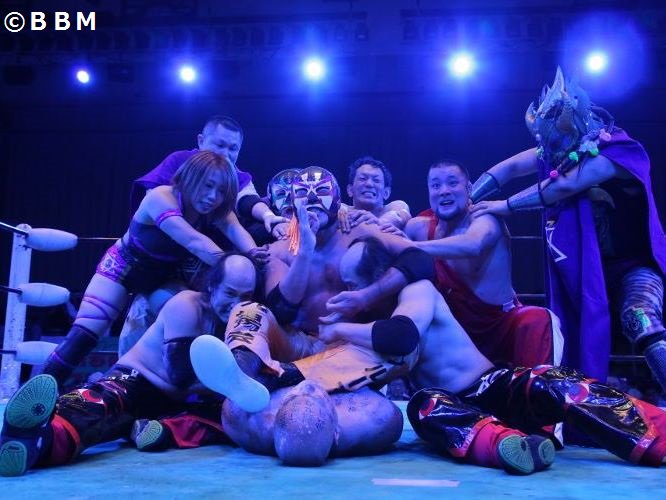 ~ A voice came over the arena after the match, as Sasuke and others were caught off guard. The voice called out that it is coming to annihilate every one and every thing. Sasuke along with the Brahman's declared that they will protect the earth from any invader. The next "Great War" has apparently been set.
http://puroresuspirit.net/tag/michipro/
Upcoming…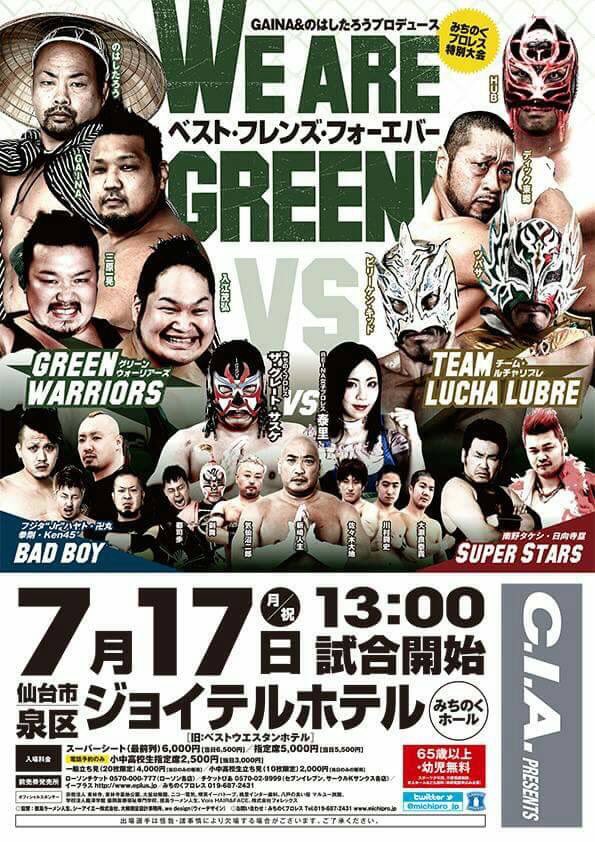 GAINA Produce "Best Friends Forever ~ We are Green!!", 7/17/2017 [Mon] @ Sendai City Izumi Ward Sendai Joytel Hotel Michinoku Hall in Miyagi
(1) Numajiro Kesen & Koji Kawamura vs. Ayumu Gunji & Boso Boy Raito
(2) Ken45° vs. Yasutaka Ozera
(3) The Great Sasuke vs. Hirori
(4) Jinsei Shinzaki & Daichi Sasaki vs. Ultimo Dragon & Kenbai
(5) "Green Warriors" GAINA, Taro Nohashi, Shigehiro Irie (DDT) & Kazuaki Mihara (Doutonbori) vs. "Team Lucha Libre" Dick Togo, HUB, Tsubasa & Billyken Kid