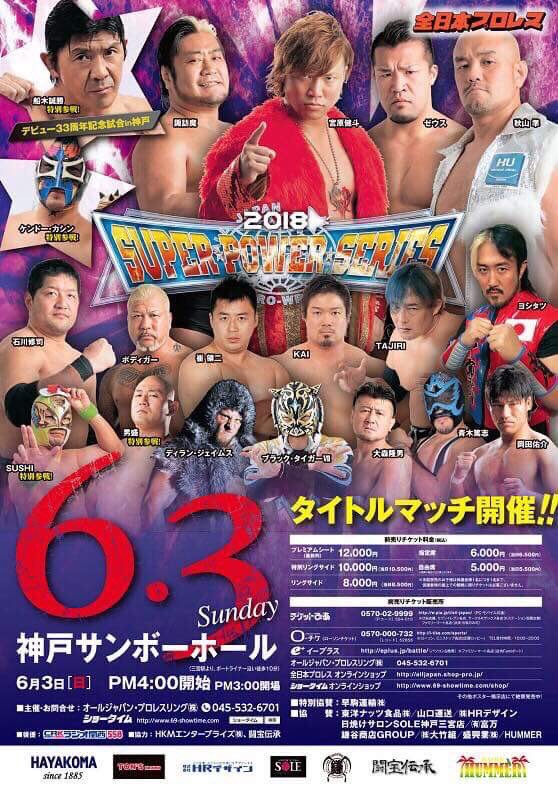 All Japan Pro-Wrestling "2018 Super Power Series", 6/3/2018 [Sun] 16:00 @ Kobe Sanbo Hall in Hyogo
882 Spectators
(1) Yohei Nakajima vs. So Daimonji (LAND'S END)
◆Winner: Yohei (6:12) following the Urayakei.
~ Yohei debuts a new move as he begins the road to show just how serious he is for the upcoming World Junior challenge on 7/1.
(2) Takao Omori & Atsushi Maruyama vs. SUSHI & Otokozakari (both FREE)
◆Winner: Omori (8:29) via foul, Otokozakari.
(3) Jake Lee, Koji Iwamoto & Billyken Kid (FREE) vs. Shuji Ishikawa (FREE), Atsushi Aoki & Katsumi Oribe (FREE)
◆Winner: Lee (11:27) following a Backdrop on Oribe.
(4) Kento Miyahara, Yoshitatsu (FREE) & Naoya Nomura vs. Zeus, The Bodyguard (FREE) & Takoyakida (Osaka Pro)
◆Winner: Miyahara (17:33) with a German Suplex Hold on Takoyakida.
~ Kazuyuki Fujita appeared as he and Zeus got into a brawl.
(5) World Tag Championship Match: [82nd Champions] Ryoji Sai (LAND'S END) & Dylan James vs. [Challengers] TAJIRI & KAI (both FREE)
◆Winner: James (16:55) following a Chokeslam on TAJIRI.
~ 1st successful title defense.
~ After the match, "Boso Dai-Kyojin" Suwama & Ishikawa came forward to challenge the champions.
~ James stated that he now moves forward at the chance to become a 5-Crown champion. As he faces Miyahara on 6/12.
(6) Masakatsu Funaki Debut 33rd Anniversary ~ Special 6 Man Tag Match: Masakatsu Funaki (FREE), Suwama & Hikaru Sato vs. Jun Akiyama, Kendo Kashin (FREE) & Black Tiger VII (FREE)
◆Winner: Funaki (15:42) following the Hybrid Blaster on Black Tiger.
~ Funaki with the win as the 49 year old celebrates his 33rd anniversary as a pro-wrestler.
~ Funaki will be hosting his own "33rd Anniversary" show on September 30th at the EDION Arena Osaka, 2nd Stadium.
http://puroresuspirit.net/2018/04/ajpw-event-cards-for-may-june-2018/