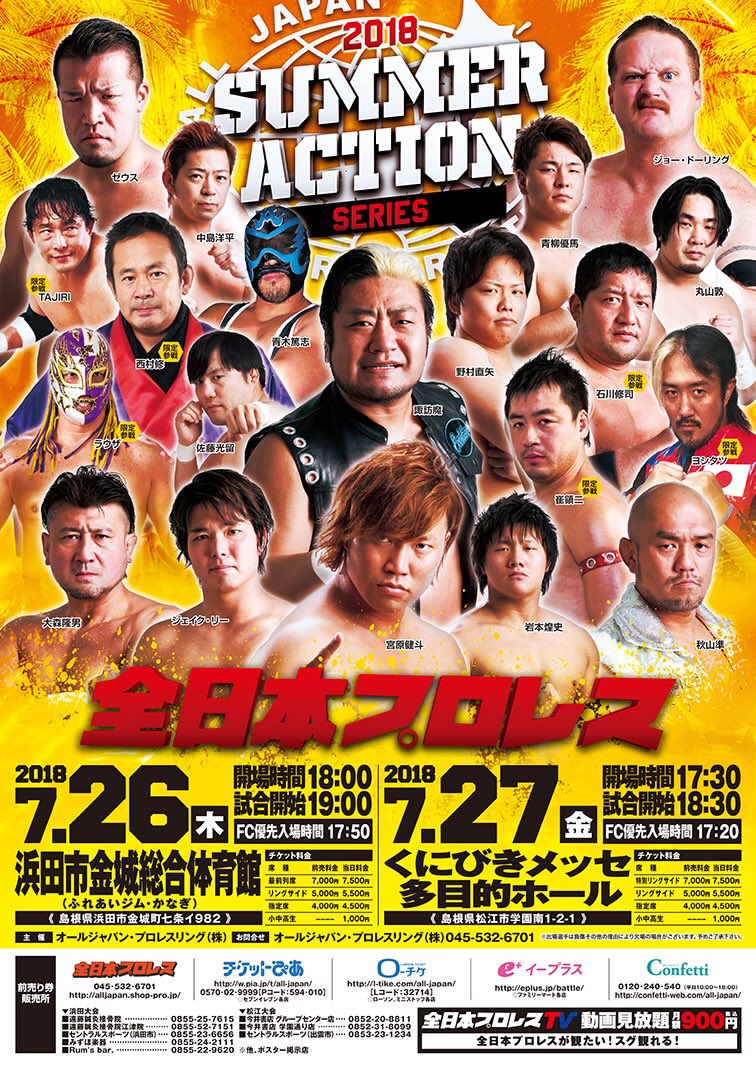 All Japan Pro-Wrestling "SUMMER ACTION SERIES", 7/27/2018 [Fri] 18:30 @ Kunibiki Messe Tamokuteki Hall in Shimane
347 Spectators
(1) Takao Omori & Keiichi Sato (FREE) vs. Atsushi Aoki & Lowther (Tottori Daraz)
◆Winner: Aoki (8:16) with a Texas Clover Hold on Keiichi.
(2) Atsushi Maruyama vs. Gianni Valletta
◆Winner: Valletta (6:48) following a TKO.
(3) Jun Akiyama & Ultimo Dragon vs. Osamu Nishimura  (FREE) & Yohei Nakajima
◆Winner: Dragon (11:15) with a La Magistral on Yohei.
(4) TAJIRI (FREE) vs. Black Tiger VII (FREE)
◆Winner: TAJIRI (7:31) following a Buzzsaw Kick.
(5) Suwama, Shuji Ishikawa (FREE) & Hikaru Sato vs. Joe Doering, Zeus & The Bodyguard (FREE)
◆Winner: Zeus (13:57) with a Jackhammer on Hikaru.
~ Zeus claims a final win before the Triple Crown challenge on the 29th. With certainty he claimed that he will finally capture the belt that has eluded him for years now.
~ Bodyguard stated that he aims to join his partner Zeus and have the Asia Heavy belt around his own waist as well.
~ Suwama & Ishikawa made a statement that they want a challenger team to come forward for the World Tag belts at the Osaka show.
(6) Kento Miyahara, Yoshitatsu (FREE), Naoya Nomura & Yuma Aoyagi vs. Jake Lee, Ryoji Sai (LAND'S END), Dylan James & Koji Iwamoto
◆Winner: Miyahara (20:32) with a German Suplex Hold on Iwamoto.
~ Miyahara also claims a final win as he is now set to defend the Triple Crown against Zeus on the 29th.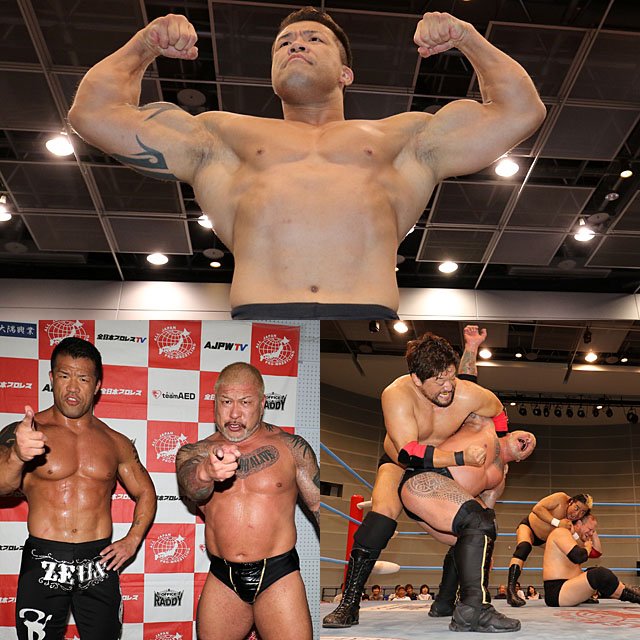 http://puroresuspirit.net/2018/06/ajpw-event-cards-for-july-august-2018/