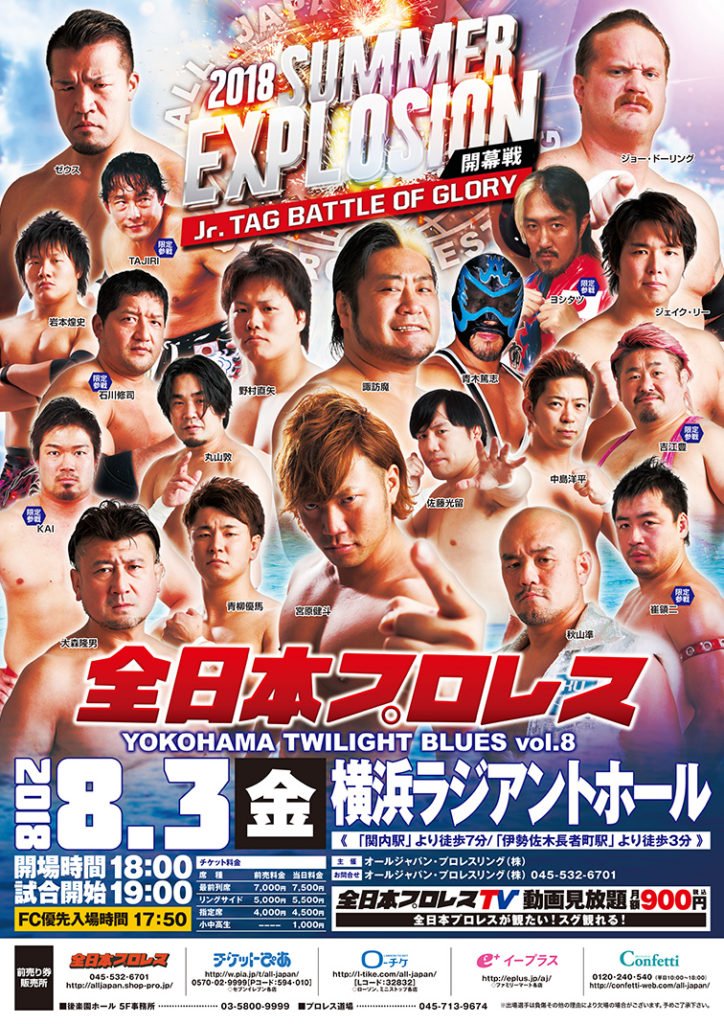 All Japan Pro-Wrestling "2018 SUMMER EXPLOSION ~ YOKOHAMA TWILIGHT BLUES vol. 8", 8/3/2018 [Fri] 19:00 @ Yokohama Radiant Hall in Kanagawa
360 Spectators (overcrowded)
(1) Jr. TAG League Match: Atsushi Maruyama & Masashi Takeda vs. Kaji Tomato & Shiori Asahi
◆Winner: Takeda (8:05) following a Reverse U-Crash on Kaji.
~ Maruyama/Takeda [1 win = 2 points]
~ Kaji/Asahi [1 loss = 0 points]
~ Last years winning team kicked off the league with a win. As they seek to secure a consecutive win this year as well.
(2) Jake Lee & Keiichi Sato (FREE) vs. Black Menso~re & Black Tiger VII
◆Winner: Menso~re (7:19) with a Rolling Cradlye on Keiichi.
~ Black Menso~re makes his first appearance with a win as well. Black Tiger approves of his new partner wherein he did not approve of Yohei Nakajima.
(3) Jr. TAG League Match: Koji Iwamoto & TAJIRI vs. Masaaki Mochizuki & Shun Skywalker
◆Winner: Iwamoto (8:19) with the Koko no Geijutsu on Mochizuki.
~ Iwamoto/TAJIRI [1 win = 2 points]
~ Mochizuki/Skywalker [1 loss = 0 points]
~ Iwamoto with a solid win over the veteran, as he stated his intentions to win the jr tag league and then go on to finally beat Aoki for the World Junior belt on August 26th.
(4) Suwama vs. Naoya Nomura
◆Winner: Suwama (8:23) following a Backdrop.
(5) Zeus, Jun Akiyama, Takao Omori & Gianni Valletta vs. Kento Miyahara, Yoshitatsu (FREE), Yuma Aoyagi & Yutaka Yoshie (FREE)
◆Winner: Zeus (16:14) with the Jackhammer on Aoyagi.
(6) Jr. TAG League Match: Atsushi Aoki & Hikaru Sato vs. Shuji Kondo & Kotaro Suzuki
◆Winner: Hikaru (17:55) with a Cross Armbar on Kondo.
~ Aoki/Hikaru [1 win = 2 points]
~ Kondo/Kotaro [1 loss = 0 points]
http://puroresuspirit.net/2018/06/ajpw-event-cards-for-july-august-2018/
http://puroresuspirit.net/2018/07/ajpw-event-cards-for-september-october-2018/