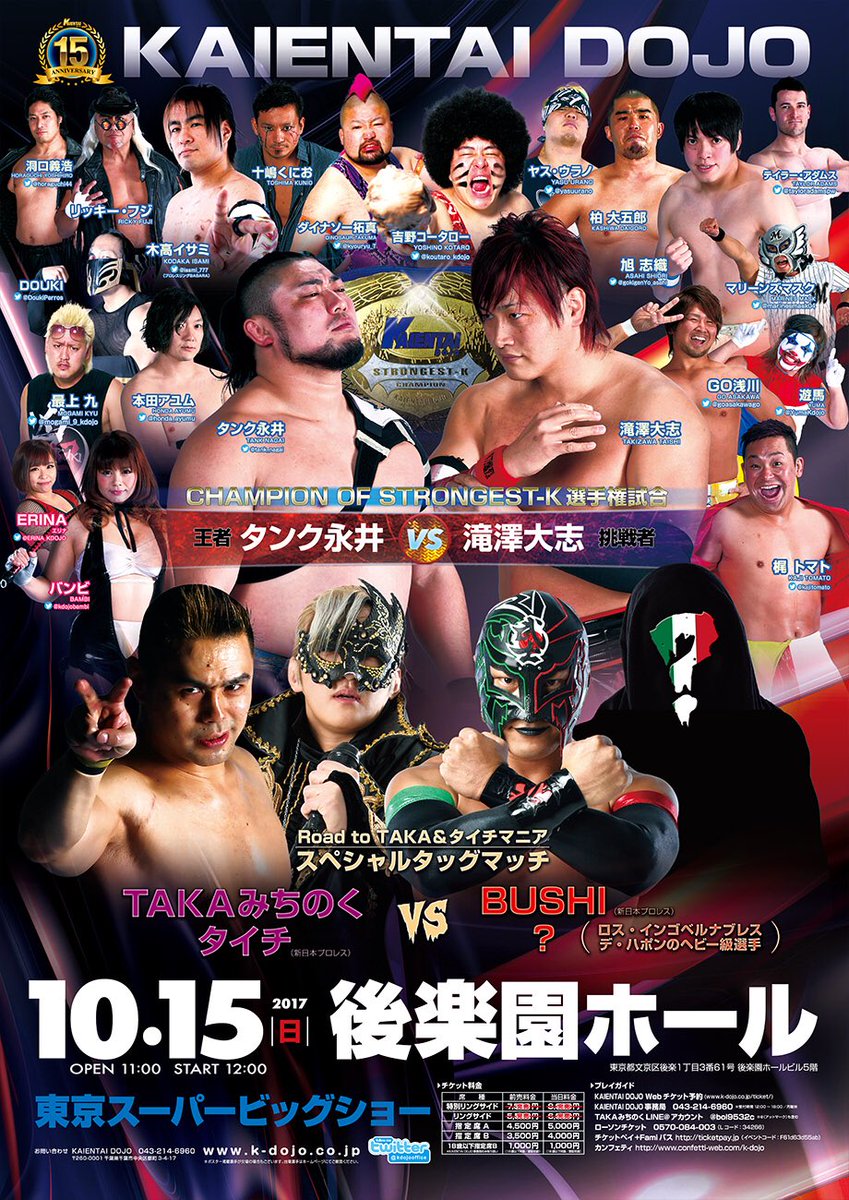 K-DOJO "TOKYO SUPER BIG SHOW", 10/15/2017 [Sun] 12:00 @ Korakuen Hall in Tokyo
1,003 Spectators
(1) Ricky Fuji, Taylor Adams & Shota Nakagawa (ASUKA) vs. Yoshihiro Horaguchi, Marines Mask & ERINA
◆Winner: Marines (11:52) with a Yoshitonic on Adams.
(2) Ayame Sasamura Debut Match: Bambi vs. Ayame Sasamura
◆Winner: Bambi (6:32) with the Bamlock.
(3) Captain Fall 6 Man Tag Match: GO Asakawa (c), Kaji Tomato & Yuma vs. DOUKI (c), Ayumu Honda & Kyu Mogami
~ Order of elimination: Tomato, Honda, Yuma…
◆Winner: Asakawa (9:43) with a Blizzard Suplex Hold on DOUKI.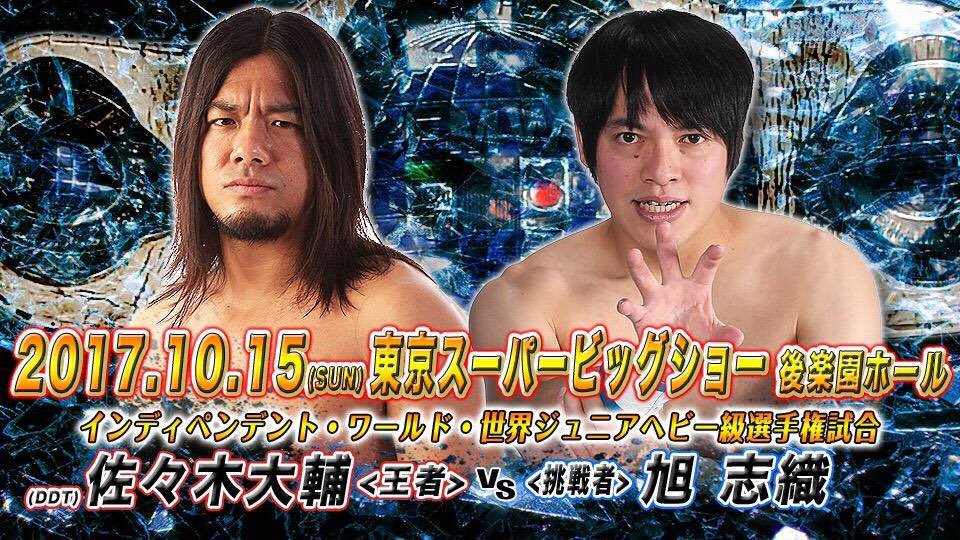 (4) Independent World Junior Heavyweight Championship Match: [25th Champion] Daisuke Sasaki vs. [Challenger] Shiori Asahi
◆Winner: Daisuke (14:03) with a Crossface Lock.
~ 2nd successful title defense.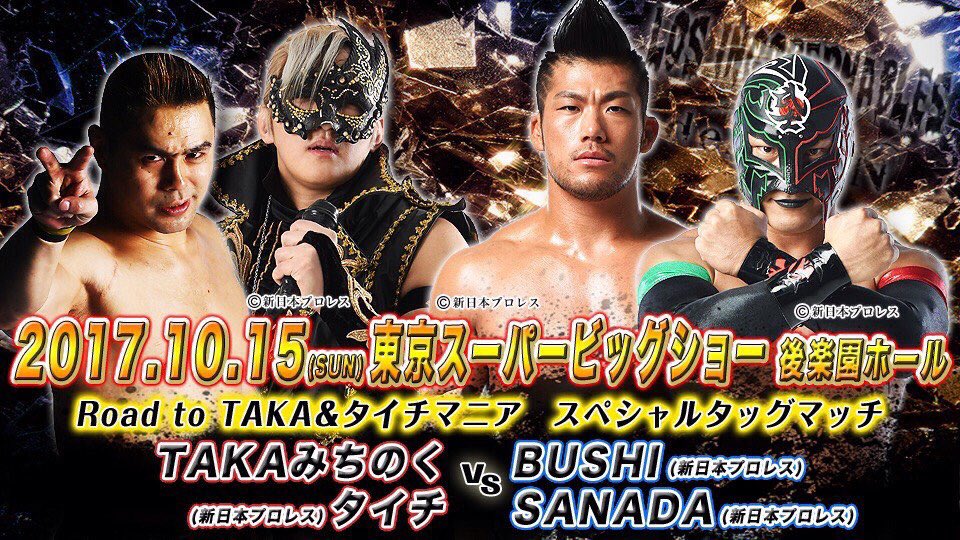 (5) Road to TAKA & Taichi Mania ~ Special Tag Best Out of 3 Falls Match: TAKA Michinoku & Taichi vs. BUSHI & SANADA
◆Winner: SANADA (1:55) via ring out on TAKA.
◆Winner: SANADA (7:43) with the Skull End on TAKA.
~ LIJ wins 2-0.
~ TAKA & Taichi were totally shut out by SANADA. Though in defeat the two announced that they will be bringing their produce show to Korakuen on January 23.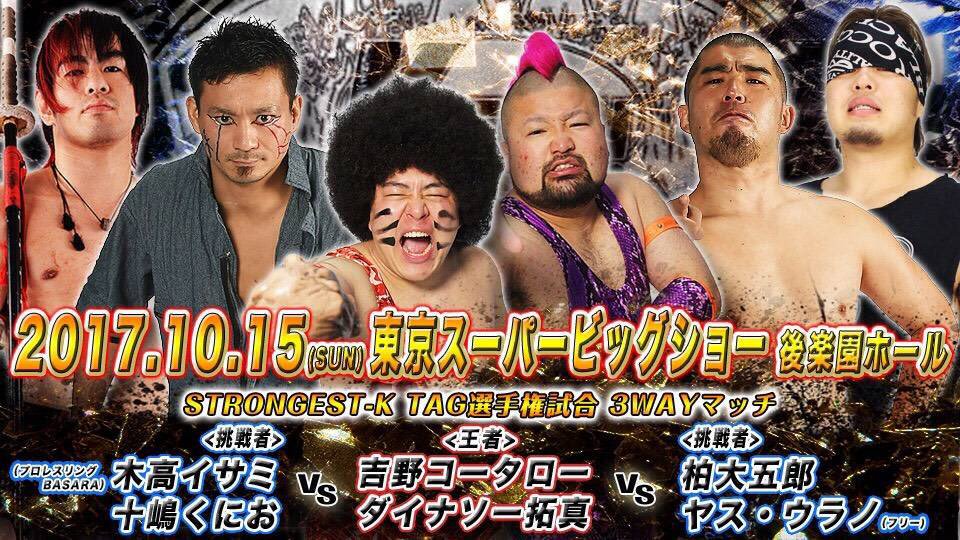 (6) STRONGEST-K TAG Championship 3WAY Match: [35th Champion] Kotaro Yoshino & Dinosaur Takuma vs. [Challengers] Daigoro Kashiwa & Yasu Urano vs. [Challengers] Isami Kodaka & Kunio Toshima
◆Winner: Dinosaur (10:45) with the Gaobababa Kashiwa.
~ "DinoStones" 1st successful title defense.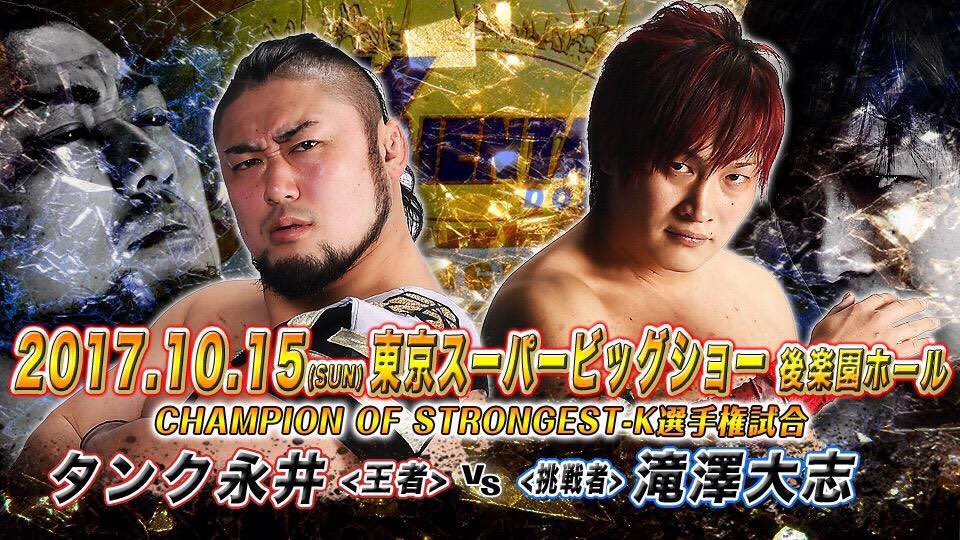 (7) CHAMPION OF STRONGEST-K Match: [24th Champion] Tank Nagai vs. [Challenger] Taishi Takizawa
◆Winner: Takizawa (23:32) following the Takabisha.
~ Champion falls on his 1st title defense. Takizawa becomes the 25th champion.
~ The new champion Takizawa was in tears as he reclaims the belt for the first time in over 4 years.
~ Takizawa nominated to Kaji Tomato to be his first challenger.
~ Takizawa acknowledged three names of Mashimo, Yuki Sato, and Ayato Yoshida as all being out with injuries. Takizawa stated that this is weird time between generations, but that he will make this his era as the defending champion.