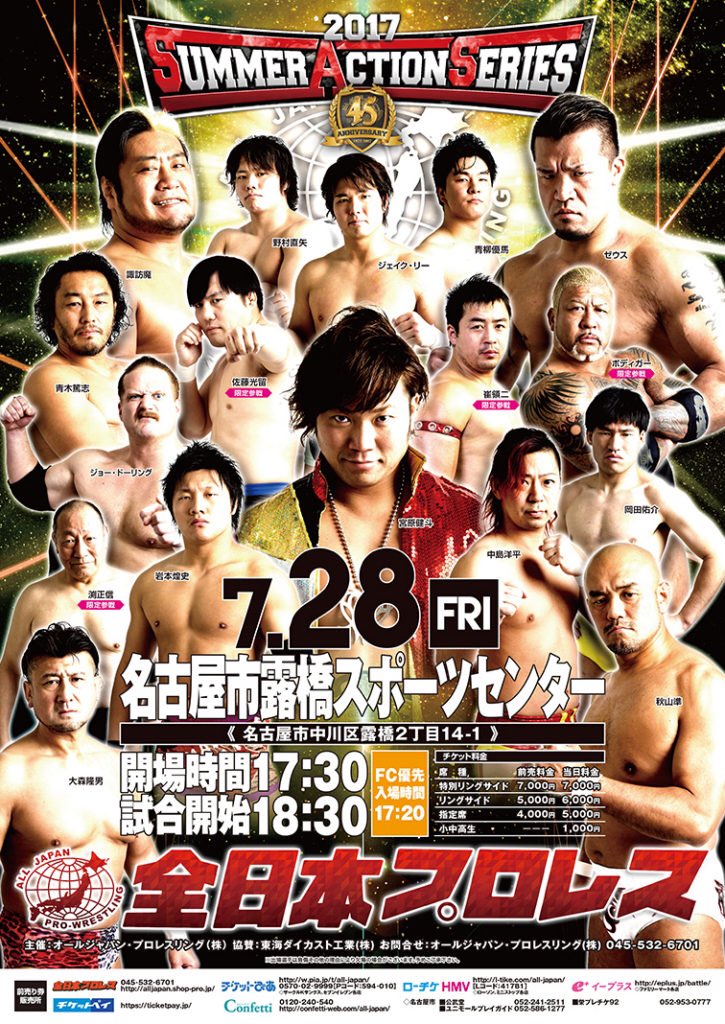 All Japan Pro-Wrestling "2017 SUMMER ACTION SERIES", 7/28/2017 [Fri] 18:30 @ Nagoya City Tsuyuhashi Sports Center in Aichi
(1) Yohei Nakajima & KAI vs. Yuma Aoyagi & Takuya Nomura (BJW)
◆Winner: Aoyagi (6:09) with a Backslide on Yohei.
(2) Ultimo Dragon & Minoru Tanaka vs. Kotaro Nasu (LAND'S END) & Michio Kageyama (Team Dera)
◆Winner: Dragon (5:35) with a La Magistral on Kageyama.
(3) Takao Omori & Koji Iwamoto vs. TAJIRI & Massimo
◆Winner: Omori (9:10) following an Axe Bomber on Massimo.
(4) Asia Tag Championship Match: [101st Champions] Atsushi Aoki & Hikaru Sato vs. Masashi Takeda & Atsushi Maruyama (both FREE)
◆Winner: Aoki (14:26) with the Trap Over on Maruyama.
~ 2nd successful title defense.
~ The champions secure two defenses for this month, as Hikaru continues to be adamant of a double title defense at Ryogoku at the end of next month.
(5) All Japan Pro-Wrestling Founding 45th Anniversary Memorial Battle in Osaka ~ The Road to RYOGOKU : Jun Akiyama, Suwama & Kento Miyahara vs. Shuji Ishikawa, Joe Doering & Yuji Okabayashi
◆Winner: Miyahara (14:12) with the Shutdown German Suplex Hold on Ishikawa.
~ Miyahara claims back-to-back direct wins over the TC Champion, as he continues to proclaim himself as the greatest over the strongest.
~ Suwama finally accepted Hikaru's request for a "grappling match" for their announced singles match on 8/3 at 1stRING.
(6) World Tag Championship Match: [76th Champions] Jake Lee & Naoya Nomura vs. [Challengers] Zeus & The Bodyguard
◆Winner: Nomura (15:36) following the Maximum on Zeus.
~ 1st successful title defense.
~ BJW's Daisuke Sekimoto and Yuji Okabayashi came forward to make the challenge.
http://puroresuspirit.net/2017/06/ajpw-event-cards-for-july-august-2017/