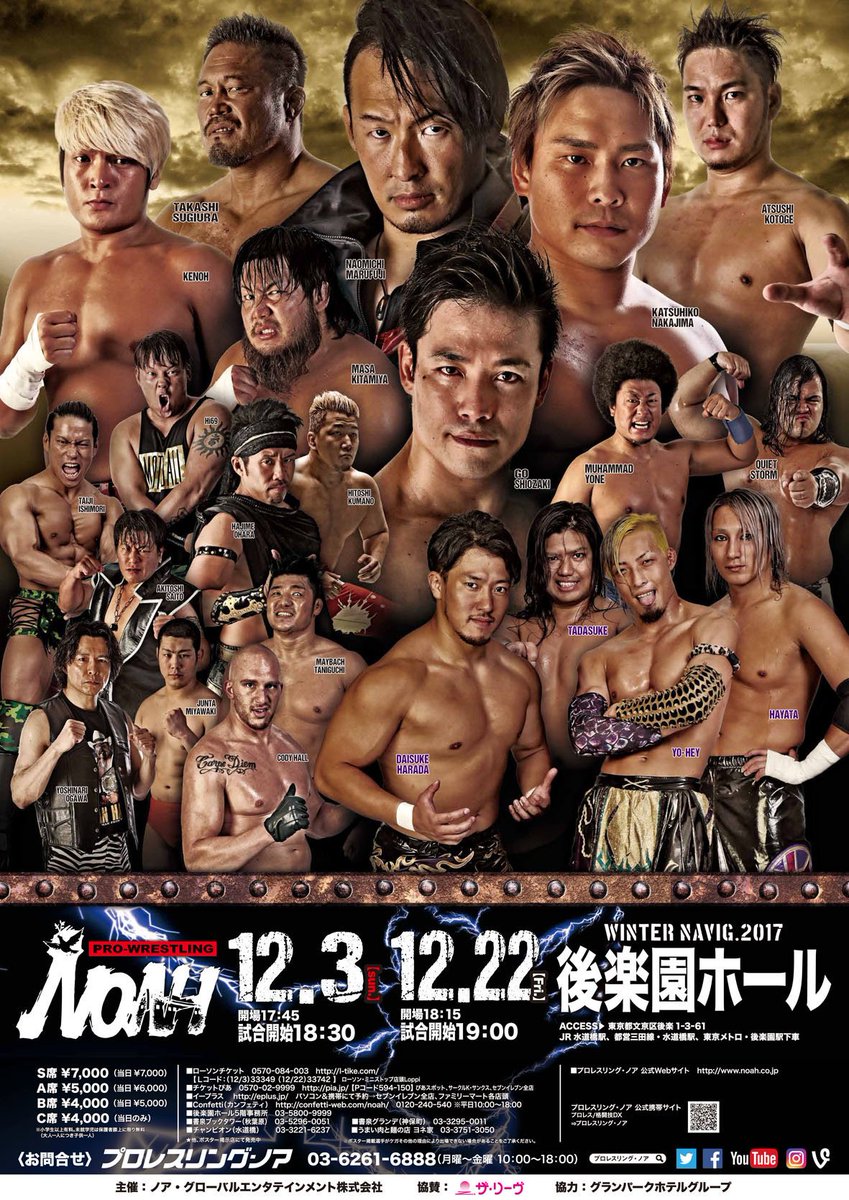 Pro Wrestling NOAH "Winter Navig. 2017", 12/22/2017 [Fri] 19:00 @ Korakuen Hall in Tokyo
1,615 Spectators (packed)
(1) KABUKI THE FINAL Memorial Match: The Great Kabuki (FREE), Shiro Koshinaka (FREE) & Akitoshi Saito vs. Go Shiozaki, Yoshinari Ogawa & Masao Inoue (FREE)
◆Winner: Saito (9:30) following the Sickle Death on Inoue.
~ The 69 year old Kabuki finally ends his career after 54 years of competing as a professional wrestler. He thanked everyone for all the years of support. Several other veterans came out to the ring from Great Kojika, Tatsumi Fujinami, and Toshiaki Kawada, who was present on commentary for the show. The 10 bell salute then took place as he spun his trademark nunchuks and sprayed one last poison mist up into the air.
~ During the backstage intereview, Kabuki stated that he wanted to leave with the poison mist to symbolize the last breath of his career from start to finish. He also stated that he has done everything imaginable in the ring and now he just wants to spend the rest of his life with his wife and daughter near his side.
(2) Hajime Ohara & Hitoshi Kumano vs. Tadasuke & Seiya Morohashi (FREE)
◆Winner: Kumano (6:15) with an Argentine Backbreaker on Morohashi.
~ Ohara successfully returns after being out of action for the last several shows due to renal bleeding.
(3) Katsuhiko Nakajima & Masa Kitamiya vs. Cody Hall & Sheldon Jean
◆Winner: Kitamiya (4:42) following a Spear on Jean.
(4) Atsushi Kotoge, Taiji Ishimori & Hi69 vs. Yuko Miyamoto, Mitsuya Nagai & LEONA
◆Winner: Hi69 (6:07) with the Stuka Splash on LEONA.
(5) GHC Junior Heavyweight Tag Championship Match: [31st Champions] HAYATA & YO-HEY vs. [Challengers] Gurukun Mask & Shuri Joe (Ryukyu Dragon)
◆Winner: YO-HEY (13:27) following the Ganmen G from the corner onto Joe.
~ 3rd successful title defense.
(6) GHC Tag Championship Match: [41st Champions] Muhammad Yone & Quiet Storm vs. [Challengers] Naomichi Marufuji & Maybach Taniguchi
◆Winner: Yone (14:40) following the Funky Buster Bomb on Marufuji.
~ 1st successful title defense.
~ Maybach betrayed Marufuji during the match, as he made it known that he was indeed the member of NOAH who would turn and join Mitsuya Nagai.
~ 50FP was left with the opening to secure their defense.
(7) Special Single Match: Takashi Sugiura vs. Moose (Impact)
◆Winner: Sugiura (12:36) following the Olympic Qualifying Slam.
~ Moose puts up a strong fighting effort, but Sugiura managed to get the opening that he as the ring veteran managed to capitalize on.
(8) GHC Junior Heavyweight Championship Match: [36th Champion] Daisuke Harada vs. [Challenger] Minoru
Tanaka (FREE)
◆Winner: Harada (18:00) with the Katayama German Suplex Hold.
~ 2nd successful title defense.
~ Respect was shown between Harada and Minoru after the match. As Harada continues to carry the front for the juniors within NOAH.
(9) GHC Heavyweight Championship Match: [29th Champions] Eddie Edwards (Impact) vs. [Challengers] Kenoh
◆Winner: Kenoh (23:50) following a Diving Foot Stomp.
~ Champion falls on his 2nd title defense. Kenoh becomes the 30th champion.
~ Kenoh declared that his era begins now and that "Misawa's NOAH" shall be no more.
~ This lead to Kaito Kiyomiya's return to NOAH as he made the challenge against his former ally.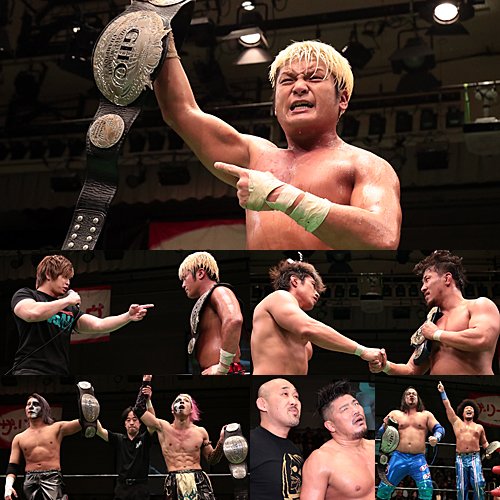 http://puroresuspirit.net/2017/11/noah-event-cards-for-november-december-2017/