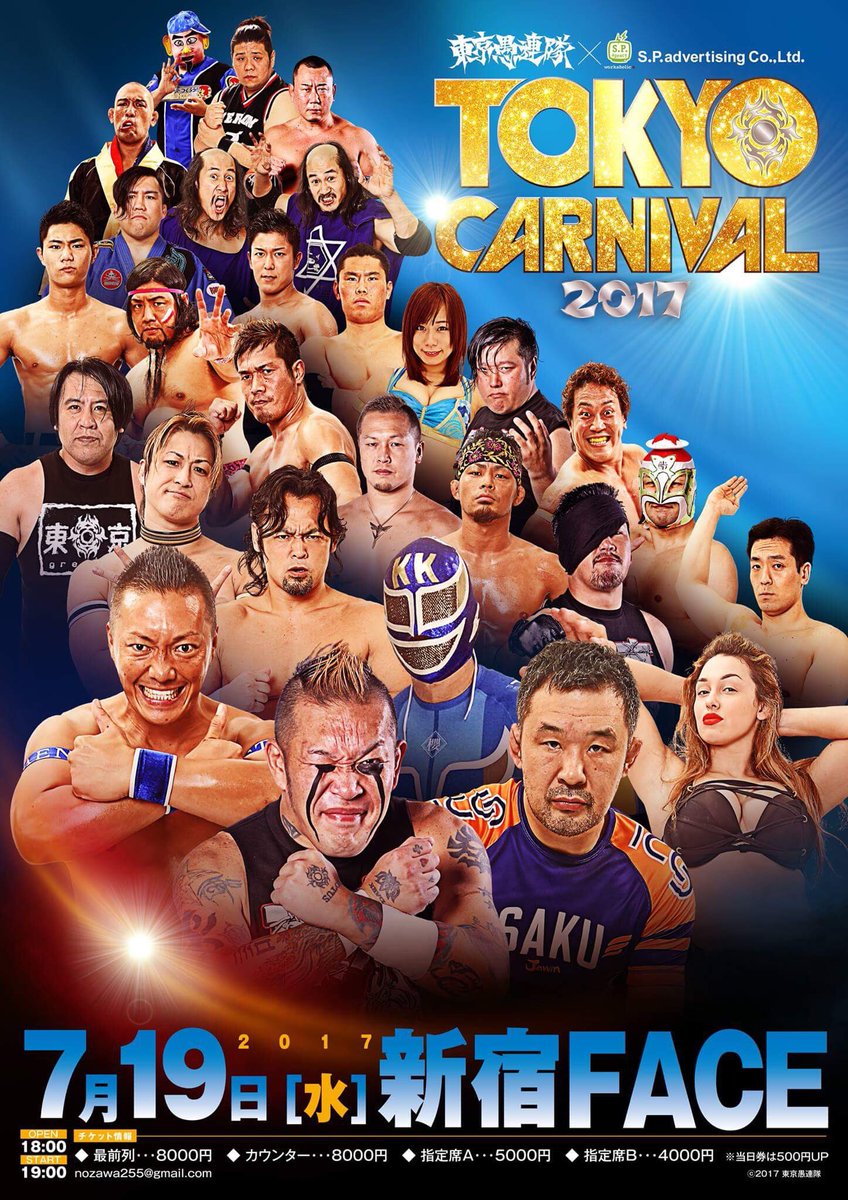 TOKYO GURENTAI "TOKYO CARNIVAL 2017", 7/19/2017 [Wed] 19:00 @ Shinjuku FACE in Tokyo
514 Spectators (overcrowded)
(1) SPOTLIGHT MIX: Kikutaro & Koharu Hinata (FREE) vs. Kotaro Suzuki (FREE) & Heidi Katrina (SP.E.)
♦Winner: Katrina (11:56) following a Diving Leg Drop on Kikutaro.
(2) Vaccine Fight Offer Match ~ Let's Go Wild: Takuya Kai, Manabu Soya (W-1) & Ganseki Tanaka (W-1) vs. Tomohiko Hashimoto (A-TEAM), Shu & Kei Brahman (both FREE)
♦Winner: Shu (11:12) with the Whole Body Dissatisfaction on Ganseki.
(3) POWER WARS ~ episode 1 ~ : Kaz Hayashi (W-1) & BxB Hulk (DG) vs. SUSHI (FREE) & Chikara (RikiEnterprise)
♦Winner: BxB (18:18) with the Fast Flash on SUSHI.
(4) Special Tag Match: Kazushi Sakuraba & Kendo Kashin (both FREE) w/ Machine Gundan vs. Hikaru Sato (Pancase MISSION) & Rocky Kawamura (PancaseISM)
♦Winner: Sakuraba (8:55) with a Sleeper Hold on Kawamura.
(5) Tokyo World Heavyweight Championship Match: [5th Champion] Masaaki Mochizuki (DG) vs. [Challenger] Yuko Miyamoto (666)
♦Winner: Mochizuki (14:45) with the Bible.
~ 3rd successful title defense.
(6) Tokyo Gongens vs. OVER GENERETION – Tokyo vs Kobe Showdown – Special Elimination Match: NOSAWA Rongai, MAZADA, FUJITA & KIKUZAWA vs. CIMA, Eita, Takahiro Yamamura & Kaito Ishida
~ Yamamura (5:31) over FUJITA, with a Stardust Press.
~ MAZADA (6:29) over Ishida, with the Masada Driver.
~ Eita (7:11) over KIKUZAWA, with the Numero Uno.
♦Winner: NOSAWA (6:05) with an Ultra High School Class La Magistral on Yamamura.
~ NOSAWA Rongai announced that Masaaki Mochizuki will be defending the Tokyo World Heavy belt against him on September 27 at the Shinjuku FACE.