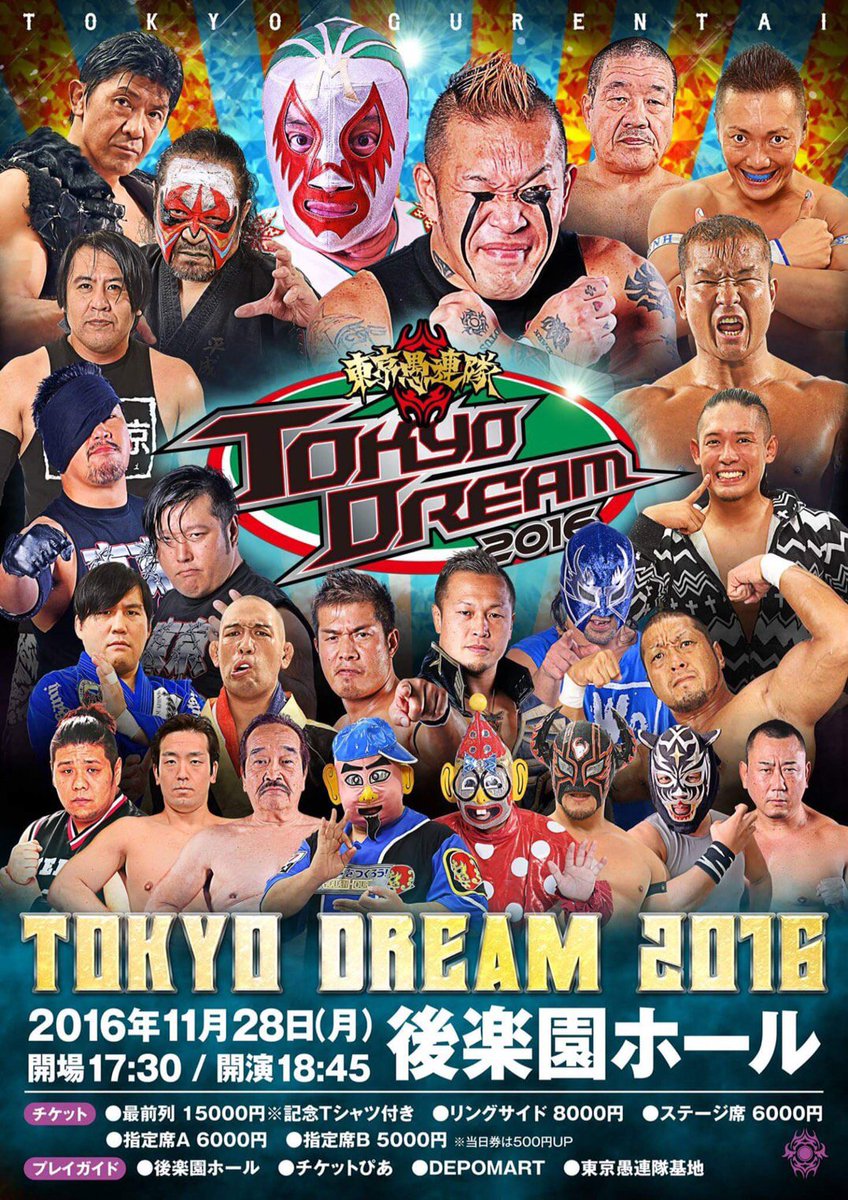 Tokyo Gurentai "TOKYO DREAM 2016", 11/28/2016 [Mon] 18:45 @ Korakuen Hall in Tokyo
(1) Kiku☆Hibimasu ~ Ihitabidachi: Kikutaro & Kuishinbo Kamen vs. Mitsuo Momota & Chikara
◆Winner: Chikara (9:21) following a Backdrop on Kikutaro.
(2) Vaccine Fight Offer Match: Takuya Kai & Tomohiko Hashimoto vs. Black Tiger & Buffalo
◆Winner: Buffalo (10:43) following a Lariat on Takuya.
(3) Tokyo Intercontinental Tag Championship Match: [5th Champions] Hikaru Sato & Rocky Kawamura vs. [Challengers] Dick Togo & Shiryu
◆Winner: Togo (15:49) following a Diving Senton on Kawamura.
~ Champions fall on their 2nd title defense. Togo and Shiryu become the 6th generation champions.
~ The former MichiPro teammates capture their first belts as a team.

(4) Tokyo World Heavyweight Championship Match: [Champion] Masaaki Mochizuki (DG) vs. [Challenger] Kotaro Suzuki (FREE)
◆Winner: Mochizuki (13:48) via counter pin-fall from a Endless Waltz pin attempt.
~ 2nd successful title defense.
~ Mochizuki defends the belt in a rematch from their All Japan bout in February of 2014.
~ Rocky Kawamura came forward to challenge the champion.

(5) TOKYO DREAM 2016: MAZADA, FUJITA & KIKUZAWA vs. CIMA (DG), Masato Tanaka (ZERO1) & Akito (DDT)
◆Winner: CIMA (14:28) following the Meteora on KIKUZAWA.
~ Kiku will be heading to the USA in 2017 as he competed in his final matches tonight at the Korakuen Hall.

(6) CLASSIC OF WRESTLING : Dory Funk Jr., Masakatsu Funaki & The Great Kabuki vs. Osamu Nishimura, Yoshiaki Fujiwara & Chavo Guerrero
◆Winner: Dory Funk (13:09) with a Spinning Toe Hold on Nishimura.

(7) IWA World Heavyweight Championship Match: [1st Champion] Mil Mascaras vs. [Challenger] NOSAWA Rongai
◆Winner: Mascaras (8:20) with a Diving Body Attack.
~ Mascaras defends his belt.