Pro Wrestling WAVE "THANKsGIVING WAVE" 12/29/17 [Fri] 18:30 @ Korakuen Hall in Tokyo
783 spectators
(1) 2 out of 3 Falls Match: Moeka Haruhi, Kyusei Sakura Hirota, Cherry & Mio Momono vs Fairy Nipponbashi, Kaori Yoneyama, Hikaru Shida & Miyuki Takase
() Momono () with a Dropkick on Nipponbashi (1-0)
() Nipponbashi () via pinfall on Momono (1-1)
♦Winner: Takese () with a Diving Guillotine Drop on Hirota (1-2)
(2) Mika Iida Road to Retirement: Mika Iida vs Hiroe Nagahama
♦Winner: Iida (5:12) with the Gannosuke Clutch
(3) Keisuke Goto & Koju Takeda vs Kenichiro Arai & Masayuki Mitomi
♦Winner: Arai (11:26) with a Reverse Single Leg Crab

(4) Hardcore Tag Match: Ryo Mizunami & Rina Yamashita vs KAORU & SAKI
♦Winner: Yamashita (15:52) with a Splash Mountain onto a chair on SAKI
~ It was announced Mizunami & Yamashita will face Nanae Takahashi & Yoshiko in a hardcore tag match on 1/7.

(5) Yuki Miyazaki & Nagisa Nozaki vs Takumi Iroha & Rin Kadokura (Both Marvelous)
♦Winner: Iroha (18:00) with the Running Three on Miyazaki

(6) Ayako Hamada & ASUKA vs Chihiro Hashimoto & Meiko Satomura (Both Sendai Girls)
♦Winner: Satomura () via referee stop, with a Sleeper Hold on ASUKA

(7) Regina di WAVE Championship Match: [7th Champion] Misaki Ohata vs [Challenger/OBASAN NEXT Winner] Yumi Ohka
♦Winner: Ohka () with the Big Boot
~ Champion falls on her 6th defense. Ohka becomes the 8th champion.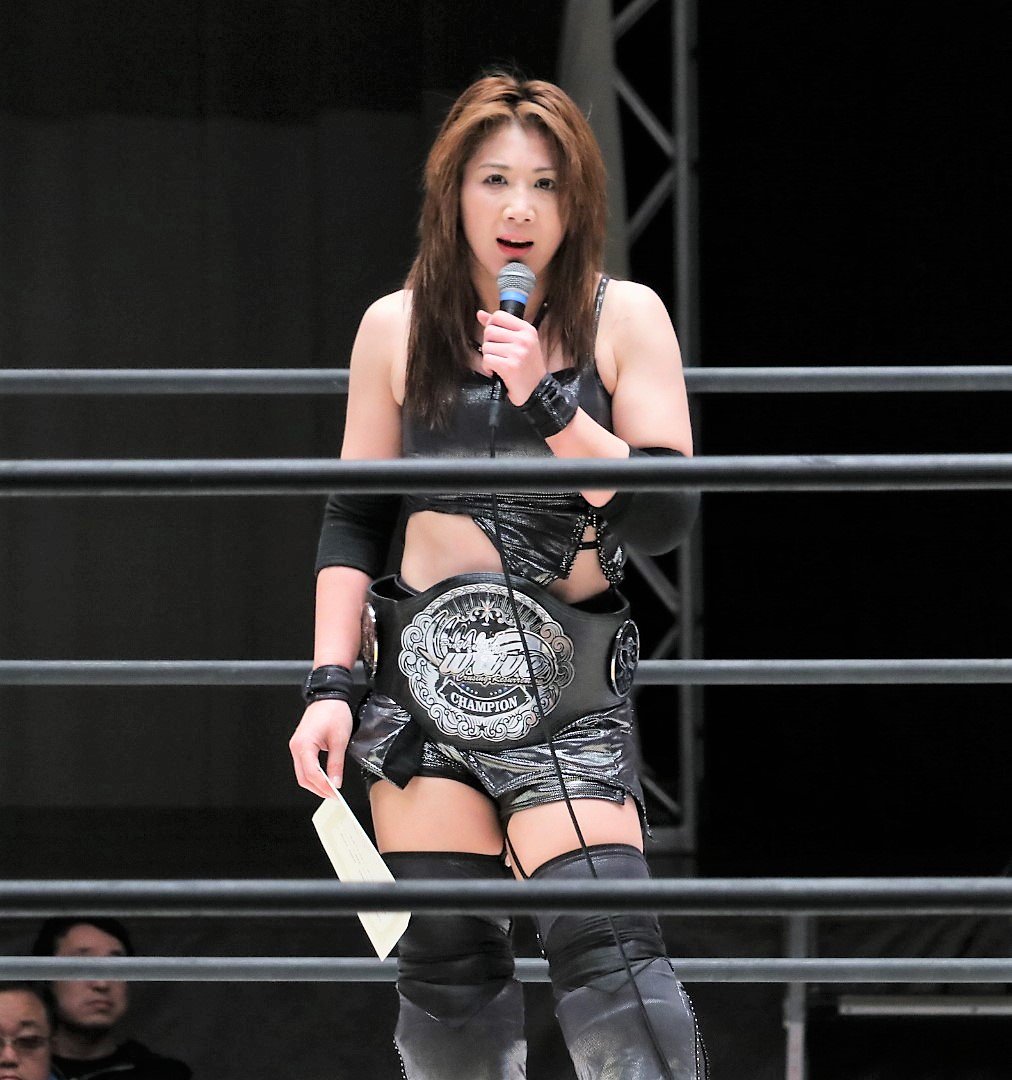 ~ The annual Zan-1 was held, this time in the form of a fan vote, to determine the next challenger on 1/7. The voting results were in the following order:
1. Mika Iida (1,195 points)
2. Misaki Ohata (1,025 points)
3. Yumi Ohka (850 points)
4. Fairy Nipponbashi (805 points)
5. Rina Yamashita (655 points)
6. Moeka Haruhi (610 points)
7. Ryo Mizunami (415 points)
8. Hiroe Nagahama
9. Nagisa Nozaki
10. Takumi Iroha
~ Mika Iida won the Zan-1 vote, and said she will try her best to capture the Regina di WAVE Championship before she retires.
~ Misaki Ohata vs Ayako Hamada in a number one contender's match was also announced for 1/7.