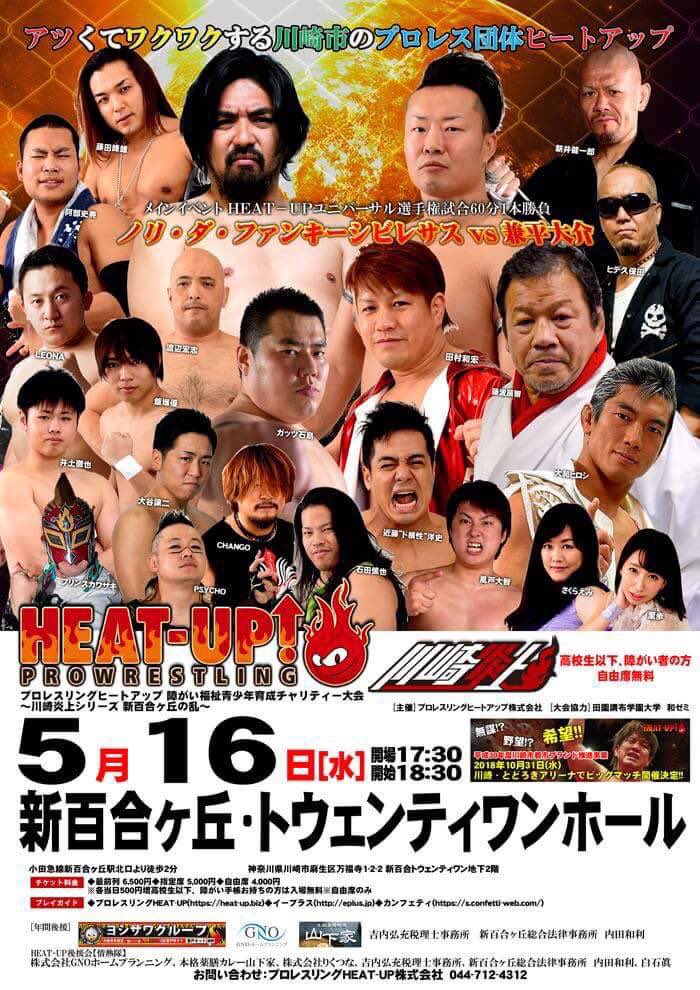 Pro-Wrestling HEAT-UP "Shinyurigaoka Charity Show", 5/16/2018 [Wed] 18:30 @ Shinyurigaoka 21 Hall in Tokyo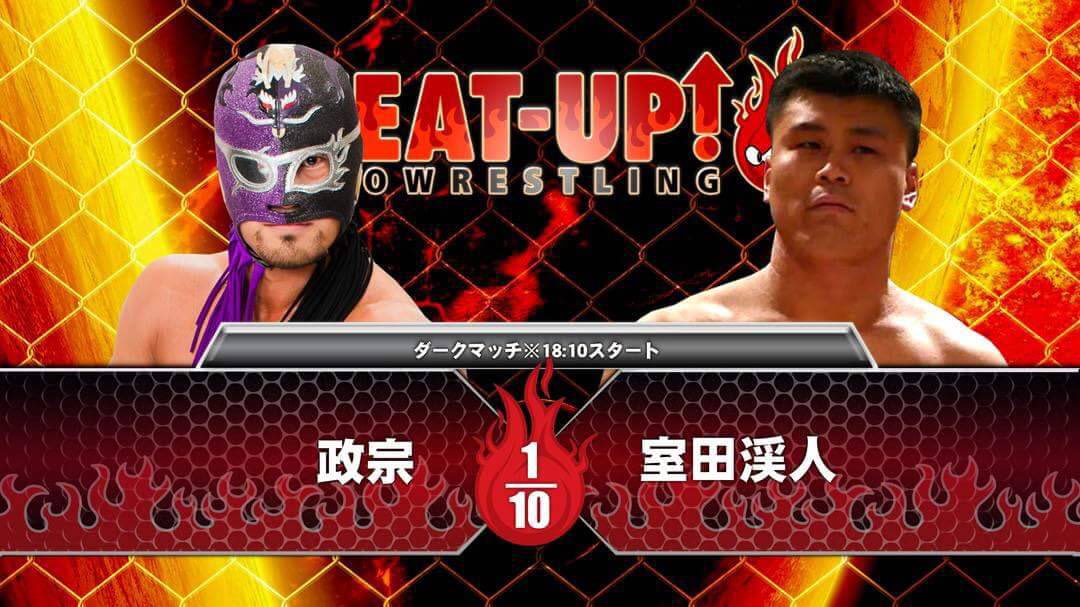 (0) Masamune vs. Keito Murota
◆Winner: Masamune (4:52) with a Ground Head Lock.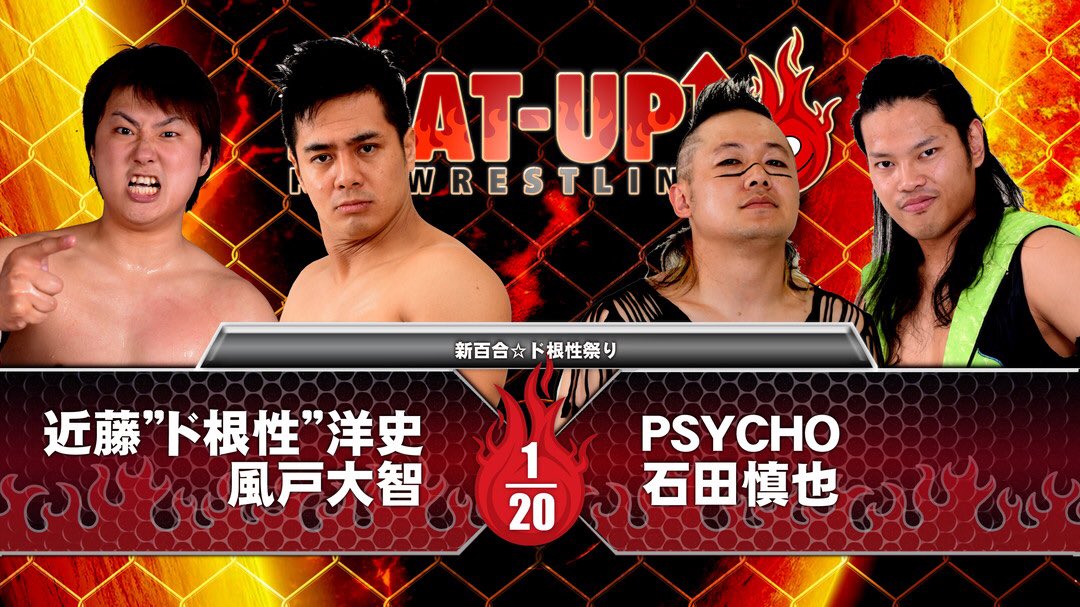 (1) Yoji "Dokonjo" Kondo & Daichi Kazato (BASARA) vs. PSYCHO & Shinya Ishida (both FREE)
◆Winner: PSYCHO (9:05) with the God Trap on Dokonjo.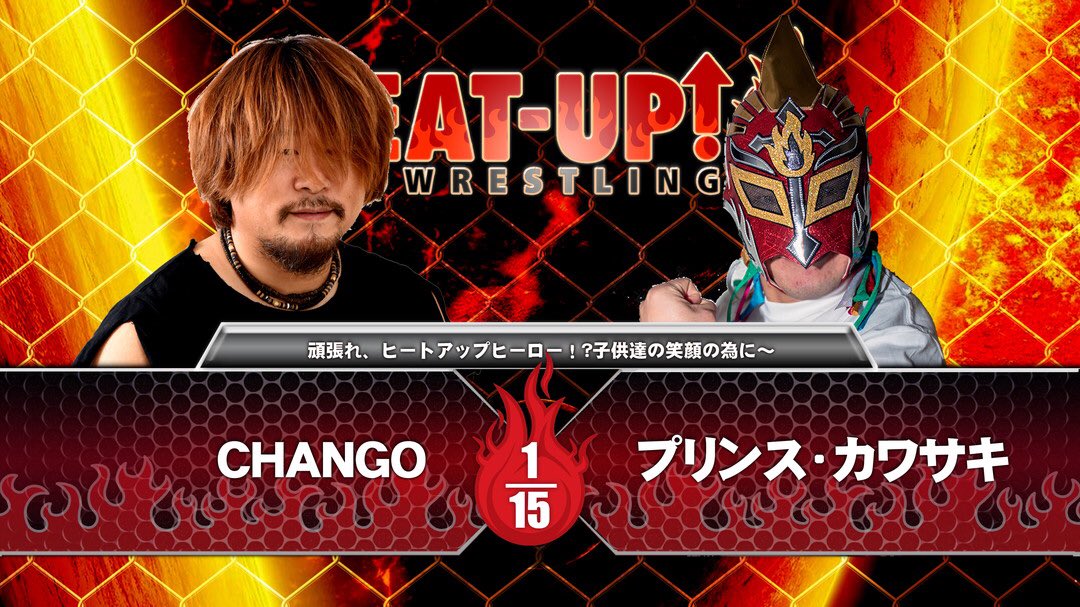 (2) Prince Kawasaki vs. CHANGO (FREE)
◆Winner: CHANGO (6:59) with the Welcome to the Jungle.
~ PSYCHO got involved with a powder attack which allowed CHANGO to claim the win. Hero Inada Man appeared and agreed to form an alliance with Kawasaki.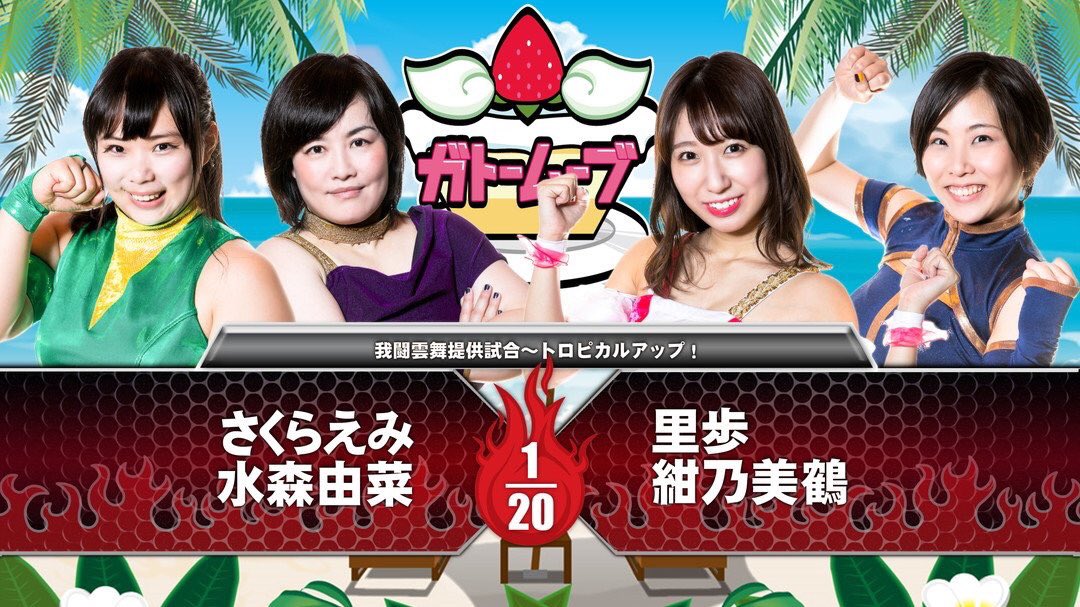 (3) Gatoh Move Offer Match: Riho & Mitsuru Konno vs. Emi Sakura & Mizumori Yuna
◆Winner: Riho (10:13) following a Somato on Yuna.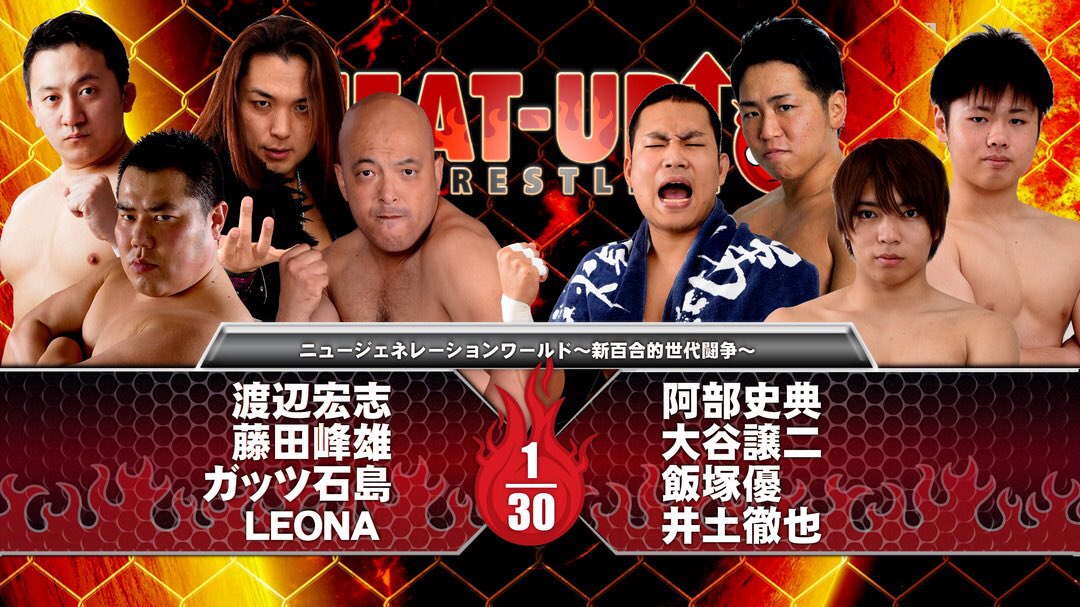 (4) Hiroshi Watanabe, Guts Ishijima, Mineo Fujita (Chinko) & LEONA (DRADITION) vs. Fuminori Abe (BASARA), Joji Otani, Yu Izuka & Tetsuya Izuchi
◆Winner: Ishijima (8:41) following a Facebuster on Izuchi.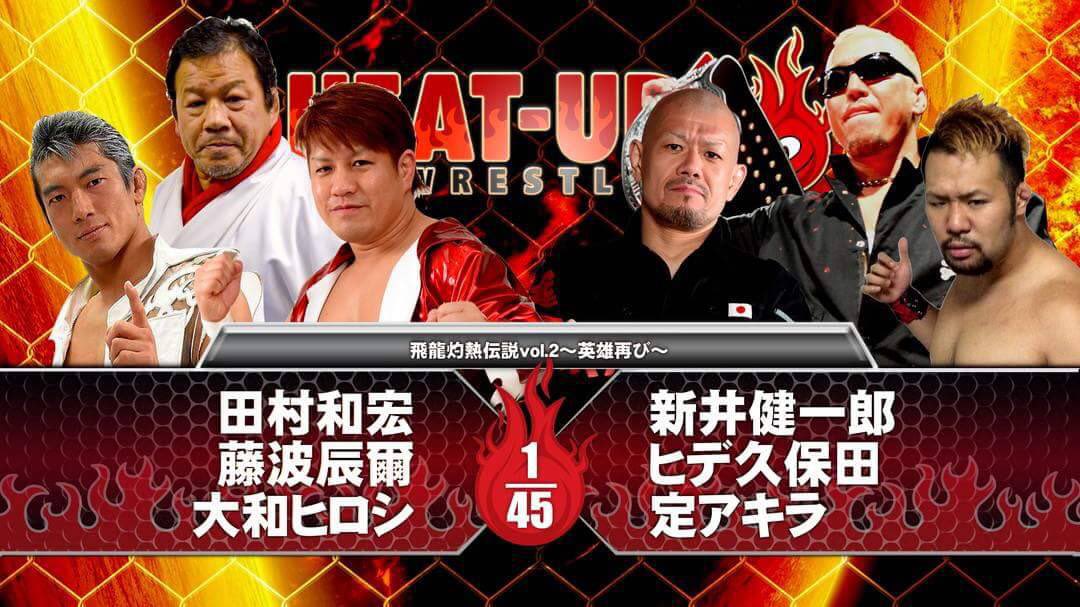 (5) Kazuhiro Tamura, Tatsumi Fujinami (DRADITION) & Hiroshi Yamato (FREE) vs. Kenichiro Arai (DG), Hide Kubota & Akira Joe (FREE)
◆Winner: Tamura (13:48) with the Andre (seated armbar) on Joe.
~ Tamura challenged Arai & Kubota for the next challenge for the HEAT-UP Tag belts, he stated that his partner will be Tatsumi Fujinami.
~ The title match will be taking place on June 23 in Kawasaki.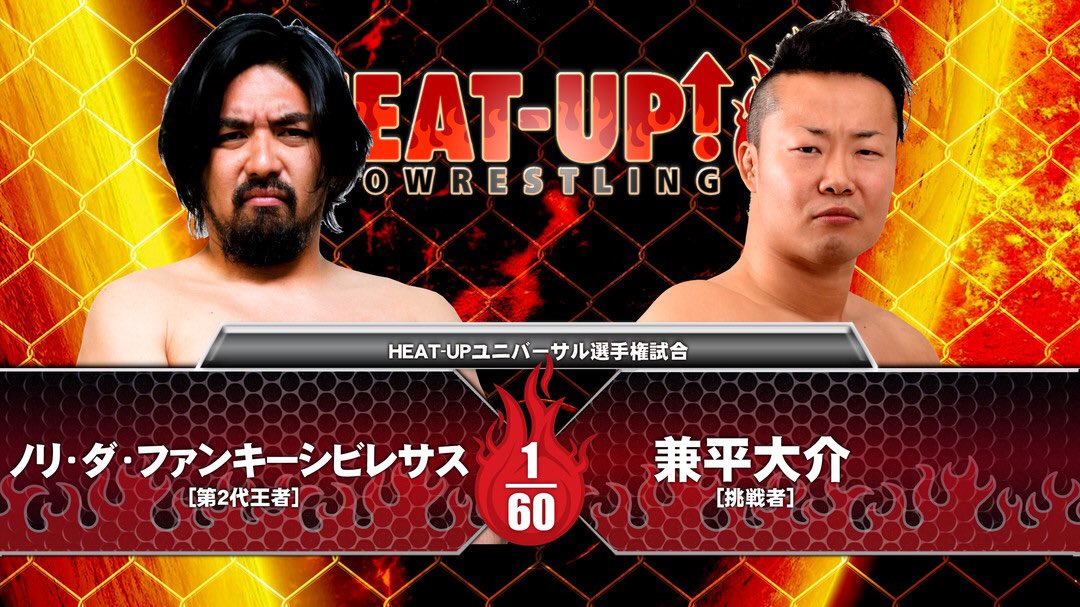 (6) HEAT-UP Universal Championship Match: [2nd Champion] Nori da Funky Shibiresath (FREE) vs. [Challenger] Daisuke Kanehira
◆Winner: Kanehira (15:45) following a Running Knee Lift.
~ Champion falls on his 2nd title defense. Kanehira becomes the 3rd champion.
~ Tamura stepped forward to congratulate the new champion, but Fuminori Abe interjected himself and asserted himself to be the new champions first challenge.
~ Kanehira accepted the challenge, as the match will be taking place on June 23 in Kawasaki.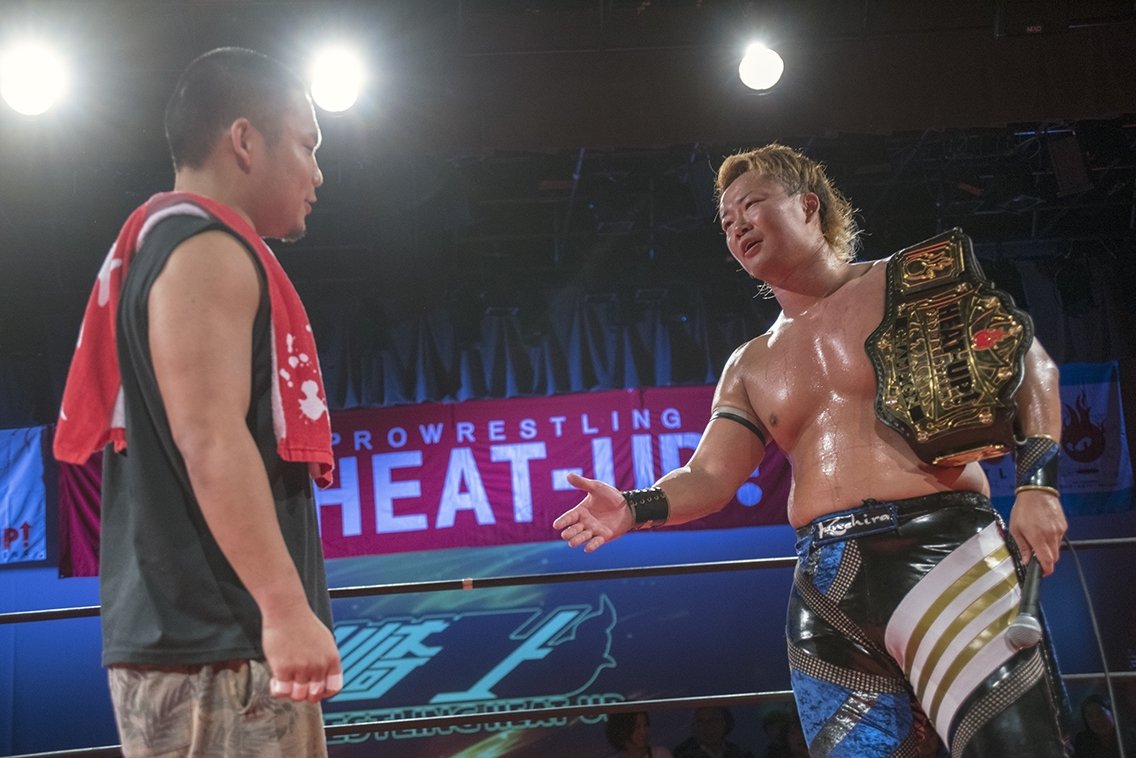 http://puroresuspirit.net/tag/heat-up/
Upcoming…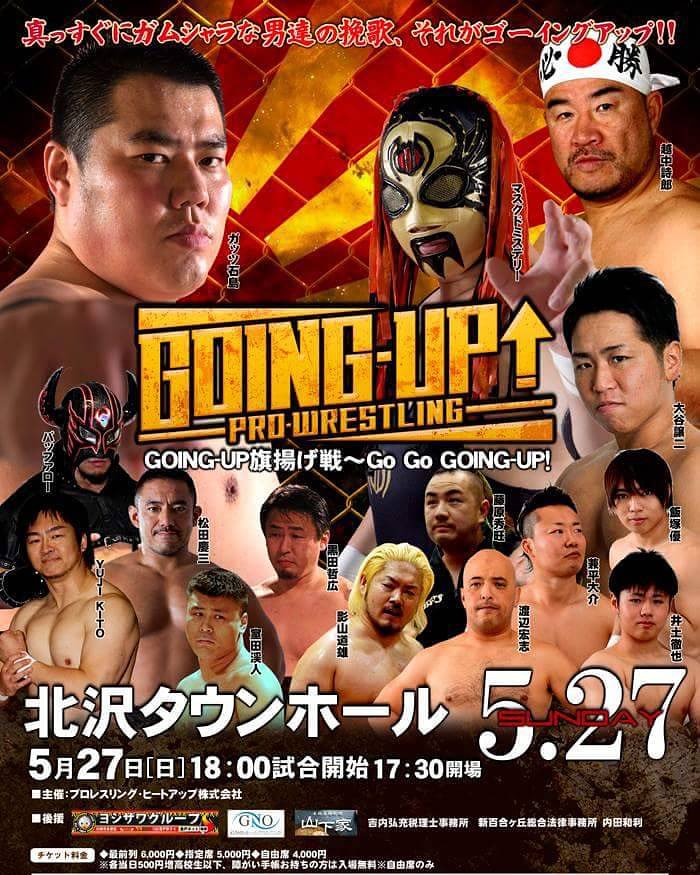 GOING-UP Raising an Army "GO! GO! GOING-UP!", 5/27/2018 [Sun] 18:00 @ Kitazawa Town Hall in Tokyo
(-) GOING-UP Begins Single Match : Tetsuhiro Kuroda (FREE) vs. Keito Murota
(-) Shadow Satan Reincarnated : Michio Kageyama (FREE) vs. Shuo Fujiwara
(-) Inspection! Pro-Wrestling Rival Generation Gap ~ Tag Match : Keizo Matsuda (FREE) & YUJI KITO (ASUKA PRO) vs. Yuu Iizuka & Tetsuya Izuchi
(-) Special ~ Mid-life Crisis ~ Tag Match : Masked Mystery & Hiroshi Watanabe vs. Shiro Koshinaka (FREE) & Yuji "Dokonjo" Kondo
(-) Go Go GOING UP ~ Our Decision ~ Tag Match : Guts Ishijima & Buffalo (Makai) vs. Daisuke Kanehira & Joji Otani