GUTS World vol. 113 CHAMPION of G 2017, 11/14/2017 [Tue] 19:00 @ Shinkiba 1stRING in Tokyo
283 Spectators (overcrowded)
(1) CHALLENGE THE VIOLENCE WALL: Joji Otani vs. Buffalo (Makai)
♦Winner: Buffalo (8:29) following a Lariat.
(2) Shinkiba Different Dimension Showdown: Drake Morimatsu vs. Tetsuhiro Kuroda (FREE)
♦Winner: Kuroda (6:47) following a Lariat.
(3) GUTS World vs HEAT-UP: Mr. Gannosuke & Guts Ishijima vs. Daisuke Kanehira & Yoji "Dokonjo" Kondo
♦Winner: Ishijima (7:35) following a Facebuster on Kondo.
(4) TECHNICAL WAR: CHANGO (FREE) vs. Yasu Urano (FREE)
♦Winner: Urano (9:29) with a Sunset Flip.
(5) 2vs3 Handicap Match: Masao Orihara (Mobius) & Masked Mystery vs. Dick Togo (FREE), Amigo Suzuki (FREE) & Liang Ping (New Beijing)
♦Winner: Mystery (12:06) following a Choke Slam on Amigo.
~ Togo demanded a singles match against Orihara on the December 2 show, as Orihara accepted.
(5) GWC Tag Championship 3WAY Match: [14th Champions] Keizo Matsuda (FREE) & YUJI KITO (ASUKA) vs. [Challengers] Shota & Kenichiro Arai (DG) vs. [Challengers] TORU (Doutonbori) & Fuminori Abe (Sportiva)
♦Winner: Abe (12:06)  with a Modified Manjigatame on Shota.
~ Champions fall on their 6th title defense. Abe & TORU become the 15th champions.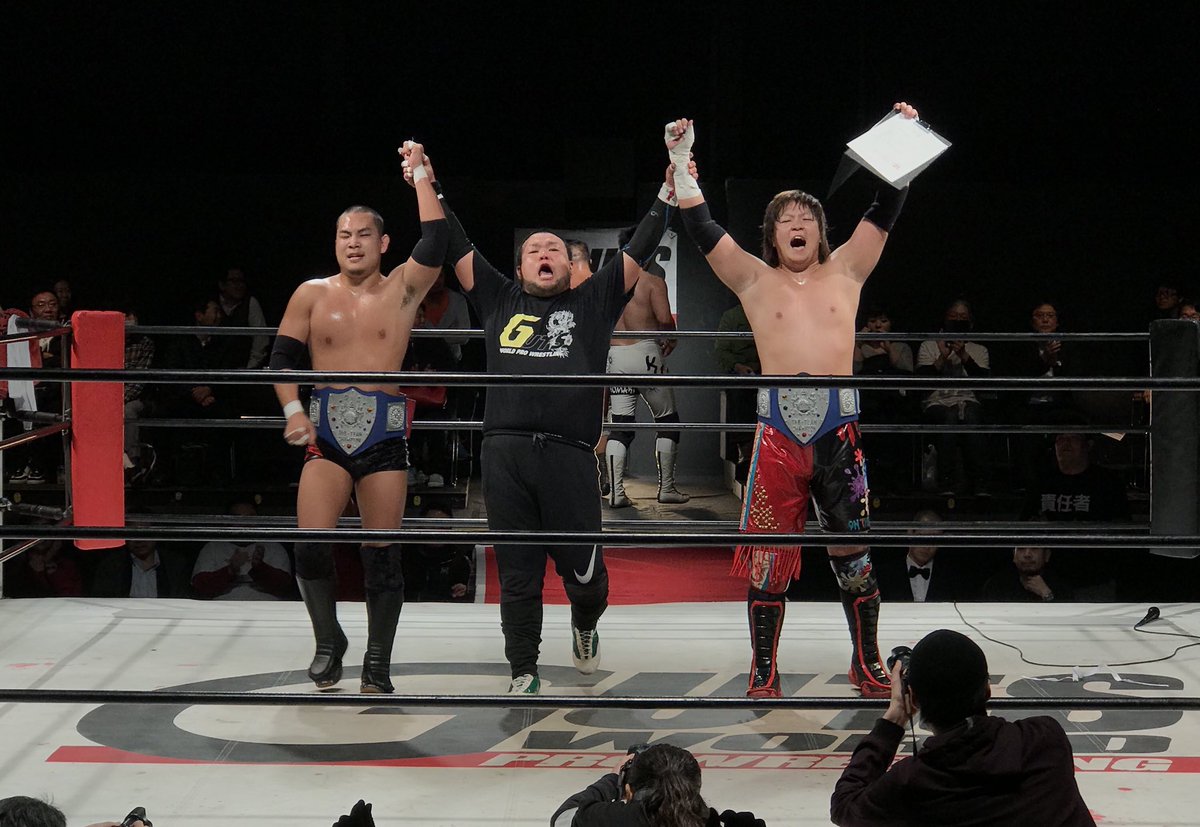 (7) Daisuke Retirement Road: Daisuke vs. Kazuhiro Tamura (HEAT-UP)
♦Winner: Tamura (32:50) following a Buzzsaw Kick.
~ Respect was shown between the two following the match, as Daisuke thanked Tamura for pushing him to the limit today.
~ As for his retirement match next month Daisuke did not have anything to officially announce at this time. He hinted at potential 6-man tag match with Yaru Urano and Tamura, but also the possibility of a multi-challenge gauntlet. Though his goal is to full-till his life as a pro-wrestler and wants to have no regrets.