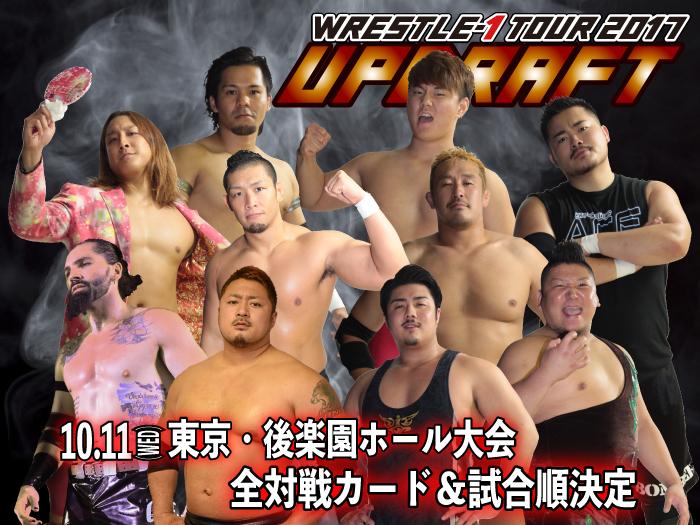 WRESTLE-1 TOUR UPDRAFT, 10/11/2017 [Wed] 19:00 @ Korakuen Hall in Tokyo
(1) W-1 TAG LEAGUE Semi-final Round: (A BLOCK #2) Koji Doi & Kumagoro vs. (B BLOCK #1) Yuji Hino & Jake Omen
♦Winner: Kumagoro (9:44) following a Diving Senton on Omen.
(2) W-1 TAG LEAGUE Semi-final Round: (A BLOCK #1) Daiki Inaba & Jiro "Ikemen" Kuroshio vs. (B BLOCK #2) Masayuki Kono & Takanori Ito
♦Winner: Kuroshio (11:56) with a Moonsault Press on Ito.
(3) Hajime & Soma Sumeragi vs. Masayuki Mitomi (Ehime) & Rionne Fujiwara (FREE)
♦Winner: Sumeragi (6:23) with a Small Package Hold on Mitomi.
(4) Kaz Hayashi, Shuji Kondo & Shunsuke Sayama (ASUKA PROJECT) vs. NOSAWA Rongai, MAZADA & Kenshin Chikano (DOVE)
♦Winner: Chikano (10:06) following a PK on Sayama.
(5) Shotaro Ashino, Yusuke Kodama, Seigo Tachibana & Drunk Andy vs. Manabu Soya, Andy Wu, Ganseki Tanaka & Tsugutaka Sato
♦Winner: Tachibana (11:35) with the Silver Lock on Soya.
~ Ashino offered the beaten Soya an opportunity to join the winning side with Enfants Terribles.
(6) WRESTLE-1 Cruiserweight Championship Match: [11th Champion] Seiki Yoshioka vs. [Challenger] Jun Tonsho
♦Winner: Yoshioka (19:19) following the S-K.
~ 1st successful title defense.
~ Kenshin from DOVE hinted at the possibility of challenging for the belt during the backstage interview.
(7) W-1 TAG LEAGUE Final Match: Koji Doi & Kumagoro vs. Daiki Inaba & Jiro "Ikemen" Kuroshio
♦Winner: Doi (34:02) following a Vertical Drop style Brainbuster on Inaba.
~ Doi and Kumagoro win the W-1 TAG LEAGUE.
~ With the win the winners get to decide which belts they want to go for in the future. This led to Kumagoro, with the approval from Doi, to make the challenge against Ashino for the W-1 Championship belt on the 11/5 show at Korakuen.