WRESTLE-1 TOUR 2018 OUTBREAK, 6/13/2018 [Wed] 19:00 @ Korakuen Hall in Tokyo
788 Spectators
(1) Tsugataka Sato vs. Ganseki Tanaka
◆Winner: Tsugataka (8:59) with an Elevated Boston Crab.
(2) Takanori Ito & Ryuji Hijikata (FREE) vs. MAZADA & FUJITA
◆Winner: Ito (9:59) with a German Suplex Hold on MAZADA.
(3) Kaz Hayashi, Jun Tonsho & Kotaro Suzuki (FREE) vs. Andy Wu, Alejandro & El Hijo del Pantera
◆Winner: Tonsho (10:34) following a Thrust Kick on Alejandro.
~ Jonsho stated that he wants to challenge for the UWA 6 Tag belts.
(4) Shuji Kondo & Koji Doi vs. Masayuki Kono & NOSAWA Rongai
◆Winner: Doi (7:54) with a Nankinjogatame on Kono.
~ NOSAWA Rongai stood in the ring and on the microphone stated that W-1 needs something exciting. He then stated that he made a call to a friend in Shanghai.
~ Out came CIMA along with several of his wrestlers from OWE (Oriental Wrestling Entertainment), as they made their presence known in the W-1 ring. Joined by T-HAWK, El Lindaman, Takehiro Yamamura, Gao Jingjia & Zackery Wentz (Dezmond Xavier was also announced to join later), the group known as STRONG HEARTS, has declared an all-out war against WRESTLE-1. CIMA stated that he will bring much needed life to W-1. Which Vice-President Kondo took offense and Hayashi as well was not happy with the call-out against their promotion.
~ CIMA and Shuji Kondo had an initial stare-off, but then T-HAWK got into Kondo's face to assert himself against the veteran.
~ Jun Tonsho, Hayashi's current protege, even shoved CIMA to the mat. The OWE boys made a wall in front of Tonsho which lead to Hayashi pulling his boy back.
~ The group will begin compete in W-1 on the June 22nd show at the Shinkiba 1stRING, as President Hayashi stated that the event card will be changed soon.
(5) Jiro "Ikemen" Kuroshio & Masato Tanaka (ZERO1) vs. Shotaro Ashino & Kenichiro Arai
◆Winner: Kuroshio (16:54) with the Ikemen Flash on Ashino. (Ankle Lock counter)
~ Kuroshio with the direct win over the W-1 Tag Champion. As he called out for the tag belts to be in defense, for the previously announced match, on the 6/22 show at the Shinkiba 1stRING.
(6) WRESTLE-1 Cruiserweight Championship Match: [11th Champion] Seiki Yoshioka vs. [Challenger] Yusuke Kodama
◆Winner: Kodama (14:12) with a Mad Splash.
~ Champion falls on his 5th title defense. Kodama becomes the 12th champion.
~ Pantera came out to keep Yoshioka from suffering further humiliation from the new champion and he also asserted himself as the next challenger.
(7) WRESTLE-1 Championship Match: [12th Champion] Manabu Soya vs. [Challenger] Kumaarashi
◆Winner: Soya (26:31) following a Wild Bomber.
~ 1st successful title defense.
~ No challenger came forward, but the W-1 GRAND PRIX will begin on July 1st with the winner earning the right to challenge on September 2nd.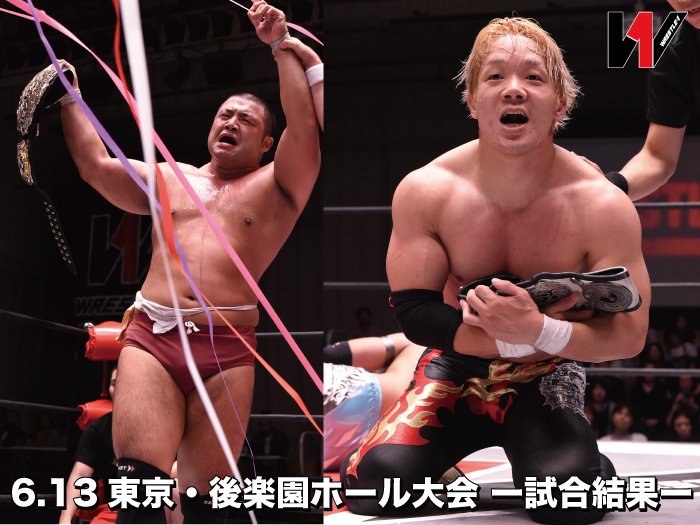 ~ The first round matches were updated in the upcoming events below…
http://puroresuspirit.net/tag/w-1/
Upcoming…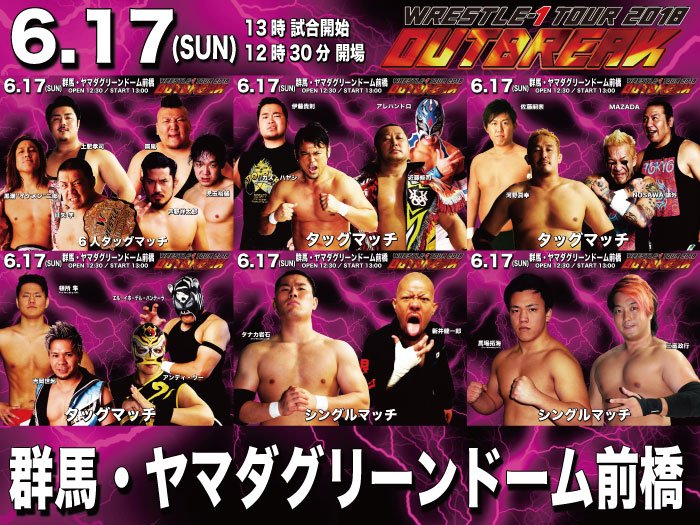 WRESTLE-1 TOUR 2018 OUTBREAK, 6/17/2018 [Sun] 13:00 

@

 Green Dome Maebashi in Gunma
(1) Takumi Baba vs. Masayuki Mitomi (EPW)
(2) Ganseki Tanaka vs. Kenichiro Arai (DG)
(3) Seiki Yoshioka & Jun Tonsho vs. Andy Wu & El Hijo del Pantera
(4) Masayuki Kono & Tsugataka Sato vs. NOSAWA Rongai & MAZADA
(5) Kaz Hayashi & Takanori Ito vs. Shuji Kondo & Alejandro
(6) Manabu Soya, Jiro "Ikemen" Kuroshio & Koji Doi vs. Shotaro Ashino, Yusuke Kodama & Kumaarashi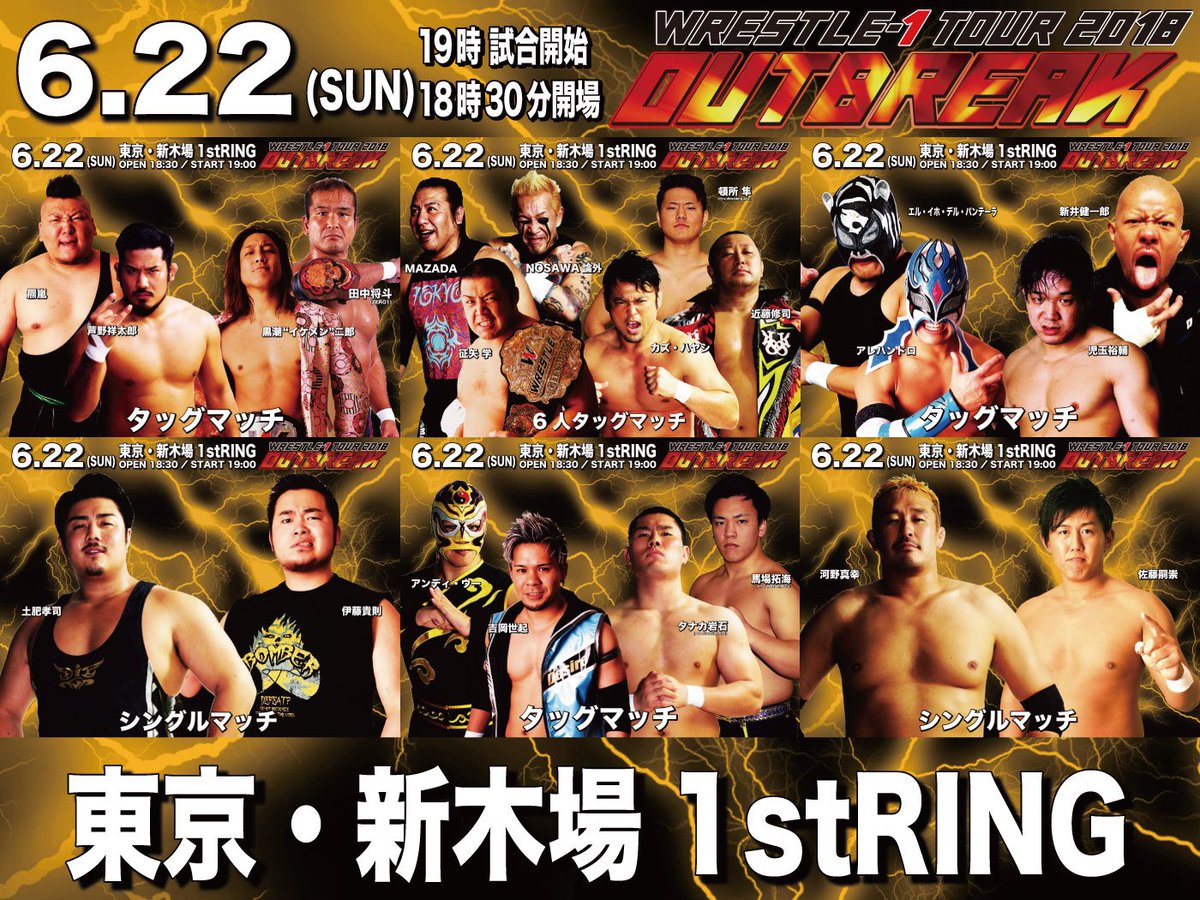 WRESTLE-1 TOUR 2018 OUTBREAK, 6/22/2018 [Fri] 19:00 @ Shinkiba 1stRING in Tokyo
(1) Masayuki Kono vs. Tsugataka Sato
(2) Seiki Yoshioka & Andy Wu vs. Ganseki Tanaka & Takumi Baba
(3) Alejandro & El Hijo del Pantera vs. Yusuke Kodama & Kenichiro Arai
(4) Koji Doi vs. Takanori Ito
(5) Manabu Soya, NOSAWA Rongai & MAZADA vs. Kaz Hayashi, Shuji Kondo & Jun Tonsho
(6) Jiro "Ikemen" Kuroshio & Masato Tanaka vs. Shotaro Ashino & Kumaarashi
WRESTLE-1 TOUR 2018 SYMBOL, 7/1/2018 [Sun] 17:00 @ Odawara Arena, Sub Arena in Kanagawa
() GRAND PRIX 1st Round Match: Jiro "Ikemen"Kuroshio vs. Masayuki Kono
() GRAND PRIX 1st Round Match: Kaz Hayashi vs. Shotaro Ashino
() GRAND PRIX 1st Round Match: Shuji Kondo vs. Koji Doi
() GRAND PRIX 1st Round Match: Takanori Ito vs. Kumaarashi
WRESTLE-1 TOUR 2018 SYMBOL, 7/18/2018 [Wed] 18:45 @ Korakuen Hall in Tokyo
() GRAND PRIX Semi-final Match: (Winner of Ikemen/Kono) vs. (Winner of Kaz/Ashino)
() GRAND PRIX Semi-final Match: (Winner of Ito/Kuma) vs. (Winner of Kondo/Doi)
() GRAND PRIX Final Match: