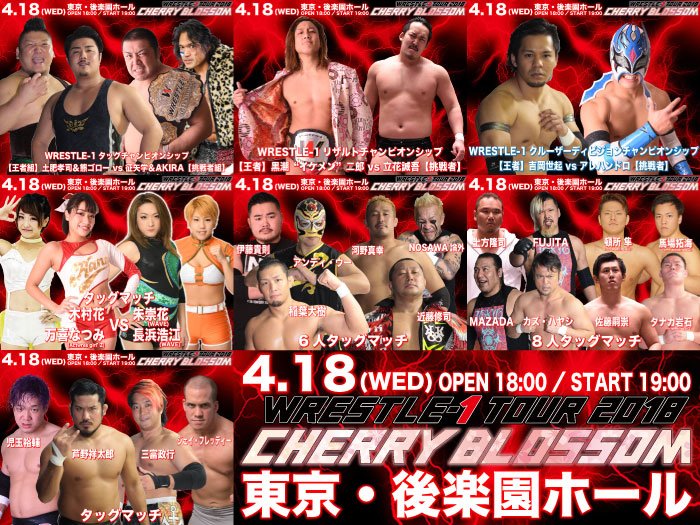 WRESTLE-1 TOUR 2018 CHERRY BLOSSOM, 4/18/2018 [Wed] 19:00 @ Korakuen Hall in Tokyo
751 Spectators
~ Daiki Inaba suffered a herniated disc and thus was unable to compete today (Jay Freddie replaced him in the 6 man tag as Joji Otani would take the open spot in the first match).
(1) Shotaro Ashino & Yusuke Kodama vs. Masayuki Mitomi (EPW) & Joji Otani (FREE)
◆Winner: Ashino (7:37) with an Ankle Lock on Mitomi.
(2) 8 Man Tag Match: Kaz Hayashi, MAZADA, FUJITA (FREE) & Ryuji Hijikata (FREE) vs. Tsugataka Sato, Ganseki Tanaka, Jun Tonsho & Shunsuke Sayama (ASUKA PRO)
◆Winner: FUJITA (8:40) following the SAYONARA on Tonsho.
(3) Hana Kimura & Natsumi Maki (Actwres Girl'Z) vs. Hiroe Nagahama & Asuka (both WAVE)
◆Winner: Asuka (12:31) following a Chokeslam on Hana.
(4) WRESTLE-1 Result Championship Match: [5th Champion] Jiro "Ikemen" Kuroshio vs. [Challenger] Seigo Tachibana
◆Winner: Kuroshio (10:44) with the Ikemen Flash.
~ 1st successful title defense.
(5) 6 Man Tag Match: Jay Freddie, Andy Wu & Takanori Ito vs. Shuji Kondo, Masayuki Kondo & NOSAWA Rongai
◆Winner: Kondo (12:26) following the King Kong Lariat on Freddie.
~ Kondo left an ultimatum up to NEW ERA as its their decision to either split for good or remain as they are now.
~ Though Inaba was forced to miss due to injury, Andy stated that NEW ERA will never die.
(6) WRESTLE-1 Cruiserweight Championship Match: [11th Champion] Seiki Yoshioka vs. [Challenger] Alejandro
◆Winner: Yoshioka (17:32) following the SK.
~ 4th successful title defense.
(7) WRESTLE-1 Tag Championship Match: [12th Champions] Koji Doi & Kumagoro vs. [Challengers] Manabu Soya & AKIRA (FREE)
◆Winner: AKIRA (19:17) with the Musasabi Press on Doi.
~ Champions fall on their 3rd title defense. Soya & AKIRA become the 13th champions. (Soya now stands as a double crown champion with the W-1 single and tag belts.)
~ Following the loss, Kumagoro turned on Doi, and NEW ERA, and showed his allegiance to "Enfants Terribles". Ashino made it known that he wants to challenge for the tag belts with Kumagoro.