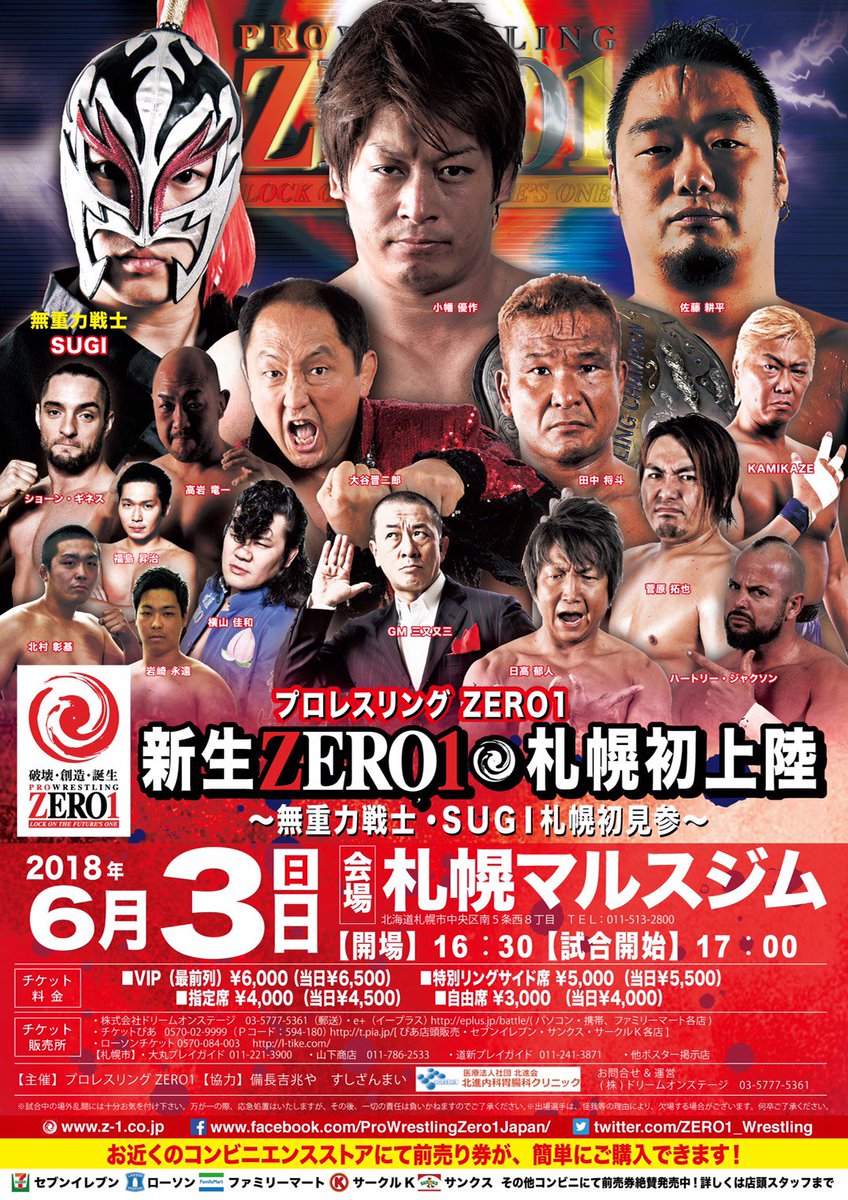 Pro-Wrestling ZERO1, 6/3/2018 [Sun] @ Susukino Mars Gym in Hokkaido
(1) Shoki Kitamura vs. Takuya Sugawara
◆Winner: Sugawara (7:59) following a Lariat.
(2) Yoshikazu Yokoyama vs. 5th Generation Black Tiger
◆Winner: Yokoyama (9:19) with a High School Boy.
(3) SUGI vs. Ikuto Hidaka
◆Winner: Hidaka (11:44) following the Takatsugawa.
(4) NWA UN Heavyweight Championship Match: [30th Champion] Chris Vice vs. [Challenger] Shogun Okamoto
◆Winner: Okamoto (8:33) following a Backdrop.
~ Vice falls on his first title defense. Okamoto becomes the 31st champion.
~ During the break, TARU and the Voodoo Murders assaulted GM Matazo Mimata. TARU demaned that he accepts a death match against him. Which the GM accetped. TARU them left the GM bloody in the ring. The match will take place on 6/24 at the Hakata StarLanes.
(5) Shinjiro Otani, Kohei Sato & Towa Iwasaki vs. TARU, KAMIKAZE & Hartley Jackson
◆Winner: Hartley (20:41) following a Diving Elbow Drop on Iwasaki.
(6) World Heavyweight Championship Match: [22nd Champion] Yusaku Obata vs. [Challenger] Masato Tanaka
◆Winner: Tanaka (25:17) via referee stop.
~ Champion falls on his 4th title defense. Tanaka becomes the 23rd champion.
~ The end of the match saw Obata fall from the corner and which the referee called for the end of the match. As Obata was unable to continue. He was tended to by the local medical staff and was transported to the nearest hospital.
~ After the examination it was announced that he suffered a heat stroke. Which caused him to become fatigued and eventually unable to stand up.
~ Tanaka did not appear in favor of capturing the belt in this manor, but stated that he will be ready for Obata come the Fire Festival.
http://puroresuspirit.net/tag/zero1/
Upcoming…
Pro-Wrestling ZERO1, 6/9/2018 [Sat] @ Shinkiba 1stRING in Tokyo
(-) Shogun Okamoto, Towa Iwasaki & Shoki Kitamura vs. TARU, Takuya Sugawara & Chris Vice
(-) Tatsuhito Takaiwa vs. Yoshikazu Yokoyama
(-) Kohei Sato vs. KAMIKAZE
(-) NWA Light Heavyweight Tag Championship Match: [26th Champions] SUGI & Masamune (FREE) vs. [Challengers] Ikuto Hidaka & Fuminori Abe
(-) NWA World Junior & International Junior Double Championship Match: [121st & 21st Champion] Isami Kodaka vs. [Challenger] Shinjiro Otani
(-) Yusaku Obata, Yuko Miyamoto & Hiroshi Yamato vs. Masato Tanaka, Yuji Hino & Hartley Jackson
ZERO1, 6/24/2018 [Sun] @ Hakata StarLanes in Fukuoka
(-) Electric Current Blast Death Match: TARU vs. Matazo Mimata
(-) NWA Intercontinental Championship Match: [38th Champions] Masato Tanaka & Yuji Hino vs. [Challengers] Kohei Sato & SUGI