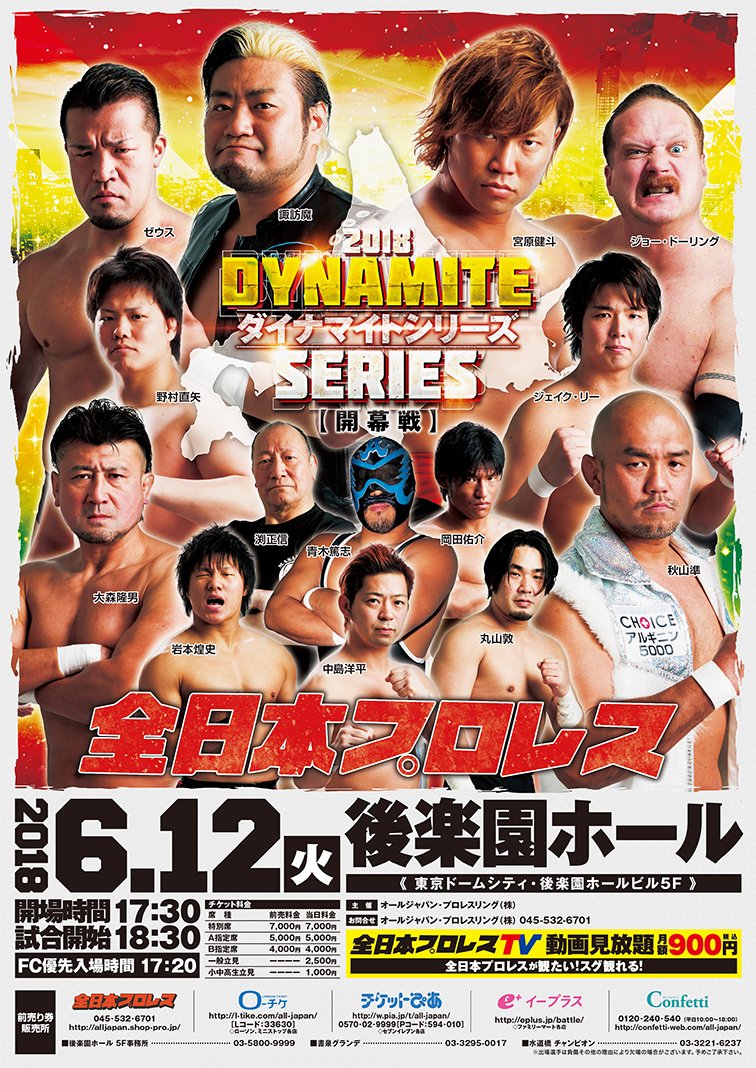 All Japan Pro-Wrestling "2018 Dynamite Series", 6/12/2018 [Tue] 18:30 @ Korakuen Hall in Tokyo
1,053 Spectators (live on AJPW.tv)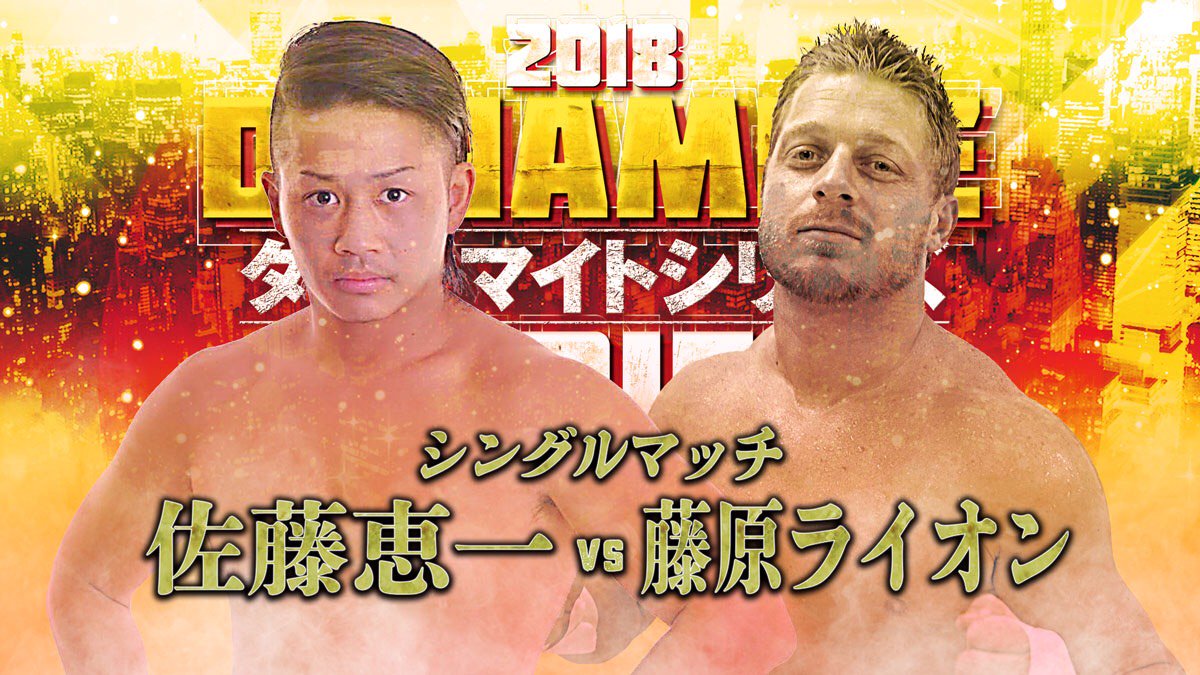 (1) Keiichi Sato (FREE) vs. Rionne Fujiwara (FREE)
◆Winner: Keiichi (7:06) following the Shouha (Modified Fisherman's Buster).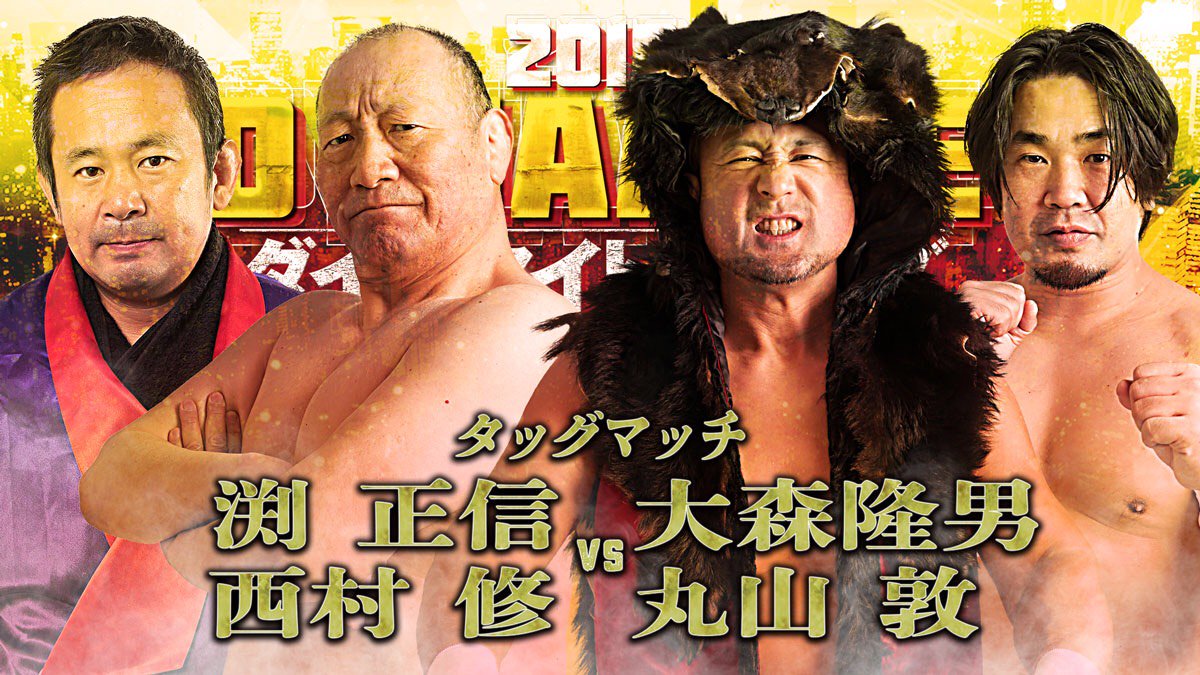 (2) Masanobu Fuchi & Osamu Nishimura vs. Takao Omori & Atsushi Maruyama
◆Winner: Nishimura (10:34) with a Figure Four Leg Lock on Maruyama.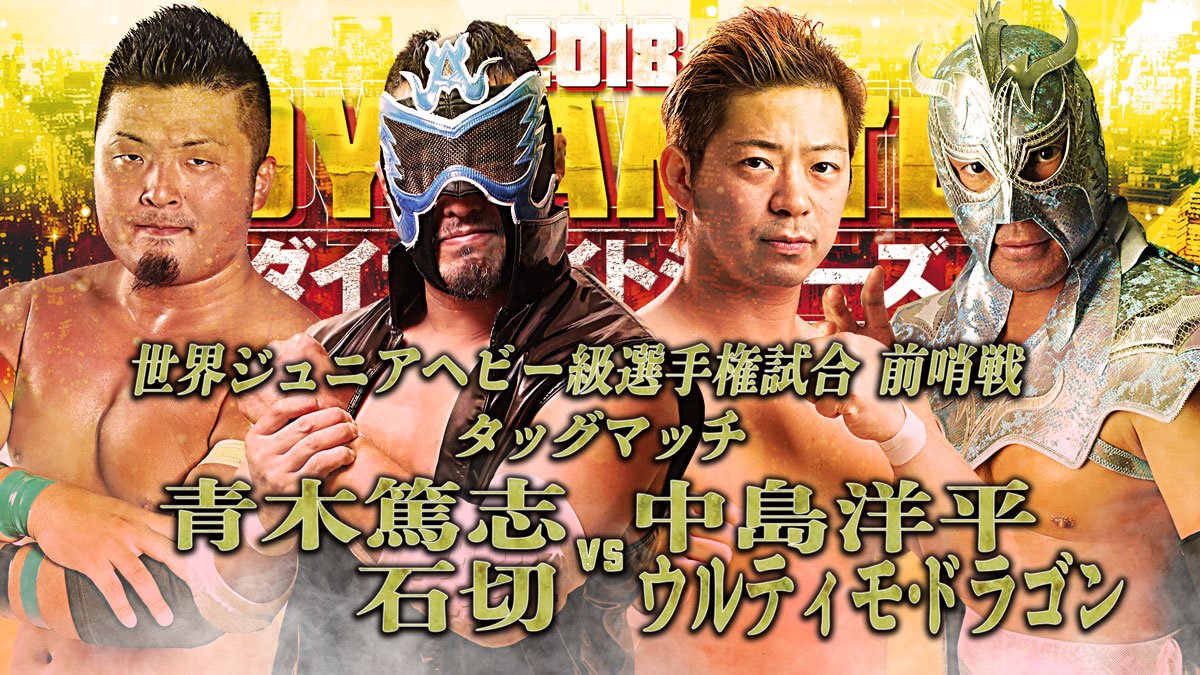 (3) World Junior Heavy Prelude: Atsushi Aoki & Ishikiri (LAND'S END) vs. Yohei Nakajima & Ultimo Dragon (Toryumon MEXICO)
◆Winner: Dragon (9:20) with a La Magistral on Ishikiri.
~ Yohei kept his focus on Aoki, but he still could not manage to get a win in the prelude. Aoki continued to criticize Yohei as he does not feel he is fully invested in being a champion.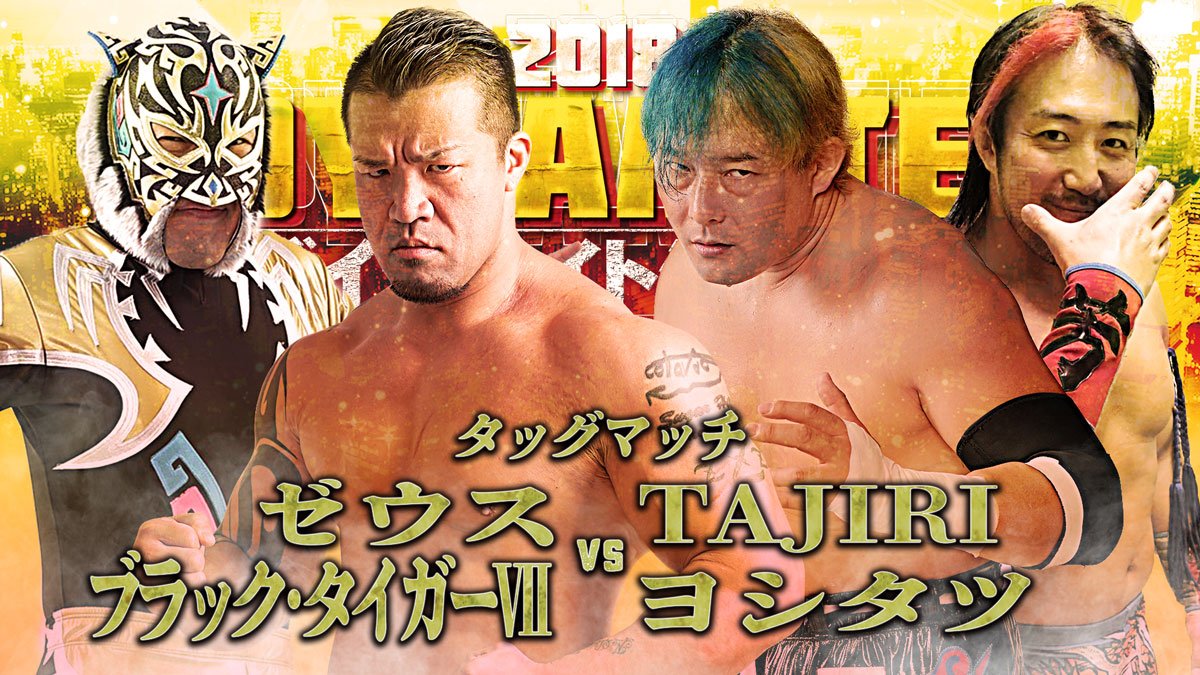 (4) Zeus & Black Tiger VII (FREE) vs. TAJIRI & Yoshitatsu (both FREE)
◆Winner: Yoshitatsu (10:09) following the CBJ (Codebreaker of Jericho) on Black Tiger.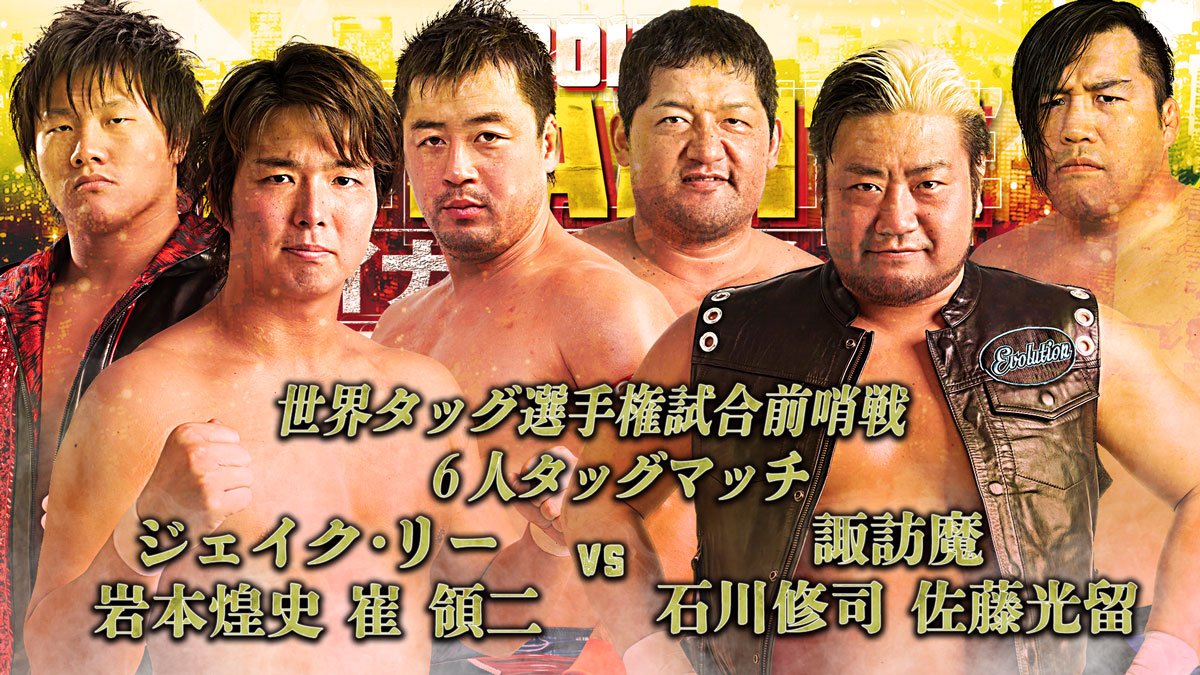 (5) World Tag Prelude: Suwama, Shuji Ishikawa (FREE) & Hikaru Sato vs. Jake Lee, Ryoji Sai (LAND'S END) & Koji Iwamoto
◆Winner: Lee (16:56) following a Backdrop on Hikaru.
---
All 7 teams were announced for this years "Jr. TAG BATTLE OF GLORY". This years junior league will run throughout the month of August (August 3rd – August 25), with the team with the highest points winning the league.
☆ Atsushi Maruyama & Masashi Takeda (2017 Winners)
☆ Atsushi Aoki & Hikaru Sato
☆ Yohei Nakajima & Black Tiger VII
☆ Koji Iwamoto & TAJIRI
☆ Kaji Tomato & Shiori Asahi (K-DOJO)
☆ Shuji Kondo (W-1) & Kotaro Suzuki (FREE)
☆ Masaaki Mochizuki & Shun Skywalker (DRAGON GATE)
---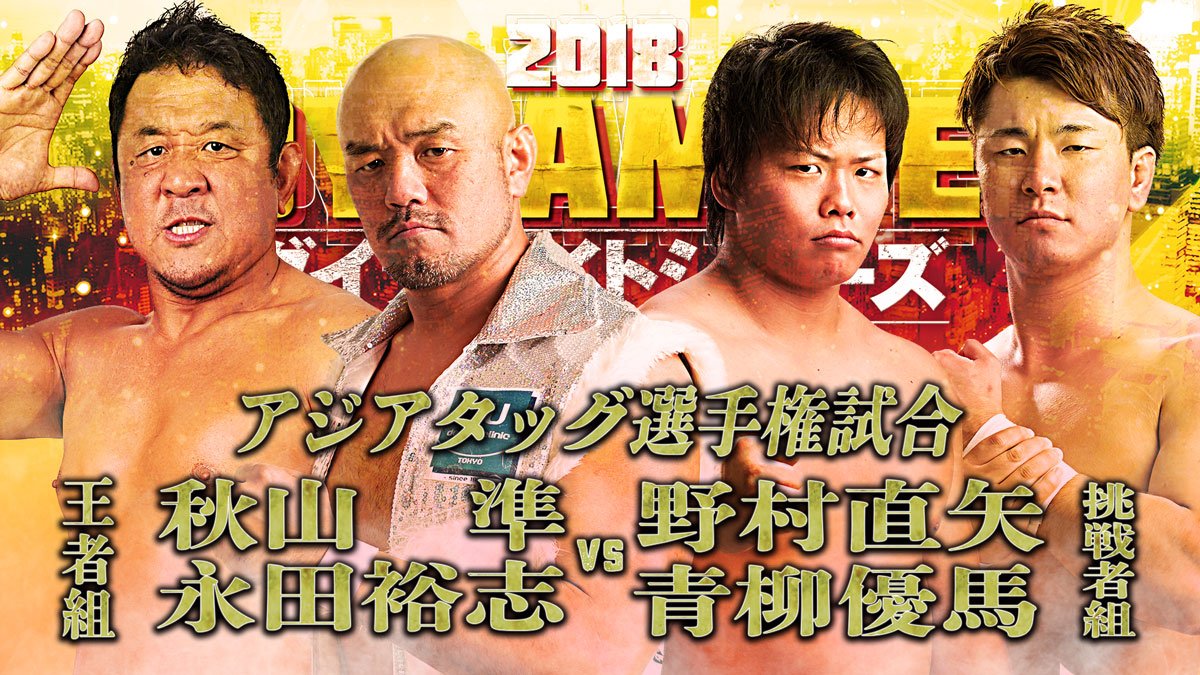 (6) Asia Tag Championship Match: [104th Champions] Jun Akiyama & Yuji Nagata (NJPW) vs. [Challengers] Naoya Nomura & Yuma Aoyagi
◆Winner: Nagata (21:34) with a Backdrop Hold on Nomura.
~ 2nd successful title defense.
~ Aoyagi & Nomura made it known that they aim to seek another chance at the belts in the future.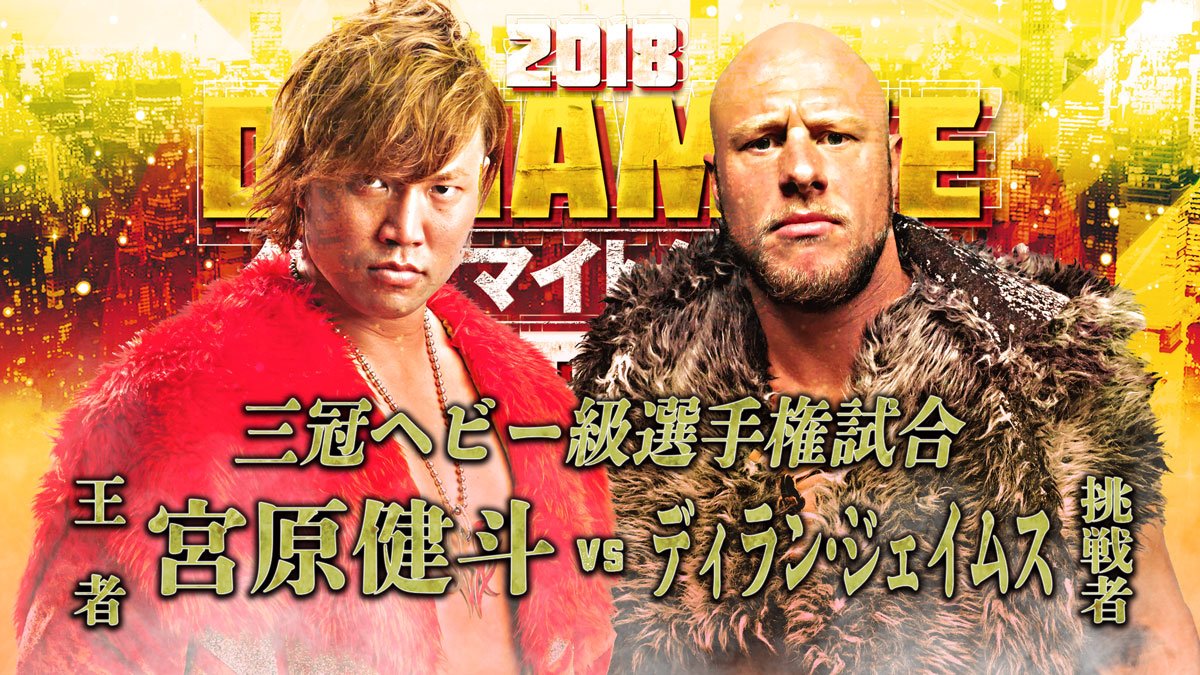 (7) Triple Crown Heavyweight Championship Match: [60th Champion] Kento Miyahara vs. [Challenger] Dylan James
◆Winner: Miyahara (23:08) with the Shutdown German Suplex Hold.
~ 2nd successful title defense.
~ Following the match, Zeus stepped forward and made the challenge.
~ Upcoming…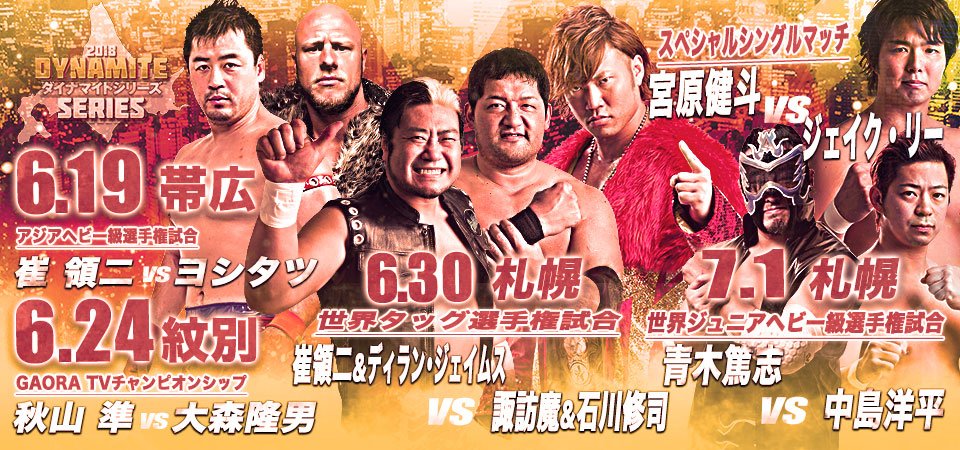 http://puroresuspirit.net/2018/04/ajpw-event-cards-for-may-june-2018/