BASARA, 5/3/2018 [Thu] 18:30 @ Korakun Hall in Tokyo
863 Spectators
(1) Takato Nakano vs. Manabu Hara (FREE)
◆Winner: Hara (7:07) with a Cross Armbar.
(2) Elimination 8 Man Tag Match: Takumi Tsukamoto, Yasu Urano, Daichi Kazato & Goma Ryu vs. Trans Am ★ Ryuichi, Trans Am ★ Tanaka, Trans Am ★ Shinya & Yusuke Kubo
~ Eliminations: Kazato, Shinya, Kubo, Urano, Tanaka…
◆Winner: Tsukamoto (13:57) sent Ryuichi over the top rope.
(3) Fuminori Abe vs. Masato Tanaka (ZERO1)
◆Winner: Tanaka (13:04) following the Sliding D.
(4) Count Down to Extinction ~ Hardcore Tag Match: FUMA & SAGAT vs. Jun Kasai (FREEDOMS) & Gunso (DOVE)
◆Winner: Kasai (13:03) with the Pearl Harbor Splasn, and Gunso with a Diving Guillotine Drop, on FUMA.
(5) Trans Am ★ Hiroshi's Return Match: Trans Am ★ Hiroshi vs. Osamu Nishimura (FREE)
◆Winner: Nishimura (8:22) with a Ground Cobra.
(6) Ryuichi Sekine & Ryota Nakatsu vs. Ikuto Hidaka (ZERO1) & Minoru Fujita (FREE)
◆Winner: Hidaka (13:07) following the Iwami-Ginzan on Nakatsu.
(7) Union MAX & DOVE World Heavyweight Double Championship Match: [9th MAX Champion] Isami Kodaka (6th title defense) vs. [10th DOVE Champion] Naoki Tanizaki (1st title defense)
◆Winner: Tanizaki (16:27) following the Libido.
~ Tanizaki successfully defends the DOVE belt for the 1st title defense, and becomes the 10th Union MAX Champion.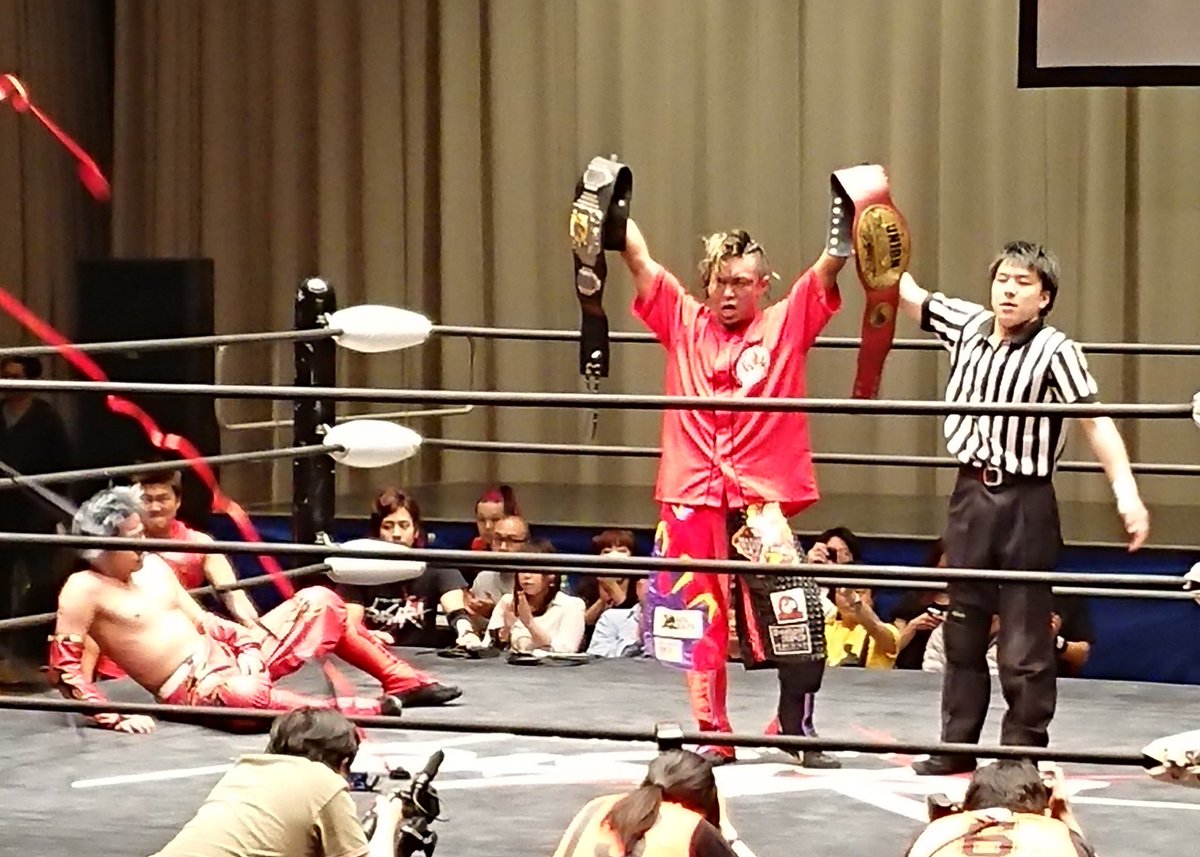 ~ After the match, Takumi Tsukamoto came forward to challenge Tanizaki.
~ Isami Kodaka then pulled together the BASARA roster as he proclaimed the they all must pull together and help BASARA becomes stronger than ever. That after today's losses that they all must start over from the beginning.
~ BASARA will return to the Korakuen Hall in September.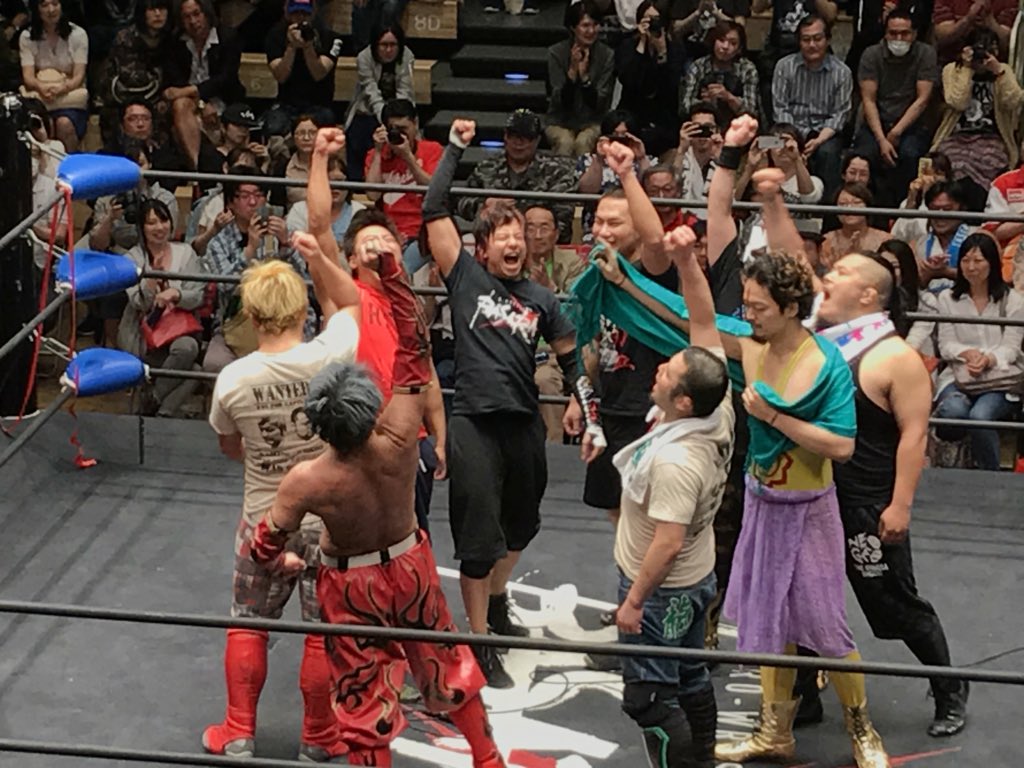 http://puroresuspirit.net/tag/basara/
Upcoming…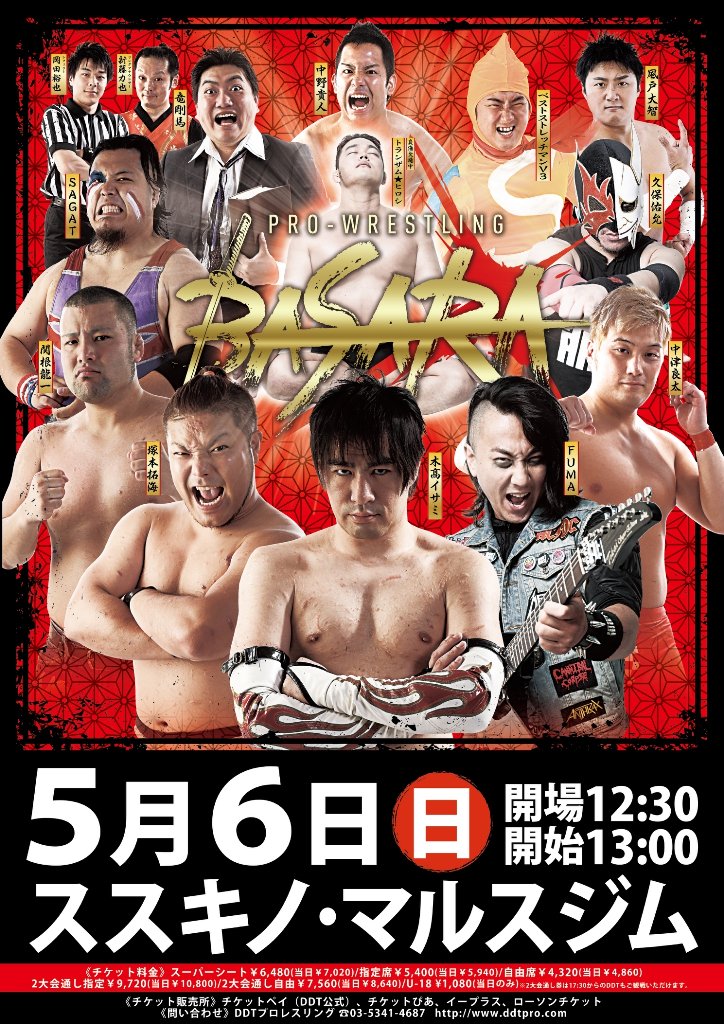 BASARA, 5/6/2018 [Sun] 13:00 @ Susukino Mars Gym in Hokkaido
() Takato Nakano vs. Akiyori Takizawa (ASUKA PRO)
() FUMA, Yusuke Kubo & Katsuo vs. Daichi Kazato, Yoji "Dokonjo" Kondo (HEAT-UP) & Daiki Shimomura (DNA)
() Trans Am ★ Hiroshi, Trans Am ★ Ryuichi (BJW) & SAGAT vs. Takumi Tsukamoto, Fuminori Abe & Yasu Urano (FREE)
() Ryuichi Sekine & Ryota Nakatsu vs. Naoki Tanizaki (DOVE) & Manabu Hara (FREE)
(-) NWA World Junior & International Junior Championship Match: [121st & 21st Champion] Isami Kodaka vs. [Challenger] Ikuto Hidaka
BASARA, 5/23/2018 [Wed] 19:30 @ Shinkiba 1stRING in Tokyo
(-) Itadaki 1st Round Match (A): FUMA vs. Daichi Kazato
(-) Itadaki 1st Round Match (B): Yusuke Kubo vs. Takumi Tsukamoto
(-) Itadaki 1st Round Match (C): Manabu Hara vs. Takato Nakano
(-) Itadaki 1st Round Match (D): Trans Am ★ Hiroshi vs. Akiyori Takizawa
(-) Itadaki 1st Round Match (E): Isami Kodaka vs. Ryuichi Sekine
(-) Itadaki 1st Round Match (F): Ryota Nakatsu vs. Minoru Fujita
(-) Itadaki 1st Round Match (G): Goma Ryu vs. Fuminori Abe
(-) Itadaki 1st Round Match (H): Yasu Urano vs. SAGAT