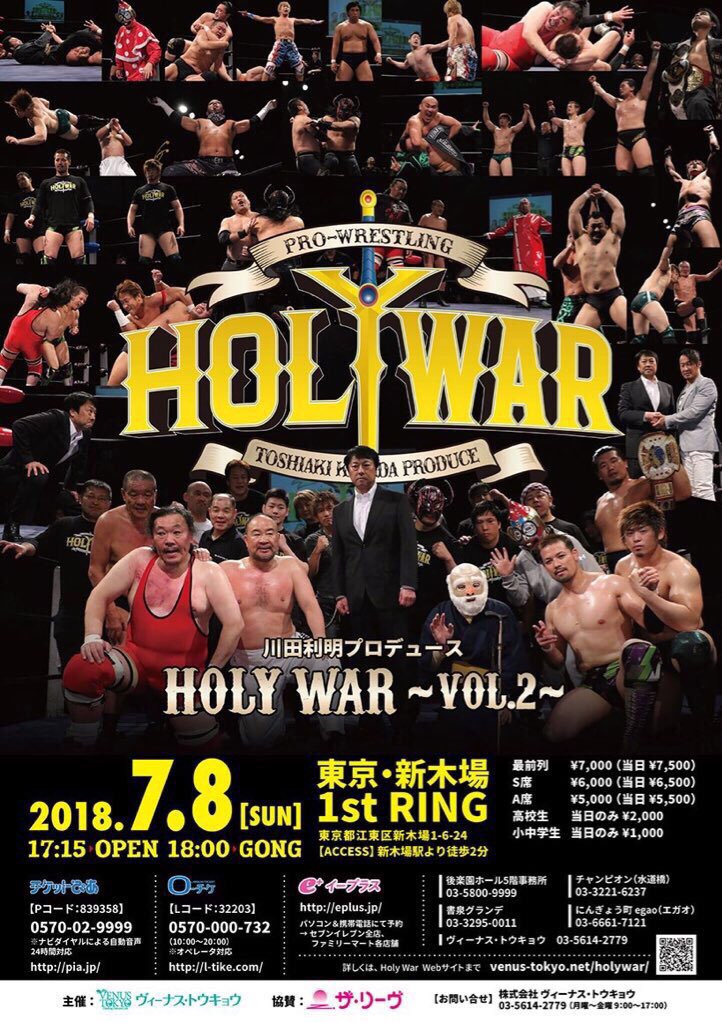 Toshiaki Kawada Produce "HOLY WAR vol. 2", 7/8/2018 [Sun] 19:00 @ Shinkiba 1stRING in Tokyo
312 Spectators (crowded)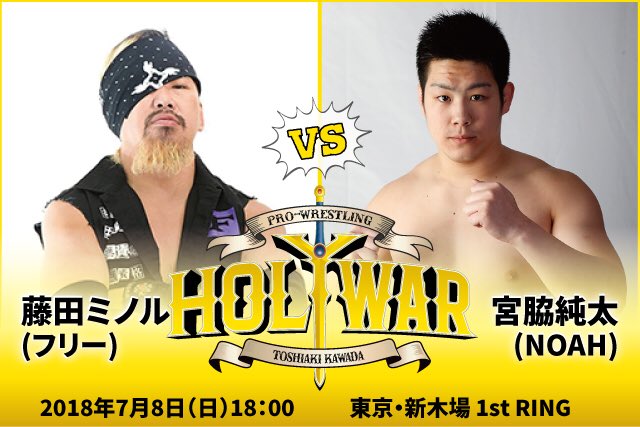 (1) Minoru Fujita (FREE) vs. Junta Miyawaki (NOAH)
◆Winner: Minoru (7:12) via referee stop, with the BONEYARD.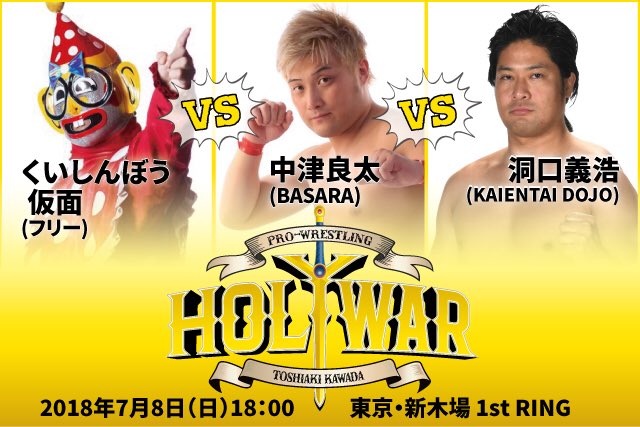 (2) 3WAY Match: Kuishinbo Kamen (Osaka) vs. Ryota Nakatsu (BASARA) vs. Yoshihiro Horaguchi (K-DOJO)
◆Winner: Nakatsu (8:16) with a Hadakajime (Rear Naked Choke) on Kuishinbo.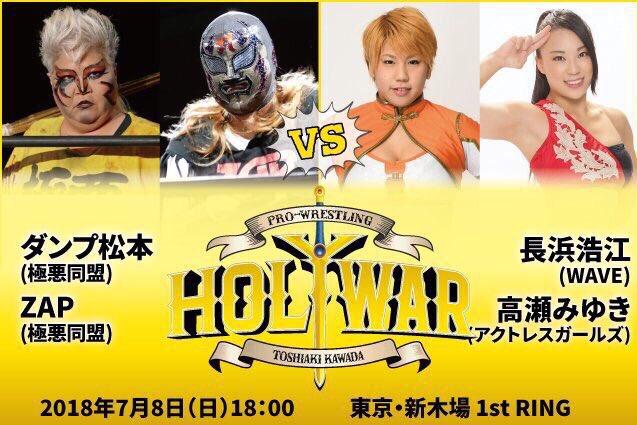 (3) Joshi Offer Match: Dump Matsumoto & ZAP vs. Hiroe Nagahama & Miyuki Takase
◆Winner: ZAP (7:18) with a Liger Bomb on Takase.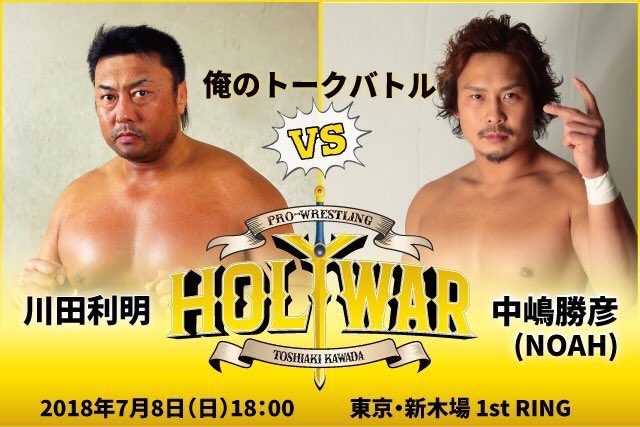 (4) Ore no Talk Battle: Toshiaki Kawada and Katsuhiko Nakajima (NOAH)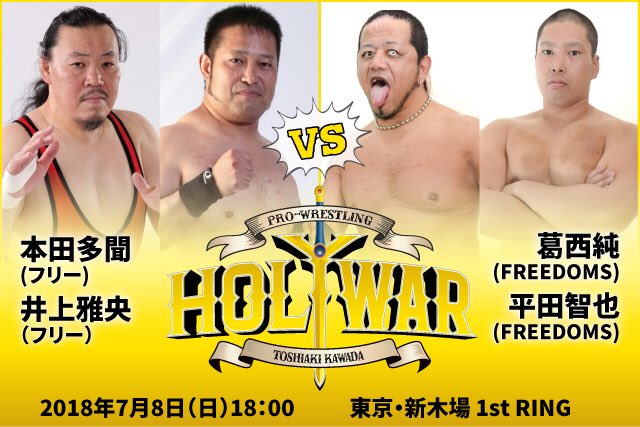 (5) Tamon Honda & Masao Inoue (both FREE) vs. Jun Kasai & Tomoya Hirata (both FREEDOMS)
◆Winner: Honda (15:01) with the Dead End on Hirata.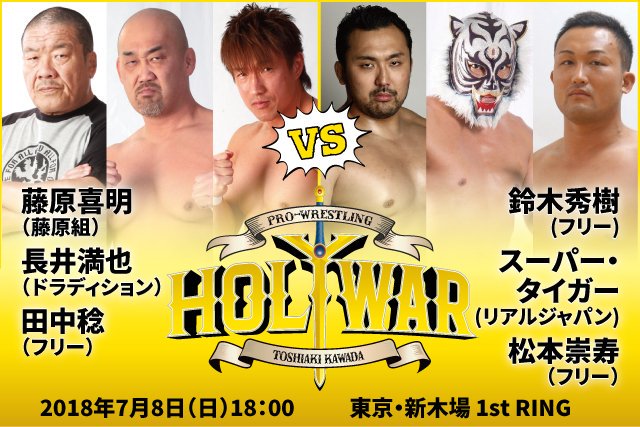 (6) Yoshiaki Fujiwara (Fujiwara-gumi), Mitsuya Nagai (DRADITION) & Minoru Tanaka (FREE) vs. Hideki Suzuki (FREE), Super Tiger (RJPW) & Takatoshi Matsumoto (Reversal Gym ALPHA)
◆Winner: Minoru (14:54) with the HEAT Clutch on Matsumoto.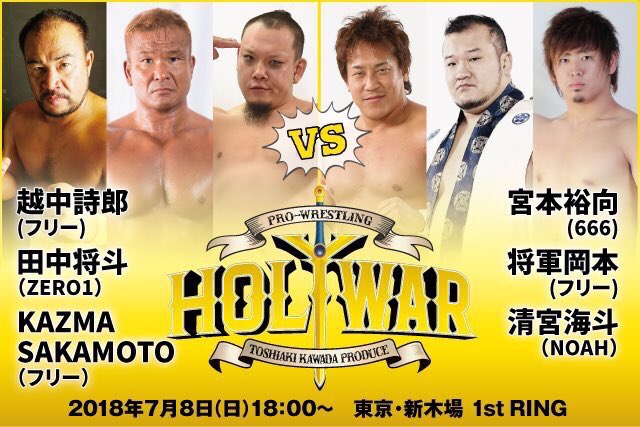 (7) Shiro Koshinaka (FREE), Masato Tanaka (ZERO1) & KAZMA SAKAMOTO (FREE) vs. Yuko Miyamoto (666), Shogun Okamoto (FREE) & Kaito Kiyomiya (NOAH)
◆Winner: Kiyomiya (14:19) with a Tiger Suplex Hold on KAZMA.