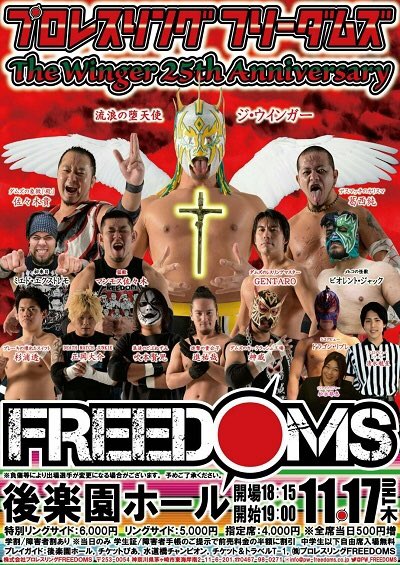 FREEDOMS "The Winger 25th Anniversary Show", 11/17/2016 [Thu] 19:00 @ Korakuen Hall in Tokyo
(0) Dragon Libre vs. The Winger
◆Winner: Winger (6:53) with a Toke Espalda.
(1) UWA World Junior Heavyweight Championship Match: [28th Champion] GENTARO vs. [Challenger] Meido Xtremo
◆Winner: Xtremo (15:16) with a German Suplex Hold.
~ Champions falls on his 2nd title defense. Xtremo becomes the 29th champion.
(2)  Rikidozan 3rd Generation 7 Match Series ~ 6th Match: Isami Kodaka (BASARA) vs. Chikara (RikiEnterprise)
◆Winner: Kodaka (10:20) with a Kiwami Manjigatame.
(3) KING of FREEDOM WORLD TAG CHAMPIONSHIP Match: [11th Champions] Yuya Susumu & HAYATA (DOVE) vs. [Challengers] Mammoth Sasaki & Toru Sugiura
◆Winner: Susumu (12:31) with an Udehishigi Gyaku Jujigatame on Toru.
~ 3rd successful title defense.
(4) TLC Deathmatch: Violento Jack, Takashi Sasaki & Shuji Ishikawa (FREE) vs. Jun Kasai, Masashi Takeda (U-FILE) & Kenji Fukimoto
◆Winner: Jack (14:56) following a Package Driver on Kasai.
(5) The Winger 25th Anniversary Match: The Winger vs. TAJIRI (FREE)
◆Winner: TAJIRI (17:33) following a Buzzsaw Kick.
(6) KFC Contendership Decision ~ Fluorescent Lighttube & Ladder + Alpha Deathmatch: Daisuke Masaoka vs. Yuko Miyamoto (666)
◆Winner: Masaoka (16:37) with the Rokura Kai.
~ Masaoka will go on to challenge Violento Jack for the KFC belt on December 26 at Korakuen.