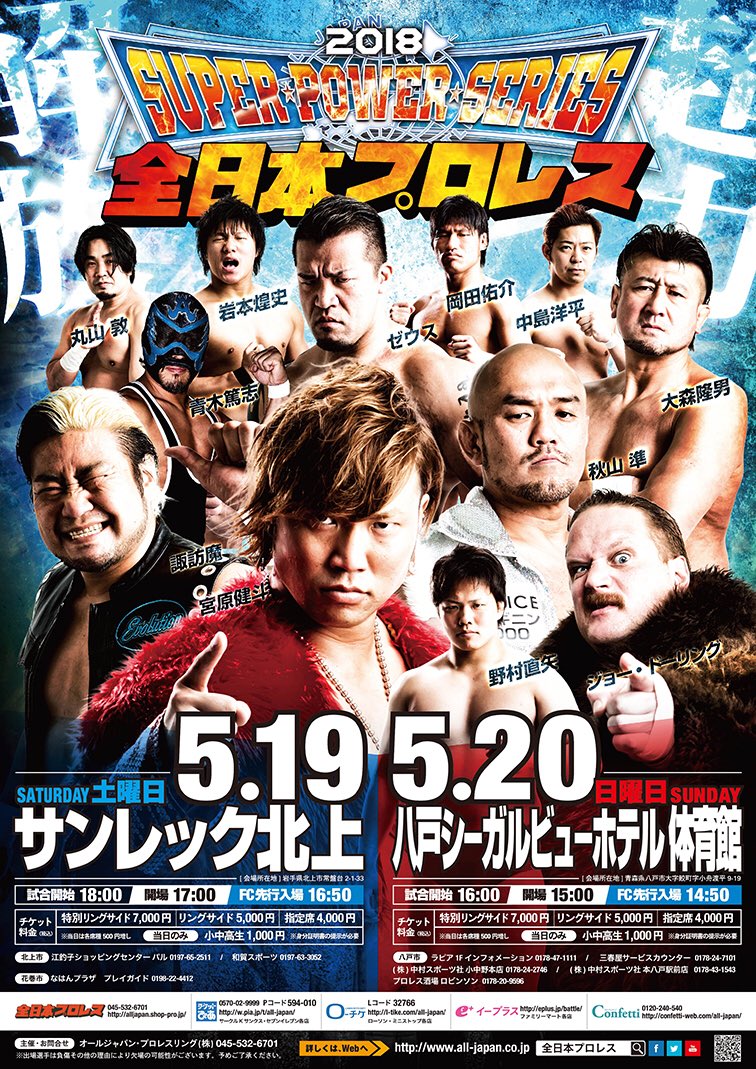 All Japan Pro-Wrestling "2018 SUPER POWER SERIES", 5/20/2018 [Sun] 16:00 @ Hachinohe Seagull View Hotel Gymnasium in Aomori
335 Spectators (crowded)
(1) Yohei Nakajima vs. Rionne Fujiwara (FREE)
◆Winner: Yohei (8:56) following the Tobuishiro-Mawashigiri.
(2) Jun Akiyama & Ultimo Dragon vs. Takao Omori & Atsushi Maruyama
◆Winner: Dragon (11:12) with a La Magistral on Maruyama.
(3) Zeus & The Bogyguard (FREE) vs. Joe Doering & Black Tiger VII (FREE)
◆Winner: Bodyguard (8:14) with a Camel Clutch on Black Tiger.
(4) Yoshitatsu (FREE) vs. Hikaru Sato
◆Winner: Yoshitatsu (12:33) with the Yoshitatsu Fantasy (modified gogoplata).
~ Yoshitatsu showcased a new move as he heads into the Asia Heavy Title challenge against Sai on 6/19.
(5) Ryoji Sai (LAND'S END), Dylan James & Kotaro Suzuki (FREE) vs. Koji Iwamoto, TAJIRI (FREE) & KAI (FREE)
◆Winner: KAI (11:59) with a School Boy on Sai.
~ KAI with the World Tag prelude win as he celebrates his 35th birthday.
(6) Kento Miyahara, Naoya Nomura & Keiichi Sato (FREE) vs. Suwama, Shuji Ishikawa (FREE) & Atsushi Aoki
◆Winner: Suwama (19:26) following the Last Ride on Keiichi.
~ Aoki addressed Yohei Nakajima's challenge for the World Junior belt, as he stated that he still expects much for a challenger.
http://puroresuspirit.net/2018/04/ajpw-event-cards-for-may-june-2018/