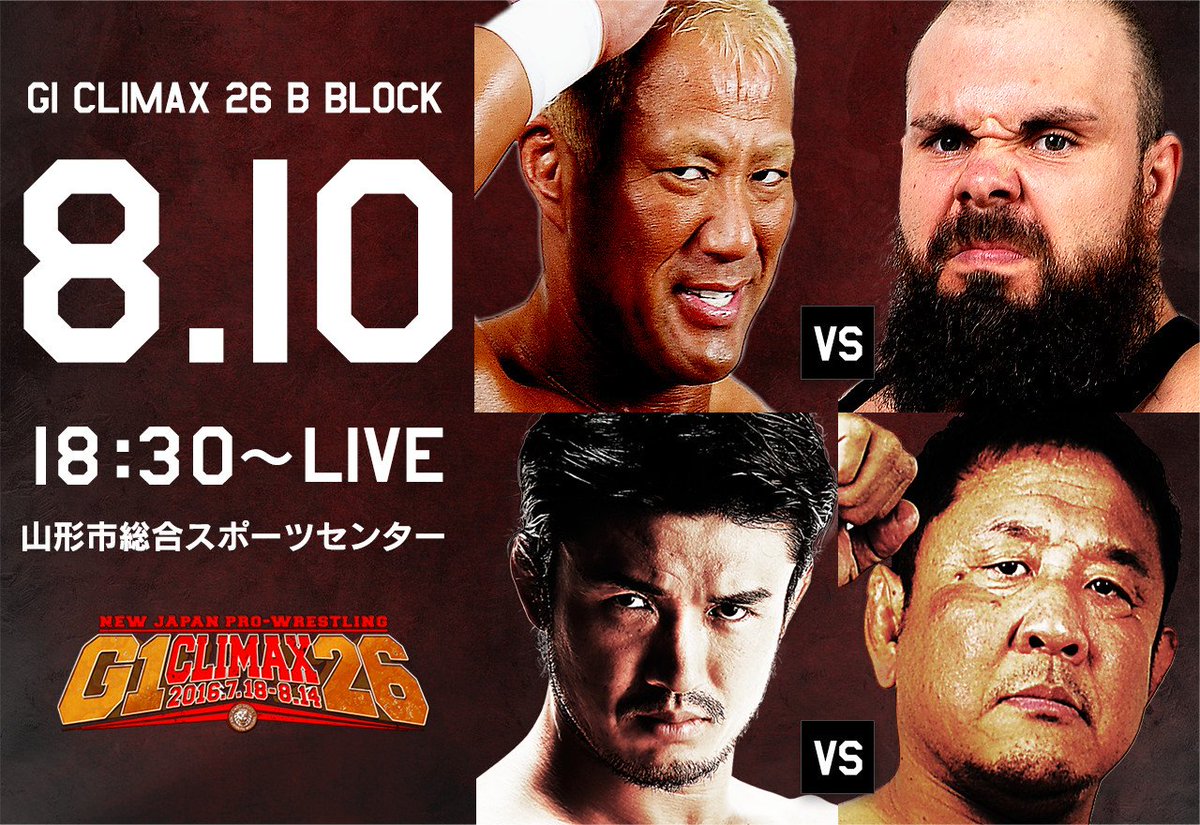 New Japan Pro Wrestling "G1 CLIMAX 26", 8/10/2016 [Wed] 18:30 @ Yamagata City General Sports Center in Yamagata
2,183 Spectators
(1) David Finlay vs. Rysuke Taguchi
◆Winner: Taguchi (5:03) following the Dodon.
(2) Juice Robinson, Manabu Nakanishi & Satoshi Kojima vs. Yujiro Takahashi, Tama Tonga & Bad Luck Fale
◆Winner: Tonga (6:24) following the Gunstun.
(3) Hiroyoshi Tenzan & Captain New Japan vs. SANADA & BUSHI
◆Winner: SANADA (5:41) with the Skull End.
(4) Tiger Mask, Jushin Thunder Liger, KUSHIDA, Togi Makabe & Hiroshi Tanahashi vs. Kazuchika Okada, Tomohiro Ishii, Hirooki Goto, Gedo & Naomichi Marufuji
◆Winner: Goto (10:12) following the GTR on Liger.
(5) G1 – B BLOCK: Katsuhiko Nakajima vs. Kenny Omega
◆Winner: Omega (10:29) with the Katayoku No Tenshi (One Winged Angel).
~ Omega [5 wins, 3 losses= 10 points]
~ Nakajima [4 wins, 4 losses= 8 points]
(6) G1 – B BLOCK: Toru Yano vs. EVIL
◆Winner: EVIL (2:57) following the EVIL.
~ EVIL [3 wins, 5 losses= 6 points]
~ Yano [4 wins, 4 losses= 8 points]
(7) G1 – B BLOCK: YOSHI-HASHI vs. Tetsuya Naito
◆Winner: Naito (15:01) following the Destino.
~ Naito [6 wins, 2 losses= 12 points]
~ YOSHI-HASHI [3 wins, 5 losses= 6 points]
(8) G1 – B BLOCK: Katsuyori Shibata vs. Yuji Nagata
◆Winner: Shibata (12:16) via referee stop, with a sleeper hold.
~ Shibata [5 wins, 3 losses= 10 points]
~ Nagata [3 wins, 3 losses = 6 points]
(9) G1 – B BLOCK: Tomoaki Honma vs. Michael Elgin
◆Winner: Elgin (18:43) with the Elgin Bomb.
~ Elgin [5 wins, 3 losses= 10 points]
~ Honma [2 wins, 6 losses= 4 points]
http://puroresuspirit.net/2016/06/njpw-event-cards-for-july-august-2016/
CURRENT STANDINGS
A BLOCK
~ Tanahashi [5 wins, 3 losses=10 points]
~ Marufuji [5 wins, 3 losses= 10 points]
~ Fale [5 wins, 3 losses= 10 points]
~ Okada [5 wins, 3 losses = 10 points]
~ Goto [5 wins, 3 losses= 10 points]
~ Makabe [4 wins, 4 losses = 8 points]
~ Tonga [3 wins, 4 losses = 6 points]
~ SANADA [3 wins, 5 losses= 6 points]
~ Ishii [3 wins, 5 losses = 6 points]
~ Tenzan [2 wins, 6 losses = 4 points]
B BLOCK
~ Naito [6 wins, 2 losses= 12 points]
~ Elgin [5 wins, 3 losses= 10 points]
~ Shibata [5 wins, 3 losses= 10 points]
~ Omega [5 wins, 3 losses= 10 points]
~ Yano [4 wins, 3 losses= 8 points]
~ Nakajima [4 wins, 4 losses= 8 points]
~ YOSHI-HASHI [3 wins, 5 losses= 6 points]
~ Nagata [3 wins, 3 losses = 6 points]
~ Honma [2 wins, 6 losses= 4 points]
~ EVIL [3 wins, 5 losses= 6 points]
PREVIOUS DAY RESULTS
~ G1 Day 1 (7/18) [RESULTS]
~ G1 Day 2 (7/22) [RESULTS]
~ G1 Day 3 (7/23) [RESULTS]
~ G1 Day 4 (7/24) [RESULTS]
~ G1 Day 5 (7/25) [RESULTS]
~ G1 Day 6 (7/27) [RESULTS]
~ G1 Day 7 (7/28) [RESULTS]
~ G1 Day 8 (7/30) [RESULTS]
~ G1 Day 9 (7/31) [RESULTS]
~ G1 Day 10 (8/1) [RESULTS]
~ G1 Day 11 (8/3) [RESULTS]
~ G1 Day 12 (8/4) [RESULTS]
~ G1 Day 13 (8/6) [RESULTS]
~ G1 Day 14 (8/7) [RESULTS]
~ G1 Day 15 (8/10) [RESULTS]
~ G1 Day 16 (8/10) ~ Above
~ G1 Day 17 (8/12)
~ G1 Day 18 (8/13)
~ G1 Day 19 FINAL (8/14)