ZERO1 "Dream Series ~ Tanjo no Jin ~ Tenkaichi Junior League 2017", 4/11/2017 [Tue] @ Mashiki-cho Hiroyasu Nishishogakko Taiikukan
(1) Shinjiro Otani & Bikuma vs. Kotaro Suzuki (FREE) & Ikuto Hidaka
♦Winner: Hidaka (12:25) with the Shawn Capture on Bikuma.
(2) Yoshikazu Yokoyama vs. Masakado (FREE)
♦Winner: Yokoyama (6:44) with a High School Boy.
(4) Joshi Offer Match: Aja Kong & Hiroyo Matsumoto vs. Kyoko Inoue & Keiko Aono
♦Winner: Kyoko (9:13) following the Niagara Driver on Aono.
(5) Tenkaichi B Block: Tatsuhito Takaiwa vs. Takumi Tsukamoto (BASARA)
♦Winner: Takaiwa (10:04) via pin-fall.
(6) Shogun Okamoto (FREE), Daiki Inaba (W-1) & Seiki Yoshioka (W-1) vs. Masato Tanaka, TARU & Takuya Sugawara
♦Winner: Okamoto (9:28) following a Backdrop on Sugawara.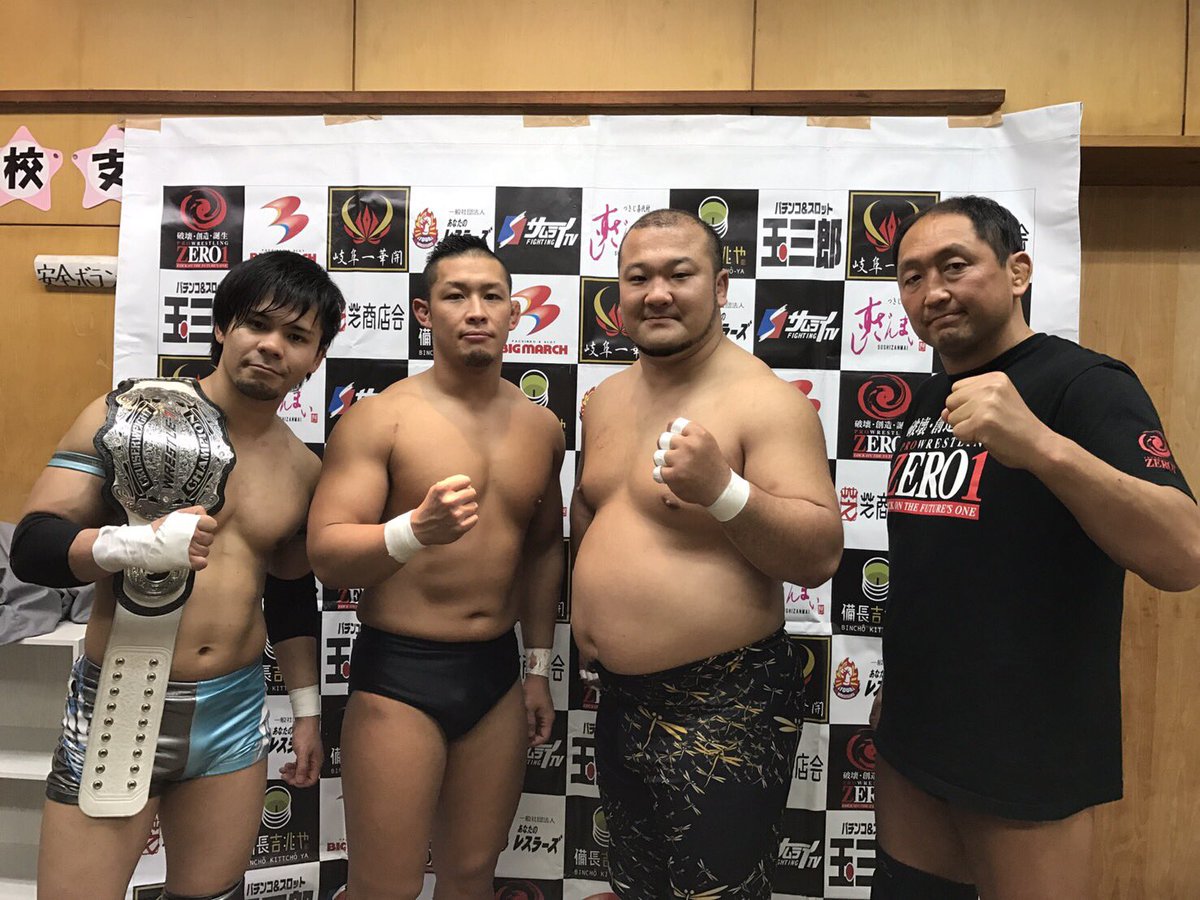 http://puroresuspirit.net/tag/zero1/
~ Upcoming…
ZERO1 "Dream Series ~ Tanjo no Jin ~ Tenkaichi Junior League 2017", 4/12/2017 [Wed] 18:45 @ Okayama Mirai Hall
(1) Tenkaichi A Block: Takuya Sugawara vs. Hayato "Jr" Fujita
(2) Tenkaichi B Block: Ikuto Hidaka vs. Koji Kanemoto
(3) Tenkaichi A Block: Shinjiro Otani vs. Minoru Tanaka
(4) Tenkaichi B Block: Kotaro Suzuki vs. Takumi Tsukamoto
(5) ZERO1 Rumble: Masato Tanaka, TARU, Yusaku Obata, James Raideen, Tatsuhito Takaiwa, Sean Guinnes, Chris Orndorff
(6) Yoshikazu Yokoyama & Kohei Sato vs. Akebono & Shogun Okamoto
ZERO1 "Tenkaichi Junior League 2017", 4/16/2017 [Sun] 12:00 @ Shinkiba 1stRING in Tokyo
(1) Chris Orndorff vs. Takuya Nomura (BJW)
(2) Masato Tanaka & TARU vs. Kotaro Suzuki & Yoshikazu Yokoyama
(3) Tenkaichi A Block: Takuya Sugawara vs. Shinjiro Otani
(4) Tenkaichi B Block: Ikuto Hidaka vs. Takumi Tsukamoto
(5) Kohei Sato & Hideki Suzuki (FREE) vs. Yusaku Obata & James Raideen
(6) Tenkaichi A Block: Hayato "Jr" Fujita vs. Sean Guinness
ZERO1 "Tenkaichi Junior League 2017", 4/23/2017 [Sun] 13:00 @ Iwaki City Peace Gym
(1) Kohei Sato & Bikuma vs. Yusaku Obata & Chris Orndorff
(2) Tenkaichi A Block: Takuya Sugawara vs. Sean Guinness
(3) Tenkaichi B Block: Kotaro Suzuki vs. Ikuto Hidaka
(4) Tenkaichi A Block: Shinjiro Otani vs. Hayato "Jr" Fujita
ZERO1 "Tenkaichi Junior League 2017", 4/26/2017 [Wed] 18:45 @ Korakuen Hall in Tokyo
(-) Tenkaichi Final Match: