DDT "Audience 2016", 5/29/2016 [Sun] 12:00 @ Korakuen Hall in Tokyo
1,633 Spectators
(1) Tomomitsu Matsunaga & Kouki Iwasaki vs. Heddi French & Rekka
◆Winner: Iwasaki (5:50) following a Captured on Rekka.
(2) KENSO KING OF DDT 2016 Re-Assessment Match: KENSO w/ Cherry vs. Sanshiro Takagi
◆Winner: KENSO (5:59) following the Hagakure.
(3) 4WAY 6 Man Tag Match: Toru Owashi, Kazuki Hirata & Guanchulo vs. Makoto Oishi, Shunma Katsumata & Mao Inoue vs. Danshoku Dino, Joey Ryan & Antonio Honda vs. Masa Takanashi, Kota Umeda & Saki Akai
◆Winner: Ryan (8:01) following a Super Kick on Katsumata.
~ Bonus – Iron Man Heavy Metal Championship Match: [1,073rd Champion] Joey Ryan vs. [Challenger] Kazuki Hirata
◆Winner: Ryan (12:38) via counter pin-fall.
~ 1st successful title defense.
(4) Road to KING OF DDT 2016: Tetsuya Endo & Kazusada Higuchi vs. Shuji Ishikawa & Mad Paulie
◆Winner: Paulie (12:38) with a Reverse Splash on Endo.
~ The wrestlers who will be competing in this years KING OF DDT 2016 were released… HARASHIMA, Akito, Yasu Urano, Yukio Sakaguchi, Masa Takanashi, Kota Umeda, Keisuke Ishii, Shigehiro Irie, Soma Takao, Antonio Honda, Tetsuya Endo, Kazusada Higuchi, Kazuki Hirata, KENSO, Mad Paulie, and Shuji Ishikawa,
~ Terry Funk and NOSAWA Rongai were announced for the Ryogoku show on 8/28.
~ KAI and Ken Ohka came out as they made their intentions known that they are going after the KO-D Tag belts. Amon GM stated that he would take their challenge into consideration.
(5) DDT EXTREME Championship Match: [35th Champion] Super Sasadango Machine vs. [Challenger] LiLiCo
◆Winner: LiLiCo (7:05) with the Titanic style Ebigatame.
~ Champion falls on his 3rd title defense. LiLiCo becomes the 36th generation champion.
~ With the aided help of Mizuki Watase, the power of love that LiLiCo proclaims saw her become champion. She also stated that her next defense will be on 7/3 in Hakata,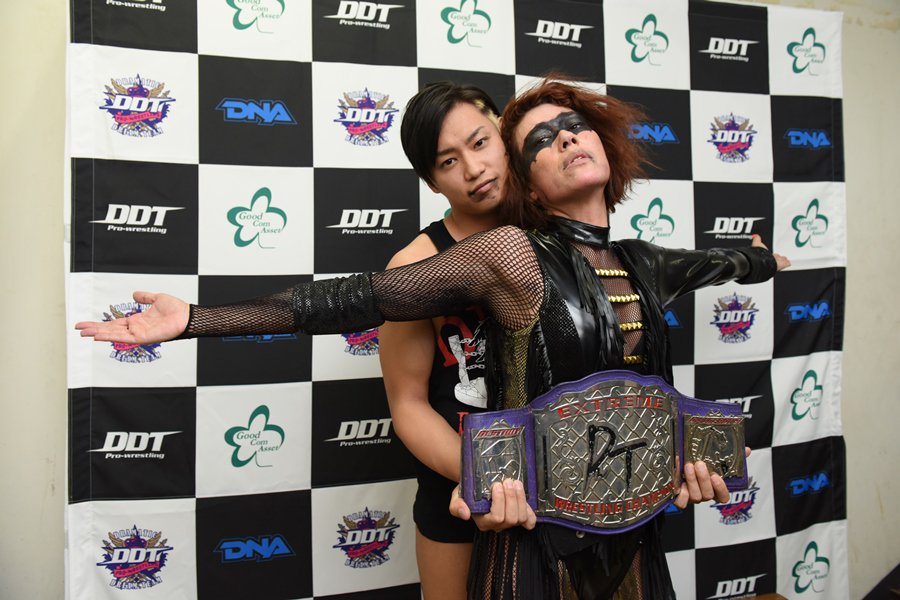 (6) KO-D 6 Tag Championship Match: [25th Champions]  Keisuke Ishii, Shigehiro Irie & Soma Takao vs. [Challengers] HARASHIMA, Akito & Yasu Urano
◆Winner: Takao (9:57) with the Gin 'n Tonic on Urano.
~ 1st successful title defense.

~ Though the champions managed to win the match, Drift formally announced that they will indeed be splitting as a team. Thus they are relinquishing the belts in the process.
(7) KO-D Openweight Championship Match: [57th Champion] Daisuke Sasaki vs. [Challenger] Konosuke Takeshita
◆Winner: Takeshita (24:42) with a Cross Arm German Suplex Hold.
~ Champion falls on his 2nd title defense. Takeshita becomes the 58th generation champion.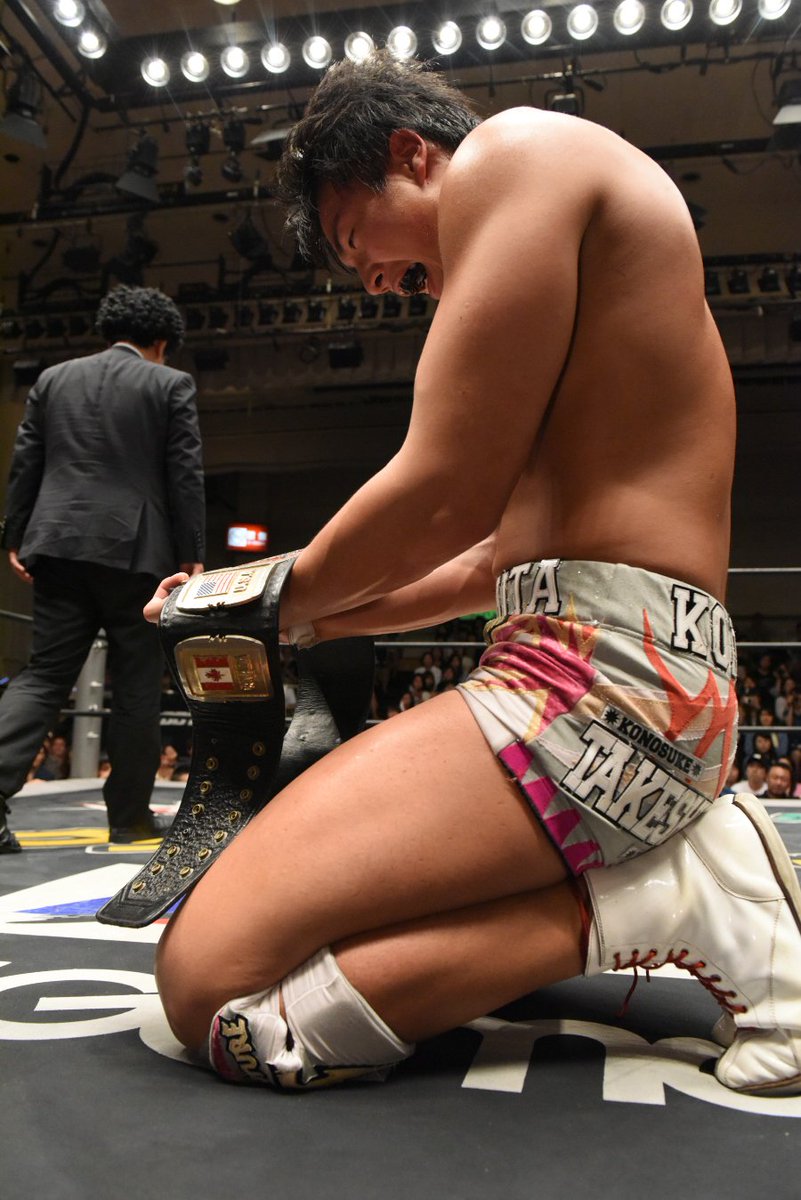 ~ Takeshita becomes the youngest KO-D Openweight Champion as he turned 21 today as well.
~ With the loss, Daisuke announced that he plans to retire.