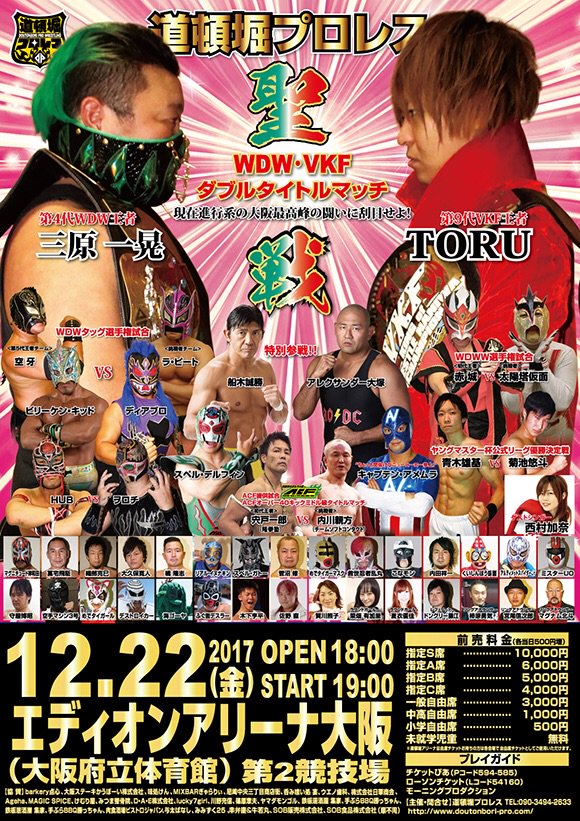 Doutonbori Pro-Wrestling, 12/22/2017 [Fri] 19:00 @ EDION Arena Osaka, 2nd Stadium
(1) First Young Master Cup Championship Final: Yuki Aoki vs. Yuto Kikuchi
◆Winner: Yuto (11:57) following a diving Foot Stomp.
(2) WDWW Challenger Decision All Star Battle Royal: Real Inunakin, Osamu Suganuma, Super Gato, Kyusei Ninja Ranmaru, Super Delfin, Mede Tiger Mask, Mede Tiger, Mr. UO, Kuishinbo Kamen, Konamon, Hiroaki Moriya, Destroyer, Karate Machine #3, Umi-Goya, Naoshi Sano, Kouhei Konoshita, Teruko Kagawa & Fugumen Deslar
◆Winner: Super Delfin (6:38) with a Figure Four on Kuishinbo.
(3) BarBBB presents: Takashi Tachibana vs Shoichi Uchida
◆Winner: Uchida (8:28) with a Styles Clash.
(4) ACF Offer ~ ACF Over 40 Kick Middleweight Championship Match: [1st Champion] Ichiro Shishido vs. [Challenger] Takayuki Uchikawa
◆Winner: Shishido (3-0 Judgement)
(5) Ultimate Spider Jr. & Captain Amemura vs. Magnitude Kishiwada & Hiroto Okubo
◆Winner: Amemura (6:14) following the Justice Spear on Okubo.
(6) Fighting Row Y1968 presents: Alexander Otsuka (AODC) & Katsumi Oribe vs. Masakatsu Funaki (FREE) & Takaku Fuke
◆Winner: Funaki (11:59) following the Hybrid Blaster on Oribe.
(7) HUB vs. Orochi
◆Winner: HUB (12:35) with a Figure Four Ankle Hold.
~ Doutonbori will be holding a show at the Shinkiba 1stRING on 1/28/2018. MIKAMI and Takashi Sasaki are among the outsiders announced to compete at this time.
(8) WDWW Championship Match: [1st Champion] Akagi vs. [Challenger] Taiyoto Kamen
◆Winner: Akagi (8:07) with the Akagi Tornado.
~ 4th successful title defense.
(9) WDW Tag Championship Match: [5th Champions] Kuuga & Billyken Kid (FREE) vs. [Challengers] Ra-pid & Diablo (FREE)
◆Winner: Kuuga (14:28) following the Tornado Stamp on Diablo.
~ 2nd successful title defense.
(10) WDW & VKF Double Championship Match: [4th WDW Champion] Kazuaki Mihara vs. [9th VKF Champion] TORU
◆Winner: TORU (38:05) following a Vertical Fall style Brainbuster.
~ Mihara falls on his 4th title defense, TORU 1st successful title defense and becomes the 5th WDW Champion.