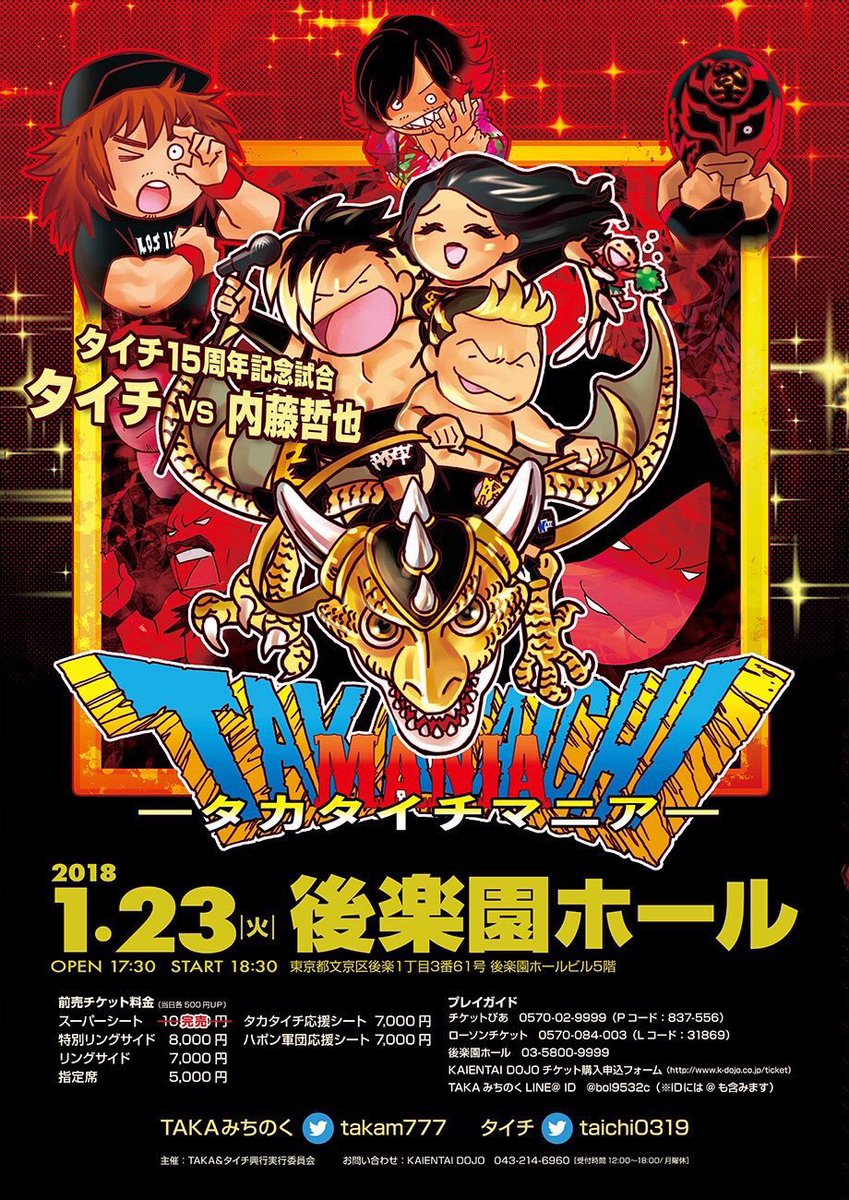 TakaTaichiMania, 1/23/2018 [Tue] 18:30 @ Korakuen Hall in Tokyo
1,525 Spectators (overcrowded)
(1) KAIENTAI DOJO Special 6 Man Tag Match: Kotaro Yoshino, Dinosaur Takuma & Marines Mask vs. Tank Nagai, Ayumu Honda & Kyu Mogami
◆Winner: Takuma (6:59) with the Gaobababa on Ayumu.
(2) Joshi Special Tag Match: Bambi & Ayame Sasamura vs. Saori Anno (Actress Girl'Z) & Koharu Hinata (FREE)
◆Winner: Bambi (8:20) following a Lariat on Hinata.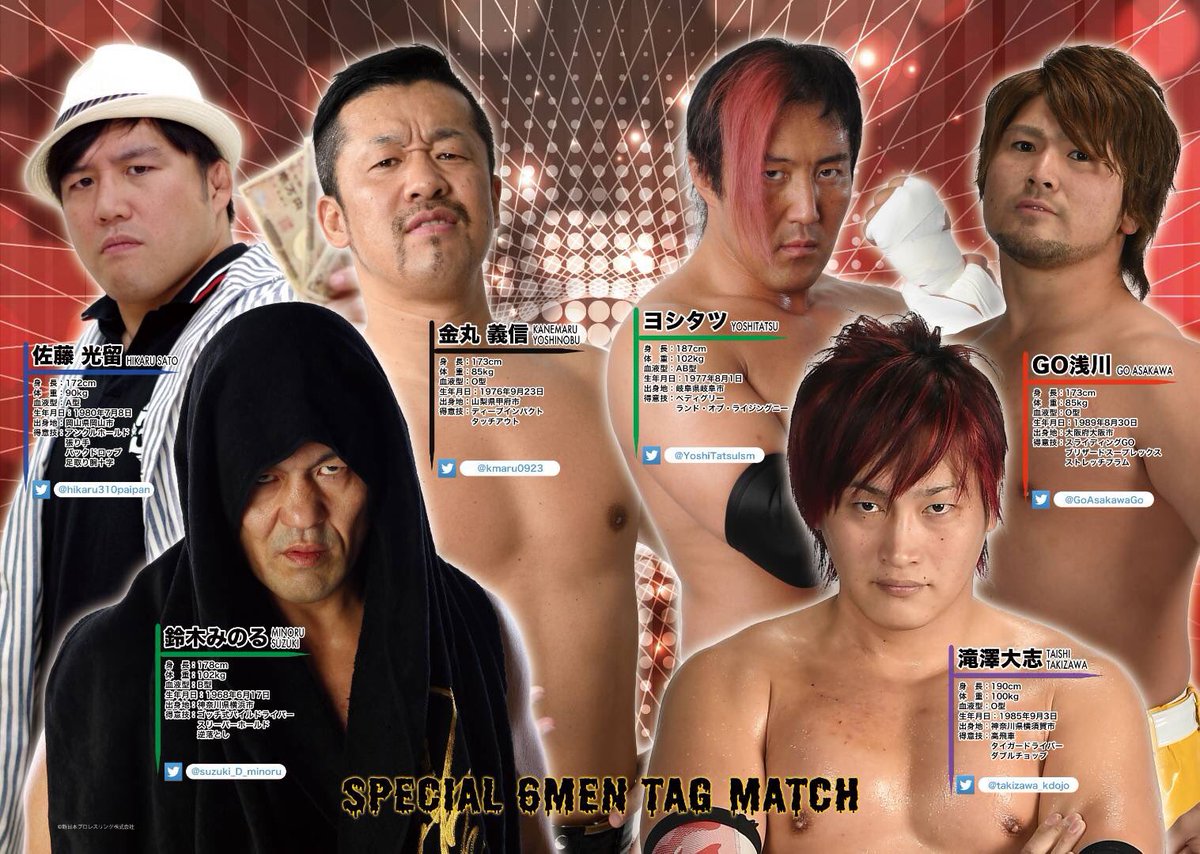 (3) Special 6 Man Tag Match: Minoru Suzuki (SZKG/Pancrase MISSION), Yoshinobu Kanemaru (SZKG/FREE) & Hikaru Sato (Pancrase MISSION) vs. Yoshitatsu (FREE), Taishi Takizawa (K-DOJO) & GO Asakawa (K-DOJO)
◆Winner: Suzuki (14:05) following a Gotch style Piledriver on Asakawa.
~ Asakawa stated that he wants a rematch against Suzuki.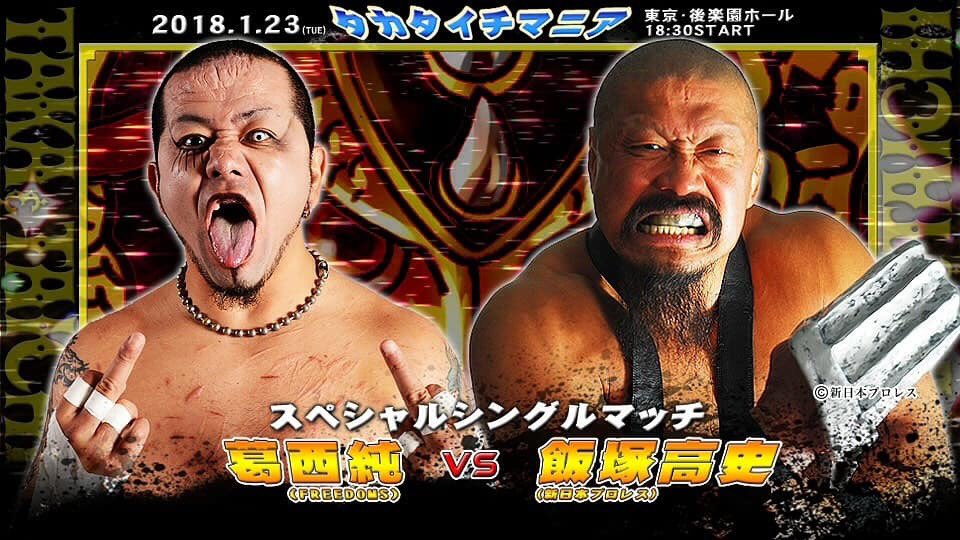 (4) Special Singles Match: Takashi Iizuka (SZKG/NJPW) vs. Jun Kasai (FREEDOMS)
◆Winner: No Contest (13:10)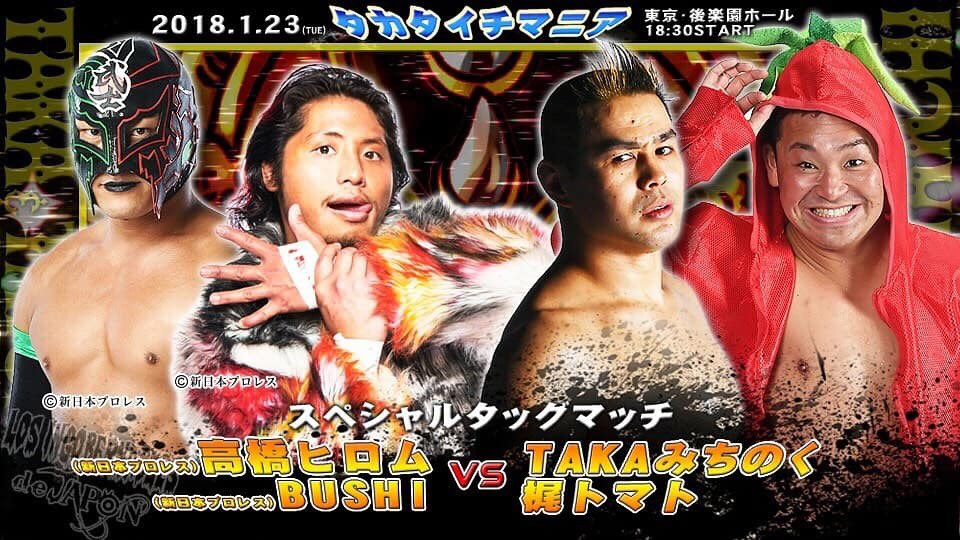 (5) Special Tag Match: TAKA Michinoku (SZKG/K-DOJO) & Kaji Tomato (K-DOJO) vs. BUSHI & Hiromu Takahashi (both LIJ/NJPW)
◆Winner: Hiromu (13:35) following the Insurgentes on TAKA.
~ Kaji demanded a rematch against BUSHI following a poison mist attack.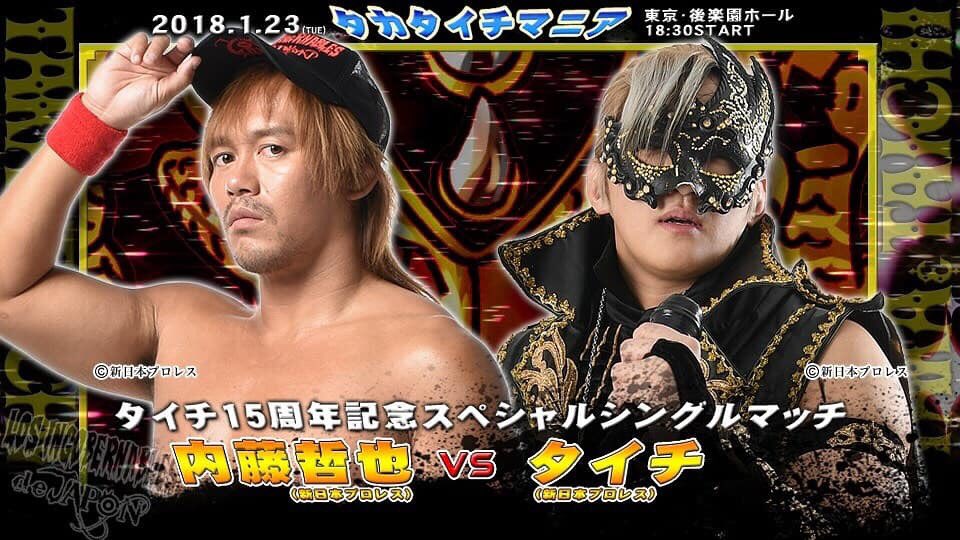 (6) Taichi's 15th Anniversary Special Single Match: Taichi (SZKG/NJPW) vs. Tetsuya Naito (LIJ/NJPW)
◆Winner: Naito (24:31) following the Destino.
~ Los Ingobernables de Japon celebrated in the ring after securing the win in both the main and semi.
~ Naito told Taichi that he should think above improving himself a step further think about moving up to the heavy division.
http://puroresuspirit.net/tag/taka-taichi-produce/
Upcoming K-DOJO shows…
KAIENTAI DOJO "CLUB-K in KITASENJU", 2/12/2018 @ Kitasenju Theater 1010 in Tokyo
() Ricky Fuji, Bambi & Ayame Sasamura vs. Shiori Asahi, Daigoro Kashiwa & Yasu Urano (FREE)
() Yuma & Marines Mask vs. Yoshihiro Horaguchi & Chojin Yusha G Valion (BRAVES)
() TAKA Michinoku vs. Kunio Toshima
() GO Asakawa vs. Kyu Mogami
() CHAMPION OF STRONGEST-K Prelude 3WAY Tag Match: Taishi Takizawa & Kaji Tomato vs. Kotaro Yoshino & Dinosaur Takuma vs. Tank Nagai & Ayumu Honda
KAIENTAI DOJO "CLUB-K SUPER in TKP Garden City Chiba", 2/28/2018 @ TKG Garden City Chiba
() CHAMPION OF STRONGEST-K Match: [Champion] Taishi Takizawa vs. [Challenger] Kotaro Yoshino