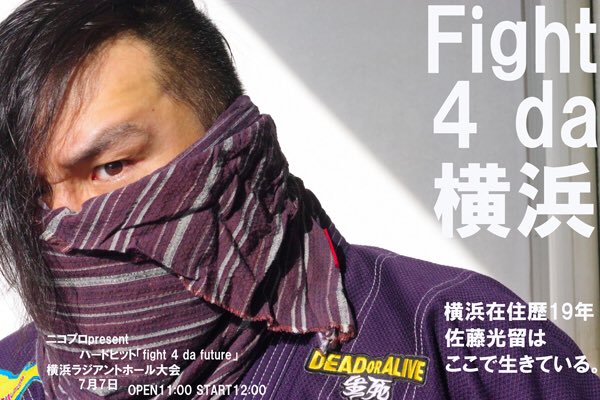 Hard Hit "fight 4 da future", 7/7/2018 [Sat] 12:00 @ Yokohama Radiant Hall in Kanagawa
(0) Dark Match: Masao Ando (FREE) vs. Tetsuya Izuchi (HEAT-UP)
◆Winner: Ando (2:31) with a German Suplex.
(0) Dark Match: SUSHI (FREE) vs. Raito Shimizu (Mumeijyuku Pro)
◆Winner: SUSHI (2:57) with a Sleeper Hold.
(1) Sen "Silencer" Nakadai (FREE) vs. Poai Suganuma (BJ Penn MMA)
◆Winner: Poai (2:41) via referee stop, with a Triangle Lock.
(2) Atsushi Aoki (AJPW) vs. Hidenobu Koike (GRABAKA)
◆Winner: Aoki (3:46) with a Choke Sleeper.
(3) Daisuke Nakamura (U-FILE Camp) & Kenta Hattori (Kachofugets) vs. Nobuhiro Tsurumaki (FREE) & Chris MAN Taro (Chris Office)
◆Winner: Chris MAN Taro (5:38) with a Front Choke on Hattori.
(4) WINDY Tomomi (Pancrase ISM) & Yukiko Seki (Kachofugetsu) vs. Hanako Nakamori (PURE-J) & Saki (Actress girl'Z)
◆Winner: Nakamori (9:14) via referee stop over Seki.
(5) Yoshio "Hitokui" Takahashi (D-ONE Gym/Fujiwara-gumi) vs. Takuya Wada (FREE)
◆Winner: Wada (7:53) with an Arm Lock.
(6) Shootboxing SB Expert Rules (3 min 3R): Sho Karasawa (Kachofugetsu/M16 Muay Thai Style) vs. Genki (SB Japan Featherweight)
◆Winner: Karasawa (3 Rounds 3 Mins.) via judgement 3-0.
(7) Rocky Kawamura (PancraseISM) vs. Takatoshi Matsumoto (Reversal Gym ALPHA)
◆Winner: Matsumoto (:23) with a Cross Armbar.
(8) Hikaru Sato vs. Yuu Iizuka (HEAT-UP)
◆Winner: Hikaru (5:37) with a Single Leg Crab.
(9) Hideki "Shrek" Sekine (Risshi-Kaikan) vs. Fuminori "Taido" Abe (BASARA)
◆Winner: Shrek (3:04) via referee stop, KO, following a Belly to Back Suplex.