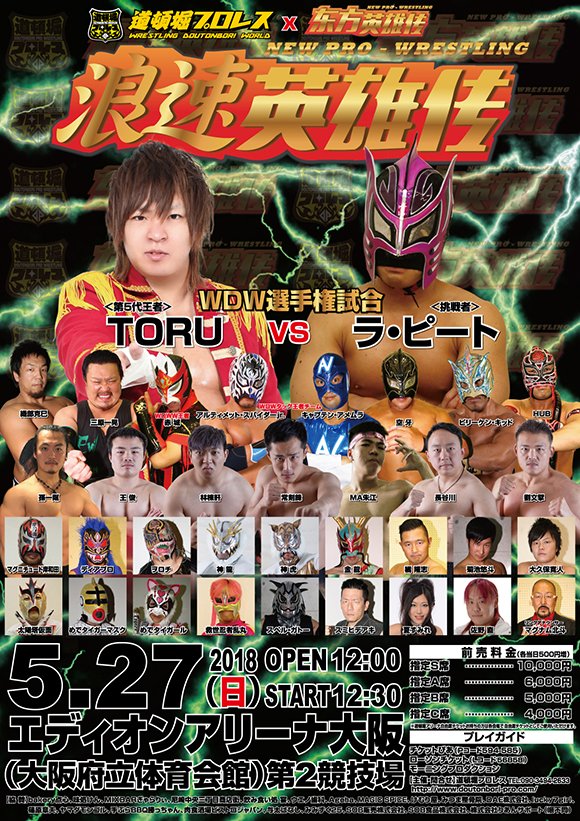 Doutonbori x Toho Eiyuden, 5/27/2018 [Sun] 13:00 @ EDION Arena Osaka, 2nd Stadium
(1) Yuto Kikuchi vs. Hasegawa
◆Winner: Kikuchi (6:58) via pin-fall.
(2) Battle Royal:
◆Winner: Kyusei Ninja Ranmaru (7:13) via pin-fall on Taiyoto Kamen.
(3) Billyken Kid, HUB & Takashi Tachibana vs. Shenlong, Shen Hu & MA Zhu Jiang
◆Winner: Shenlong (11:47) with a Powerbomb on Tachibana.
(4) Kazuaki Mihara & Katsumi Oribe vs. Diablo & Orochi
~ Double Ring Out (1:28) ~ match was restarted.
◆Winner: Orochi (10:16) with a Backslide on Oribe.
(5) Ultimate Spider Jr. & Captain Amemura vs. Akagi & Sun Yilin
◆Winner: Amemura (13:44) following the Justice Spear on Ichirin.
(6) Kuuga & Chang Jian Feng vs. Magnitude Kishiwada & Lin Dong Xuan
◆Winner: Feng (13:36) with a Blue Thunder Bomb on Lin.
(7) WDW Championship Match: [5th Champion] TORU vs. [Challenger] Ra-pid
◆Winner: TORU (19:03) following a Vertical Drop style Brainbuster.
~ 1st successful title defense.