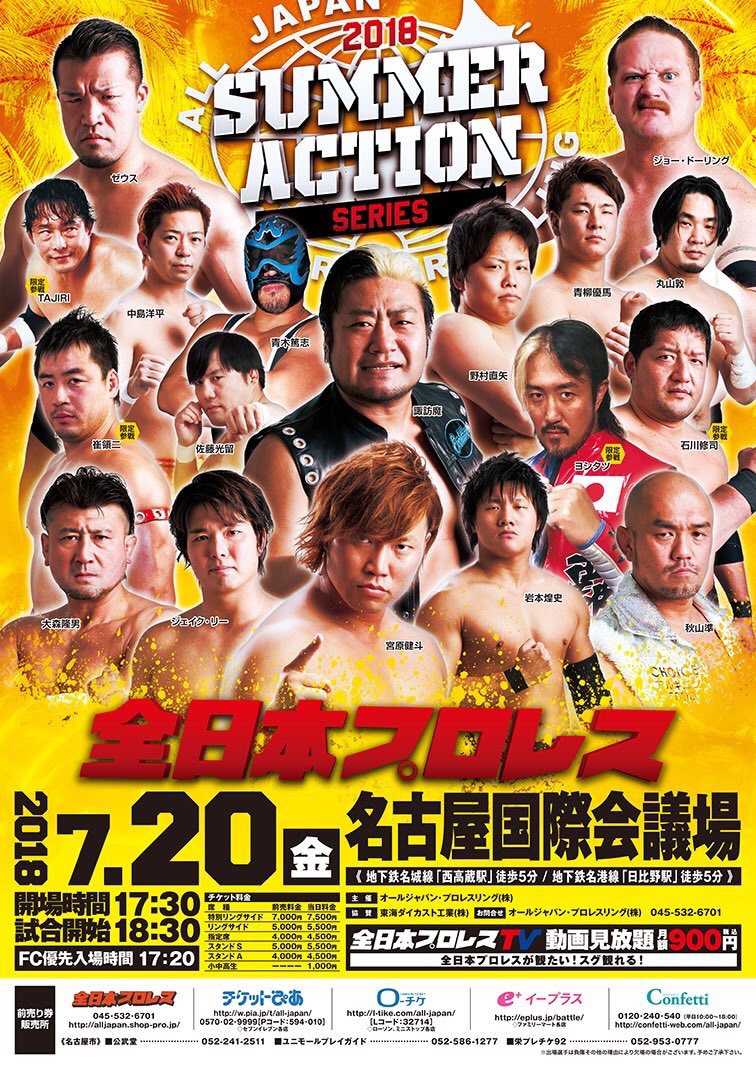 All Japan Pro-Wrestling "SUMMER ACTION SERIES", 7/20/2018 [Frii] 18:30 @ Nagoya International Conference Hall in Aichi
928 Spectators (crowded)
(1) Atsushi Maruyama vs. Revlon (LAND'S END)
◆Winner: Maruyama (6:10) with a Hurricanrana.
(2) Takao Omori, Yohei Nakajima & Black Tiger VII (FREE) vs. Dylan James, Koji Iwamoto & Keiichi Sato (FREE)
◆Winner: Omori (9:45) following an Axe Bomber on Keiichi.
~ Issues between Yohei and Black Tiger appear to be forming throughout the tour. Yohei has dawned a kabuki-esque eye paint and a new attitude with that.
(3) Ultimo Dragon & CarBell Ito vs. Mushuku no 'Sekiko' & Shiori Asahi (K-DOJO)
◆Winner: Dragon (8:33) with a La Magistral on Sekiko.
(4) Hikaru Sato vs. Ryoji Sai (LAND'S END)
◆Winner: Sai (10:03) following the Yamaori.
(5) Suwama, Shuji Ishikawa (FREE) & Atsushi Aoki vs. TAJIRI, KAI (FREE) & Gianni Valletta
◆Winner: Valletta (8:33) following a Lariat on Suwama.
~ Valletta with the direct win over the World Tag Champion before the title challenge on the 22nd.
(6) Jake Lee vs. Naoya Nomura
◆Winner: Lee (15:55) via referee stop, with a Modified Udegatame (Seated Armbar).
~ Lee continues to take the charge among the new generation.
(7) Kento Miyahara, Yoshitatsu (FREE) & Yuma Aoyagi vs. Jun Akiyama, Zeus & Joe Doering
◆Winner: Miyahara (16:06) with the Shutdown German Suplex Hold on Zeus.
~ Miyahara claimed the direct fall over Zeus before the title defense on the 29th. Miyahara questioned the challengers resolve.
http://puroresuspirit.net/2018/06/ajpw-event-cards-for-july-august-2018/