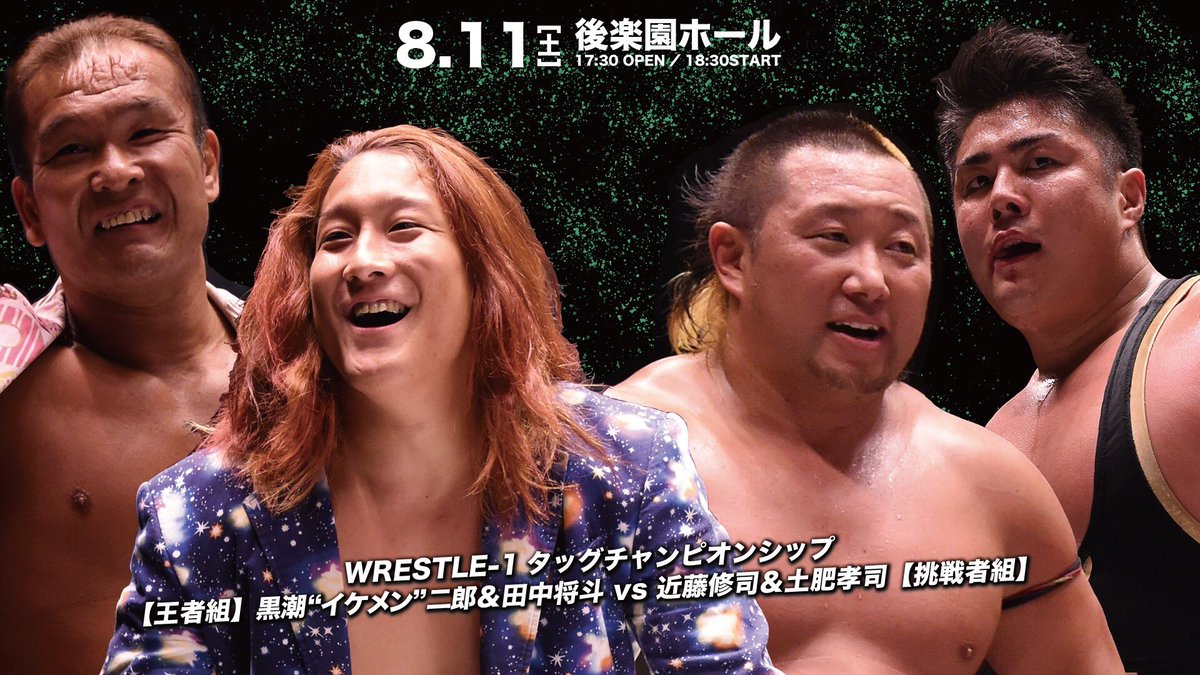 WRESTLE-1 TOUR 2018 FLASHING SUMMER, 8/11/2018 [Sat] 18:30 @ Korakuen Hall in Tokyo
962 Spectators
(1) Ganseki Tanaka vs. Kenichiro Arai (DG)
◆Winner: Arai (5:19) following a Piledriver.
(2) Hajime vs. Masayuki Mitomi (FREE)
◆Winner: Mitomi (6:12) with an STF.
(3) Alejandro & El Hijo del Pantera vs. NOSAWA Rongai & MAZADA
◆Winner: Pantera (12:07) following a Modified DDT on MAZADA.
(4) Tsugataka Sato vs. X = Pegaso Iluminal
◆Winner: Pegaso (8:47) with a Firebird Splash.
(5) WRESTLE-1 vs STRONG HEARTS 8 Man Tag Match: Masayuki Kono, Andy Wu, Takanori Ito & Jun Tonsho vs. CIMA, T-Hawk, El Lindaman & Gao Jingjia
◆Winner: Tonsho (16:29) with a Tiger Suplex Hold on Lindaman.
(6) Manabu Soya, Seiki Yoshioka & Ryuji Hijikata vs. Shotaro Ashino, Yusuke Kodama & Kumaarashi
◆Winner: Yoshioka (19:14) with a La Magistral on Kodama.
~ Yoshioka with the win over the Cruiser champ, as he called out for a rematch for the belt on September 2nd. Ashino stated that he and Kodama will leave with both singles belts around their waist where they belong.
(7) WRESTLE-1 Tag Championship Match: [15th Champions] Jiro "Ikemen" Kuroshio & Masato Tanaka vs. [Challengers] Shuji Kondo & Koji Doi
◆Winner: Doi (21:18) with the Nankinjogatame on Kuroshio.
~ Champions fall on their 1st title defense. Kondo & Doi become the 16th champions.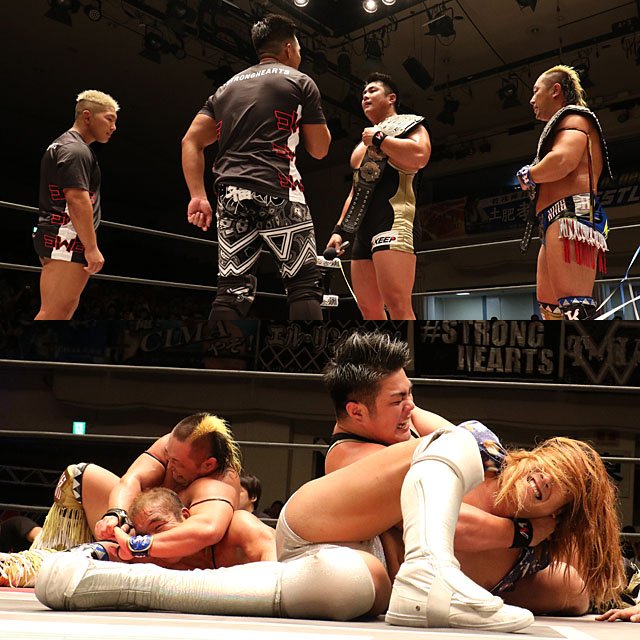 ~ T-Hawk and El Lindaman came out as they called out for the challenge on September 2nd in Yokohama.
~ Even though the loss, Tanaka stated his intentions to continue tagging with Kuroshio in the future.
~ CIMA rushed Kuroshio though and made it known that he wants to face him directly at Yokohama. Though Kuroshio hinted that Daiki Inaba and Seigo Tachibana are currently expected to return to action and proposed to CIMA to make it a multi-man tag against OWE. It appears a 4 vs 4 will be taking place with Kuroshio's team against CIMA's at Yokohama.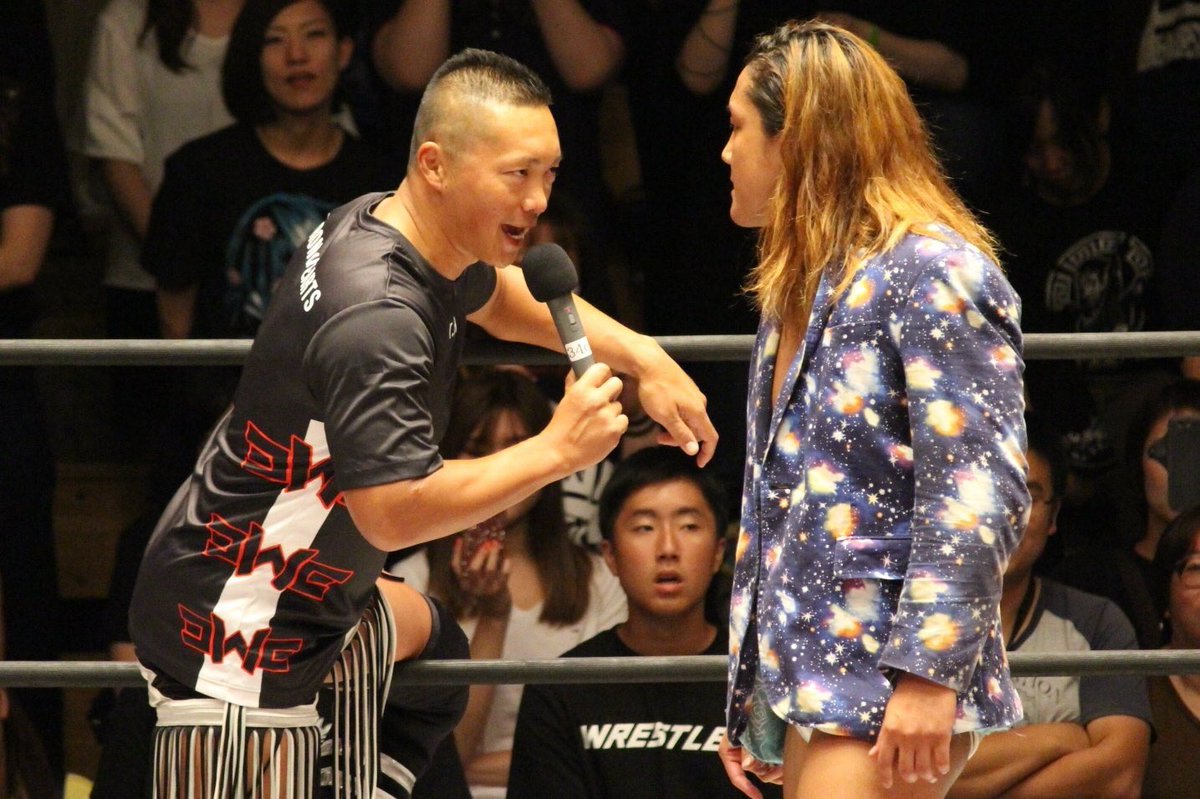 http://puroresuspirit.net/tag/w-1/
Upcoming…
PRO-WRESTLING MASTERS, 8/21/2018 [Tue] 19:00 @ Korakuen Hall in Tokyo
(-) Lucha Master Assemble! Special 6 Man Tag Match: Kendo, The Great Sasuke & SATO vs. NOSAWA Rongai, MAZADA & FUJITA (all Tokyo Gurentai)
() Samoan no Kaicho Shurai! Special 6 Man Tag Match: Tatsumi Fujinami, Jushin Thunder Liger & Takuma Sano vs. Hisakatsu Oya, Black Tiger V & Wild Samoan
(-) Idainaru Tatsujin vs Yomigaetta Kaizoku Gaspars Special Tag Match: Great Kojika & Kim Duk vs. Curry Gaspar & Cory Gaspar
(-) MASTERS Special Single Match: Yoshiaki Fujiwara vs. Ishinriki
(-) Special 8 Man Tag Match: Hiroshi Hase (FREE), Jinsei Shinzaki (Michinoku), Taiyo Kea (FREE) & Shinjiro Otani (ZERO1) w/ Keiji Mutoh vs. Shiro Koshinaka (FREE), AKIRA (Makai), Masashi Aoyagi (FREE) & Akitoshi Saito (NOAH) w/ The Great Kabuki
WRESTLE-1 "2018 Pro-Wrestling LOVE in YOKOHAMA", 9/2/2018 [Sun] 15:00 @ Yokohama Cultural Gymnasium in Kanagawa
(-) WRESTLE-1 Championship Match: [12th Champion] Manabu Soya vs. [Challenger] Shotaro Ashino
~ 2nd title defense.
WRESTLE-1 "2018 Pro-Wrestling LOVE in OSAKA", 9/29/2018 [Sat] 18:00 @ EDION Arena Osaka, 2nd Stadium
(-) Jiro "Ikemen" Kuroshio vs. Naomichi Marufuji (NOAH)