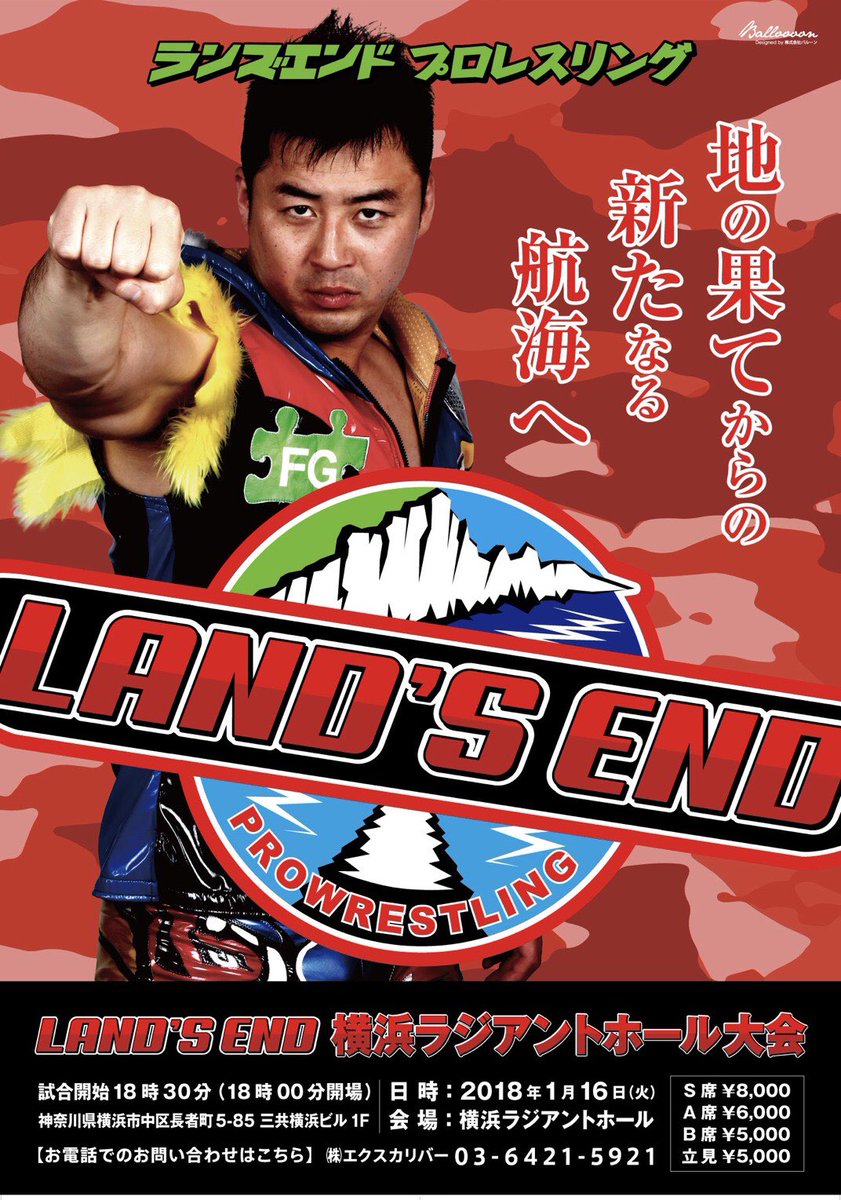 LAND'S END, 1/16/2018 [Mon] 18:30 @ Yokohama Radiant Hall in Kanagawa
(1) Shiori Asahi (K-DOJO) vs. Dinosaur Takuma (K-DOJO) vs. The Dracula
♦Winner: Asahi (4:51) with a Backslide on Dracula.
(2) Kengo (FREE) & Kyu Mogami (K-DOJO) vs. Yoshihiro Horaguchi (K-DOJO) & Uexile
♦Winner: Mogami (7:44) following the X-Furodo on UEXILE.
(3) Kotaro Suzuki & Keiichi Sato (both FREE) vs. Hideki Hosaka & Kazuki Enosawa (both FREE)
♦Winner: Keiichi (10:35) following a Modified Fisherman Buster on Enosawa.
(4) Actress Girl'Z Offer Match: Saori Anno, Natsumi Manki & Tae Honma vs. Noa Igarashi, Miyuki Takase & Saki
♦Winner: Anno (12:08) with a Fisherman Suplex Hold on Igarashi.
(5) Shuji Ishikawa (FREE) & Atsushi Maruyama (AJPW) vs. Rikiya Fudo & So Daimonji
♦Winner: Ishikawa (12:54) following a Running Knee Lift on Daimonji.
(6) Ryoji Sai, Naoya Nomura (AJPW) & Ishikiri vs. KAZMA SAKAMOTO (FREE), Revlon & Kotaro Nasu
♦Winner: Ishikiri (22:50) with a 450° Splash on Revlon.
http://puroresuspirit.net/tag/lands-end
Upcoming…
LAND'S END Korea "All Asia Heavyweight Championship One Day Tournament in SEOUL", 1/21/2018 [Sun] @ Seoul City, Korea
(1) All Asia Tournament 1st Round: The Bodyguard (Japan) vs. Dr.monz Jr. (Korea)
(2) All Asia Tournament 1st Round: Ahn Jae-hong (Korea) vs. Dolgorsuren Belingen (Mongolia)
(3) All Asia Tournament 1st Round: Uncle (Korea) vs.  Masashi Takeda (Japan)
(4) All Asia Tournament 1st Round: Ryoji Sai (Japan) vs. RYO (Korea ROAD FC)
(5) All Asia Tournament Reserve Match: (Thailand) vs. (China)
(6) All Asia Tournament Semi-final Round:
(7) All Asia Tournament Semi-final Round:
(8) Special Single Match: Fuminori Abe vs. Kim Nam Seok
(9) All Asia Tournament Final Round: